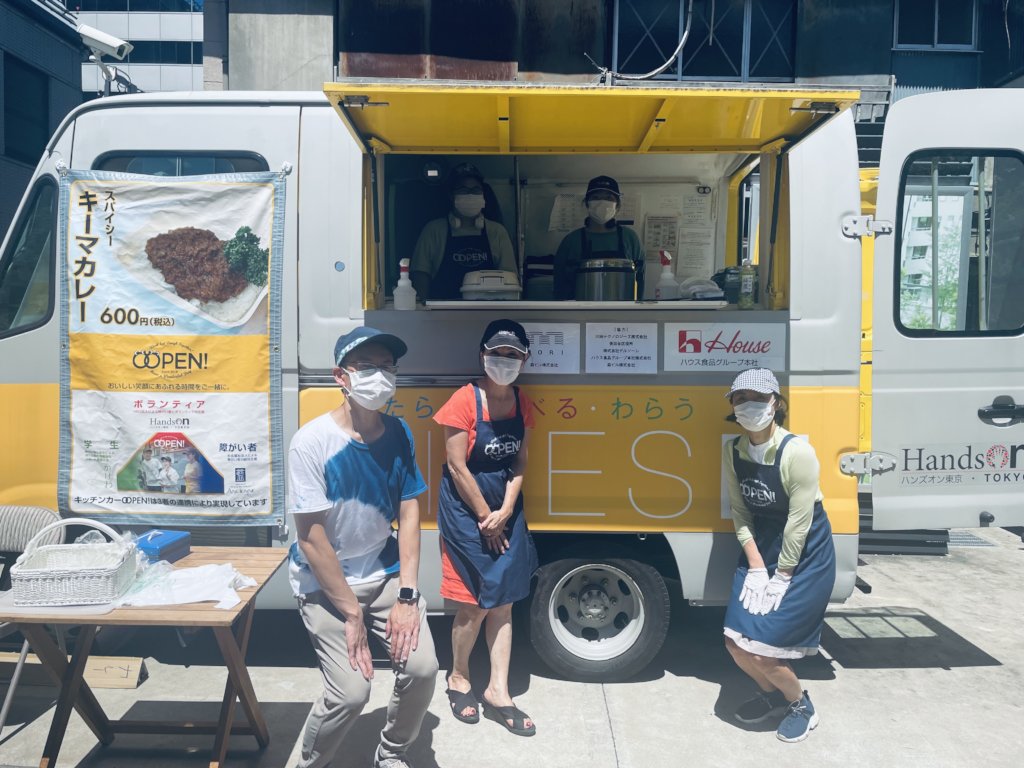 COVID-19 has again gave us a big blow on the loss of opportunities this summer.
Tokyo was under the State of Emergency from July 12 th (Mon) to September 30 (Thurs.).
This situation ended up in cancellations of several events that our food truck was invited to participate in. However, OOPEN continued to sell lunch boxes at Nishi-Sugamo, in front of Kawada Construction Co., Ltd., on Tuesdays, and in front of Toranomon Hills on Thursdays.
This was possible through the support from Kawada Constructions Co., Ltd. and Mori Building Co., Ltd. for providing us the venue for free!! And House Foods Group Inc. for their kind donation of curry roux and tomato sauce roux.
And lastly but mostly, we will not be able to continue this project without the support of all of your donations through GlobalGiving!!! We need to maintain the truck, and we need to pay for the driver and for the members to work with the staff with disabilities. We have to pay the staff with disabilities who work on the food truck. The more lunch we sell, the more we can pay the kitchen staff with disabilities. The more opportunities we have, we can pay the staff with disabilities who work on the food truck.
But it's not only the salary or the sales that are important here. This food truck project gives motivation and dream to the staff with disabilities. We think of the menu together, we think of how we can sell more, we talk business together! We help each other and work together! We cleaned the food truck together. We came up with several pickles ideas for the side dish. We now have an OOPEN apron too!!
On September 26th (Sun.) we had a big annual event "LIVES TOKYO 2021", which was unfortunately virtual this year, but it gave a great impact to the corporates, the people with and without disabilities, who believe in the inclusive society. Food truck is one of the projects of this initiative, and the voices of the two food truck staff members can be viewed from 1:16:12 on the Archive below on YouTube.
https://youtu.be/Kqyzy4AF_es
They practiced many times, and were able to make a presentation in front of the camera and crew! A big challenge that they took on and accomplished!
From October 1st, Tokyo lifted the State of Emergency, and colleges are opening their campus to full capacity. From October 13th, we will have another day (Wednesdays) on the Meiji University campus to sell to the university students and faculty members. This is great news for the food truck staff to be able to work three times a week!!
We also would like to repair and upgrade our food truck, so we really would like to ask for your continued support.
We believe that we can be a role model of people with and without disabilities to "work together, eat together and laugh together" , which is our vision of a truly inclusive society!
Thank you all, and we appreciate your support!!