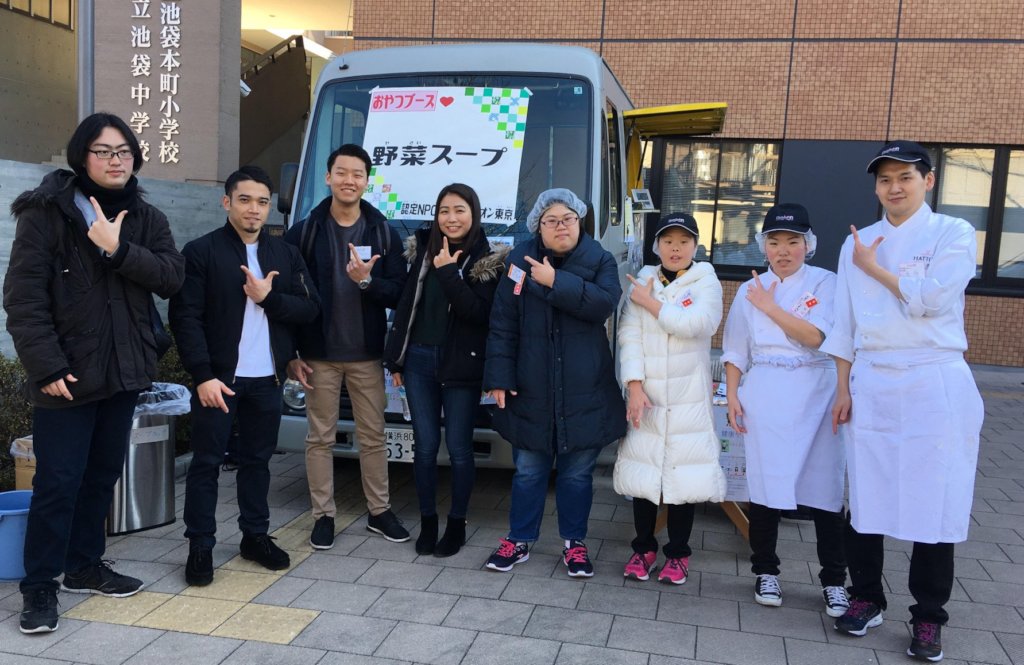 Thank you to our generous donors and supporters of the LIVES Food Truck. Your donations have allowed us to expand in tangible ways. In 2019, we have not only increased the amount of students and employees that work with the LIVES Food truck, but also secured locations to sell our food, are actively collaborating with other NPOs, and cultivated a relationship with a local farmer in Chiba.
Securing locations to sell our vegetarian food has proven to be the most challenging aspect of the LIVES Food truck. Fortunately, we have been able to partner up with two universities in Tokyo who have helped us to secure a permanent timeslot to sell food every week on their Showa campus in Setagaya-ku. British School in Tokyo, Showa University, and within a year, Temple University will all be on the same campus. We are looking forward to offering students from all three schools healthy vegetarian dishes once a week.
Meeting this goal is the biggest testament to the LIVES food truck`s legitimacy, and the belief that our disabled employees are fully able to serve food and interact with new customers. We are both humbled and grateful for the university`s faith in us, and we to hope to expose our inclusive model to as many young people as possible.
Additionally, we have partnered with other local NPOs who specialize in empowering differently abled people. In January, we participated in a winter festival for special needs children and their families, where we served 200 cups of healthy vegetarian soup. We will be selling our vegetarian dishes again at another event in the early spring hosted by Acceptions NPO.
Acceptions shares our goal of empowering down syndrome individuals and creates powerful inciatives to raise awareness, such as the Buddy Walk on March 31st in the Shibuya Area. This parade is an unique opportunity for special needs individuals to march with an escort through Tokyo. Additionally there will be vendors and other special events happening throughout the day in Yoyogi Koen where the trail begins. If you are living in Tokyo, we encourage you to participate; there are plenty of volunteer spots on the Hands On Tokyo website and the LIVES Food Truck will also be selling our vegetarian dishes at the event. Did we mention a portion of our ingredients are locally sourced from a farm in Chiba! You will not only be supporting our mission, but support sustainable food sourcing as well.
We want to say a big thank you again to our donors. Without your support, we would not have been able to begin this journey in the first place. We have grown and showed Japan what an inclusive and collaborative society with special needs people could look like. We are so grateful that you also believed in our vision and decided to make an investment in us. We will be sending regular updates and hope you will consider either meeting us around Tokyo or donating again. Thank you!