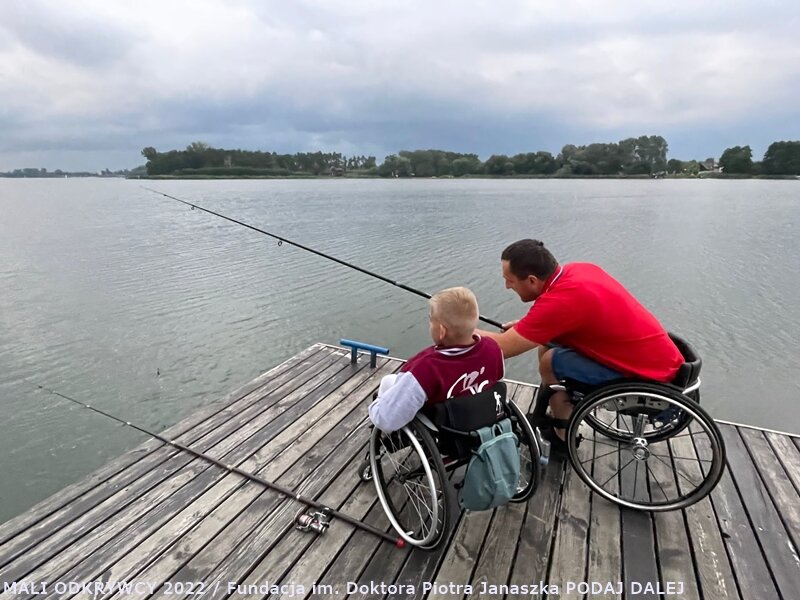 He has his own car repair shop, works with people with disabilities, he loves to eat great food, he has a wonderful wife, they are expecting a child, he plays basketball, lives in the countryside and dreams about his own house… and all of that would be an ordinary story if it wasn't for its hero – Marcin Kupiecki, biker in a wheelchair, for whom the world has changed after an unfortunate accident… changed for the better.
Silver, shiny Yamaha
That day was an ordinary day in 2008. Marcin will remember the details for the rest of his life. He had decided to go for a ride on his silver, shiny Yamaha. He wasn't speeding at all, because he was in the city center but two cars were crawling in front of him so he wanted to overtake them...
- I miscalculated that turn. I didn't know that it was so sharp. I started to brake and then my bike skidded. There was gravel on the road which made braking even harder so I ended up on a pole… I remember that when I woke up in the hospital I couldn't feel my legs. My first thought was: damn, something serious has happened, maybe some complicated fracture, but at that time I wasn't thinking about leaving the hospital in a wheelchair… - Marcin says.
With each passing day, it dawned on him more and more that his legs probably won't work anymore.
- I started to realize that I will not walk out of the hospital on my legs. Wheelchair instructor had been visiting me regularly, a young guy, also an accident casualty who was zooming in his chair and it really moved me. I wanted to do the same so the hard work had started for me – Marcin says.
It HAS to work out!
Marcin was training for days, weeks, months. He left the hospital by himself, in a wheelchair and he knew that his condition largely depends on him. Before the accident, he was driving trucks and his car shop was his biggest passion. He knew one thing: it all has to be exactly the same as before the accident: he has to be able to dismantle a car, fix a bike, be independent and self-reliant. He didn't expect his life to be more interesting than before the accident…
- I felt just useless after the accident. Phones which were ringing non-stop suddenly became silent. I couldn't find myself in that silence. I had to have a passion. I was still repairing cars, I even opened my own business in an outbuilding. But it was still not enough for me. Then I was offered to play wheelchair basketball and there my life completely changed. I've met a lot of valuable people who are my friends today. I started going to hospitals to visit people who, like me, suffered from accidents and whom I try to convince that you can live normally in a wheelchair. I play wheelchair basketball, I am an instructor of independent life whose task is to teach people how to live autonomously. I can do it so everyone can! – Marcin convinces.
Love is the most important thing.
This remarkable, brave, young man thanks to his patience, persistence and determination, step by step, systematically and consistently has become independent and self-reliant. Today, when we are together with him we do not notice that he gets around in a wheelchair. In his "new life" as he calls it, his wife Justyna is his biggest support. Loving, patient, wise, good-hearted and persistent. They met eight years ago in Doctor Piotr Janaszek's PAY IT FORWARD Foundation, where they were both working. Today, they are expecting a son – Anthony, in two months.
- For sure, today, after the accident I have become more mature, wiser and more aware of many things. Anyone who is passionate about bikes should be fully aware of the dangers that may lurk behind this passion. Everyone who gets on a bike should go to a driving school and very often people who already have a license to drive a car ignore this issue. Today I can say that my life after the accident has become "fuller" than before. I am really happy! All I need is a three-wheeled motorcycle and a house built for my wife and son, because family is the most important thing in the world. How did my life change after the accident? The only difference is that I have to drive a car with an automatic transmission instead of a manual – Marcin laughs and drives away in his wheelchair which we do not notice anymore. Marcin returns home, to his wife, who's waiting for him with a delicious dinner. Later, maybe they will watch a movie together or go for a walk…
P.S.
Marcin loves children and that's why he works as an educator and sports coach during Little Explorers summer camps. Be like Marcin and support the youngest charges of Doctor Piotr Janaszek's PAY IT FORWARD Foundation.
https://www.globalgiving.org/projects/little-explorers/