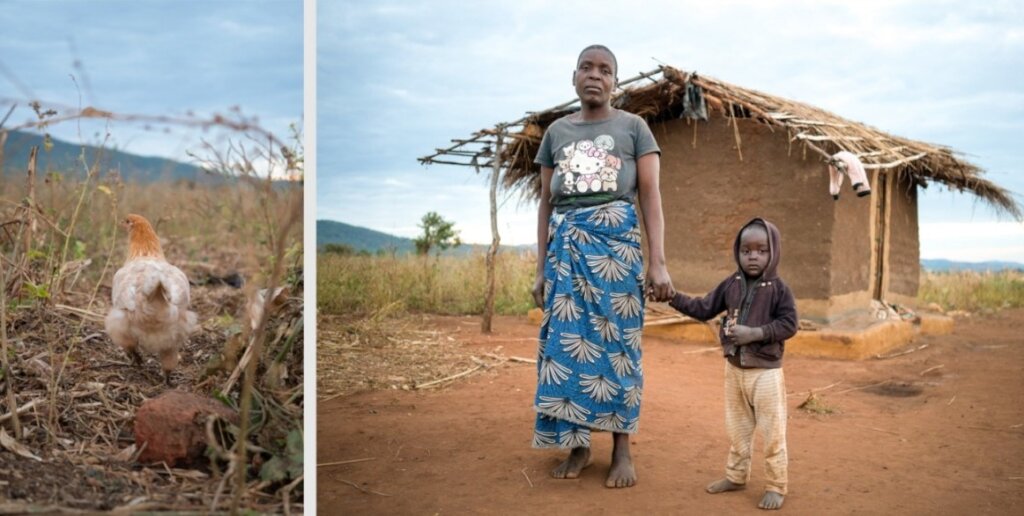 Mwaziona is a 49-year-old woman from Chanje Village in Eastern Zambia. She and her husband, Tsilizani (57), rely on farming in order to provide for their 6 children. They grow maize, groundnuts, and sweet potatoes.
The Mwaziona family house is located on the edge of the village and looks over a beautiful landscape of farm fields descending into the valley.
There is no access to electricity in Chanje village. After the sun sets, it is pitch black. When Mwaziona and her family can afford batteries, they use a torch to light the house – but often, like many families in their village, they have to depend on straw fire to see at night.
"In the early years, we used straw fire. After the straw fire, we started using paraffin. From there, we started using candles. Then came torches. When the torch wears out, and we don't have money, we use straw fire. Once we have found money, we go and buy a torch again."
Straw fires are dangerous and many families experience accidents. In June last year, the Mwaziona family's house caught fire when a child was left unattended and lit a straw fire in the house. "The fire accident happened when we wanted to get maize flour to cook. The fire fell on a sleeping mat and then ignited clothes. The fire grew through the clothes, and then it caught the grass ceiling on fire, because it was a grass thatched house. The whole house burned. We had to construct a new roof. We avoided the accident by rushing out. After that, once we had grown some crops, we sold them for some money. Thereafter we built this house."
Mwaziona's 17 year old son, Tamandani says,"The accident brought poverty in this house. Also many things became difficult, for example to buy flour. Because of the burning of the house when we see some people using fire, we advised them, 'Do not use straw-fire, because that's how we burned our house'.
Using straw fire is common in Mwaziona's community where about one in four households are left to rely on open flames such as kerosene lamps, candles, and grass-fire for lighting. The majority of families use poor battery torches, but as batteries are expensive, open flames are often the second option.
"We started using torches. So, whenever we don't have money, 'Ohh I might get stranded without batteries!' That is when we started using straw fire again. The torchlight was insufficient. Because of inadequate money, we bought a small torch that uses one battery. So how can it light the whole house? It is not enough. When we use a small torch, the battery lasts one day. A single torch battery lasts for one day."
Mwaziona says, "We lived in the dark maybe for a month when money was unavailable. Especially in the farming season when money is scarce. We started using straw fire again. It is troublesome. We know it's a bad solution. We feel that it might bring problems again. It's all because of poverty, when you don't have anything, you end up doing something you are not supposed to do."
"When we use straw fire, we feel very anxious. That's why we still do that, but there are complaints inside our hearts."
The sun sets at 6 pm in Zambia, year-round. When there is no access to light, the surrounding environment can turn dangerous. Road accidents are common, as are animal attacks.
With a simple solar lantern, families like Mwaziona are now switching from the use of straw fire, kerosene, and candle toa brighter light.
All thanks to you our all-weather supporters and donors.