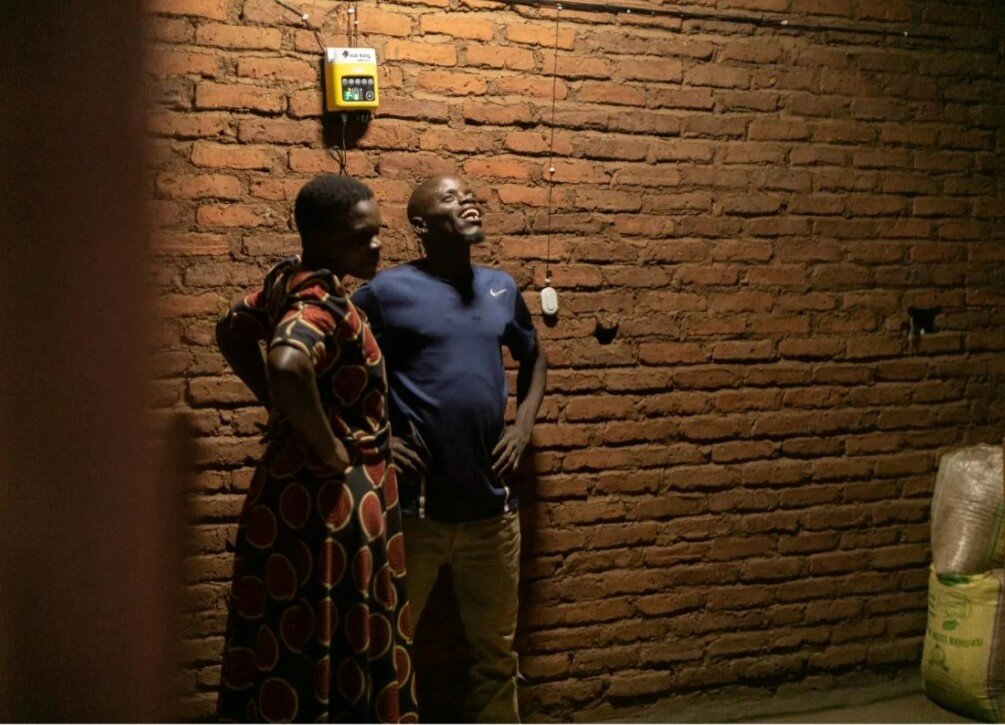 At the back of Msanjula Village in rural Eastern Province, Zambia stands Yohane's red clay brick house. From the front porch to the outdoor kitchen and chicken coop behind the house, everything is immaculate – but one thing is missing. Light.
Yohane runs a tight ship ensuring that his wife and four children are safe, healthy and have the best chance at a bright future but this isn't always easy. Without light, Yohane's children struggle to study, his wife finds it difficult to expand her tailoring business and Yohane worries about the safety of his family.
Nearly one year after we first met Yohane, he received a solar home system.
"I can't express how overjoyed I was when I turned on the light in my house. It was like a ray of hope illuminating our lives. In my heart, I felt a sense of relief and gratitude. Finally, we have access to a reliable and safe source of light that will transform our daily lives."
"Our first night with light was truly special. We gathered as a family and celebrated this new chapter in our lives. We spent the evening chatting, laughing, and sharing stories. My wife, Thandiwe, taught me some tailoring skills, something I had been hesitant about before. Now, I feel excited to learn and support her in her craft. It was a memorable evening of togetherness and learning."
With access to clean, safe light in his home, Yohane has begun to dream of a different future. His children are able to study, increasing their chances at realising their dreams and his wife is able to expand her business, which Yohane is getting involved in too.
"The future looks brighter for our family. With light in our home, I can now learn tailoring at night and assist my wife in her business. This will not only strengthen our bond as a couple but also improve our financial situation. Additionally, our children will have better opportunities for education and studying at night, which will contribute to their future success."
And the best part is, the story doesn't end with Yohane. The effects of Yohane's solar light ripple out into the community, the country, the planet.
"Solar energy is undoubtedly beneficial for the climate. By harnessing the power of the sun, we reduce our reliance on fossil fuels and contribute to the reduction of greenhouse gas emissions. Solar energy is clean, renewable, and sustainable. Embracing solar power is a step towards achieving climate action and economic freedom for us."
To all our donors and supporters, thanks so much for your continued support.. You make such impact stories a reality every day!