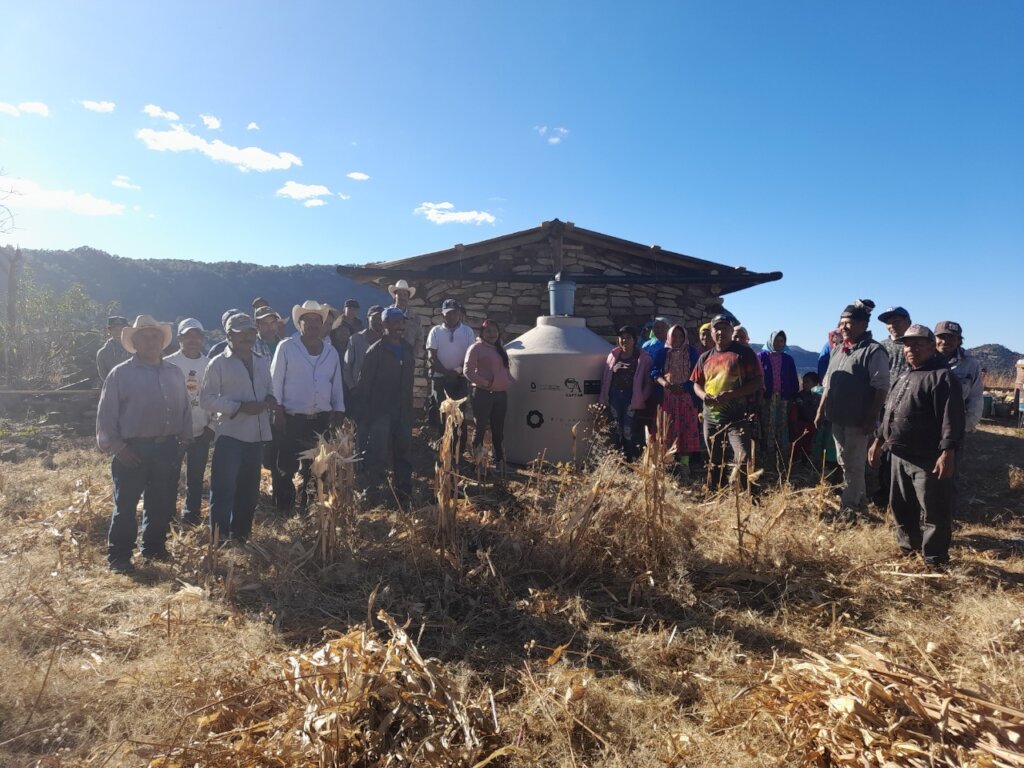 Hello dear donors!
As i mentioned in my last report, this time it´s my turn to describe how the theoretical an practical workshop to bulid a rainwater harvesting systems is carried out.
Previously, a house was chosen within the community where the workshop would be held.Generally, a house is selected where the owner has some difficulty to build his or her own crop, wheter it´s a disable person, elderly or widowed, an the house must have a firm foundation to prevent the installation from falling.
Early in the morning, the CAPTAR team loaded the necessary material for the workshop; We left for the community where the beneficiaries both men and women already waiting for us to star on time.
Now hands on, the installation begins with the construction of the wooden structure where the roof will be placed, CAPTAR technicians teach the community how to level and align the roofs it reads easy but it´s not so simple. Whit tha placement of this roof is achieved with better weather conditions, reduction of respiratory diseases, decent housing. Then follows the placement of the sheets on the structure, in the lower part of the sheets are installed the pipes that will serve as the channels where the captures water will be taken to the water tank. Meanwhile another group receives instructions to make a cement base to support the water tank, in this process sand and stones are gathered and the whole community is seen joining together to finish the construction process, this work becomes even more titanic because the community still prepares a snack to offer to all those who worked in the workshop.
This workshop is marked by a great sun that illuminates us and at the same time is wreaking havoc on each of those involved in the process of installation, water is passed to all to refresh and to continue whit this work.
Water purifying filters are installed on top of the tank to be able to consume this vital liquid clean and free of bacteria.
Finally the installation is finished, the final photograph is taken with all the paticipants od beautiful work, everyone is verry happy, full of satisfaction for the work and learning done.
And now each one returns home to apply the knowledge acquired to start building their own system.
Thank you and see you next time,