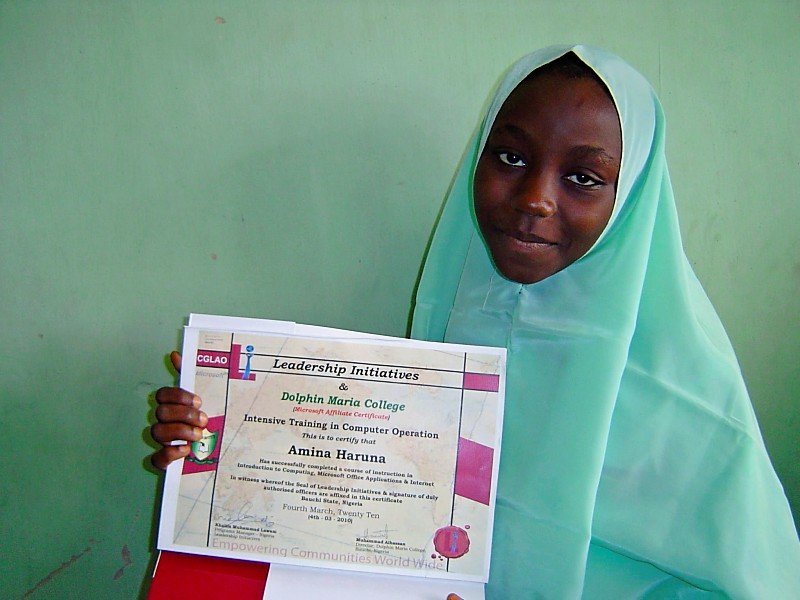 LEADESHIP INITAITIVES NIGERIA PROJECTS UPDATE
BAI (Fish Farming)
Results: In 2010 BAI feed over 1800 people curing them of their vitamin B deficiencies with six farms, sent over 23 children who were previously farm hands to school and created a consortium of farmers who are creating new roads and employing shippers and other members of the Nigeria community that never had such opportunities before. The average farmer has increased their previously incomes by over 300%.
BCLI (DP) (Computer literacy and job creation)
Results: Six new small computer centers in Bauchi to service the community owned by disabled Bauchi citizens.
Other students were absorbed by the local Bauchi government to better their computer education programs, implementing projects like BCLI or Computer teachers for local schools.
YMSAI (Skills Acquisition)
Tailoring beneficiaries are improving their skills by learning new trends, as are motorcycle repairs and welding. All the tools distributed are being maintained properly by the beneficiaries and so far none have been reported missing, sold or broken.
Results
In 2010, 4 new tailoring shops were opened. Employing women and men from all different religions, economic sects and backgrounds creating new independent Nigerians poised to build a better life for their families by increasing their families income up to 200%
Final Quarter of 2010 Results Five New businesses!!!!!
Two new tailoring shops employing six people each
One new mechanic shop employing two mechanics
Two new welding companies employing 6 and 7 people each respectively
2011 New business ventures
Shoe cobbler shops
Electrician shops
Cattle farms
Poultry farms