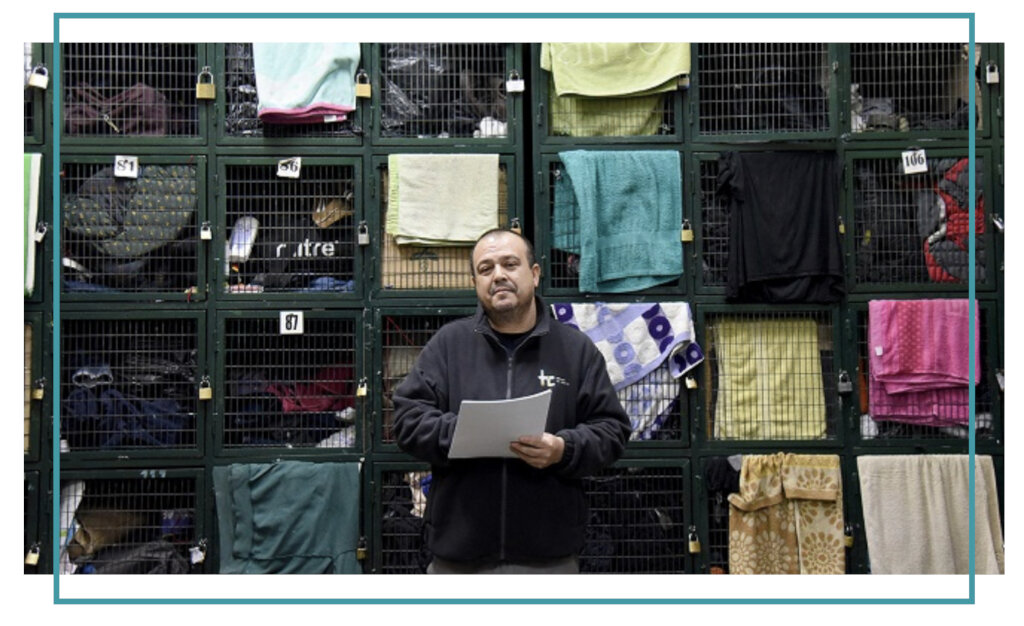 ALEX VALENZUELA: "THE HOSTEL FOR PEOPLE LIVING ON THE STREET IS THE LAST DOOR THAT A PERSON SHOULD KNOCK"
The head of the largest hostel for men living on the streets in the country, Alex Valenzuela, dispels myths regarding the people who come to spend the night in this place: "They are not here because they want to, but because they have no other place. This is the last door that a person should knock, first there are networks, family and friends, and when there is nothing left, we are the Hogar de Cristo".
In his 22 years of experience working at the Hospedería Padre Álvaro Lavín del Hogar de Cristo, located in the traditional Yungay neighborhood in the center of the capital, Mario Alexis Valenzuela (49), has been privileged witness of changes in social policies and mainly in the view that people have on the street.
"I think that progress has been made, but it happens to us that there is this kind of game of government changes that makes progress in a good street project go backwards and all good ideas stagnate. There is a desire to want to improve in public institutions but many times it is only visualized in winter. The good thing is that our Foundation has a comprehensive look and has been concerned with having better teams, delivering the necessary training to all of us who work here. "
His own history is marked by an experience of overcoming - the same that he has seen in many of the users he has met - in which he has taken advantage of each and every one of the possibilities that Hogar de Cristo has given him: "It is something that I am personally grateful and for that I always motivate my colleagues to also receive training, because it is necessary ".
Alex was 26 years old and only a quarter of a half when he arrived at the inn in 1996 for a two-day replacement. "As soon as a vacancy was created, in 1998, I applied and was hired as an assistant, a job I did for a decade. Hogar de Cristo offered me a scholarship to study drug addiction administration technician at the Central University and I happily accepted because I wanted to learn more and improve myself. I graduated and then became the coordinator of the hostel and together with my boss, Vilma Gálvez, I learned everything I know about street work, I fell in love with my job ".
It has been exactly four years since Alex replaced her as her head when she assumed a new position at the foundation. Since then, he has not seen his life anywhere else: "It is a challenging, motivating problem, every day you learn new things and my colleagues, like me, are very committed to the people we serve every day" , He says.
WANTING AND COMMITTING TO THE OTHER
Remember that in 2011, the Ministry of Social Development began with the Noche Digna program and the Winter Plan to prevent people living on the streets from dying of cold during the winter, which is why shelters were set up, some very massive like the one in Víctor Jara Stadium, with capacity for 350 people a day. Alex says that everyone entered "in a natural state"; that is to say, with a lot of consumption and he was in charge of 20 monitors.
"It was a very exhausting job. I remember that in my first shelter I was working 86 days out of a total of 90 that was enabled. From four in the afternoon until three in the morning. This experience helped me to understand how important our mission is, that of Hogar de Cristo, of loving and committing ourselves to the other. For me it was an excellent school, because I understood the dynamics of the street situation in a deeper way. There are those who have the wrong perception that they like to live on the streets, that they do not want to work and that they want everything for free. Hostels and boarding houses have taught me that much more work is required for the person to suspend, rather than overcome the street situation ".
-Are there any success stories?
-Unfortunately in this area we do not have all the feedback that we would like with the people who have been in the hostel, but I have seen many with whom I have come across throughout life who today are super well and suddenly they come to see us. Cases of people who have recovered their families and their work