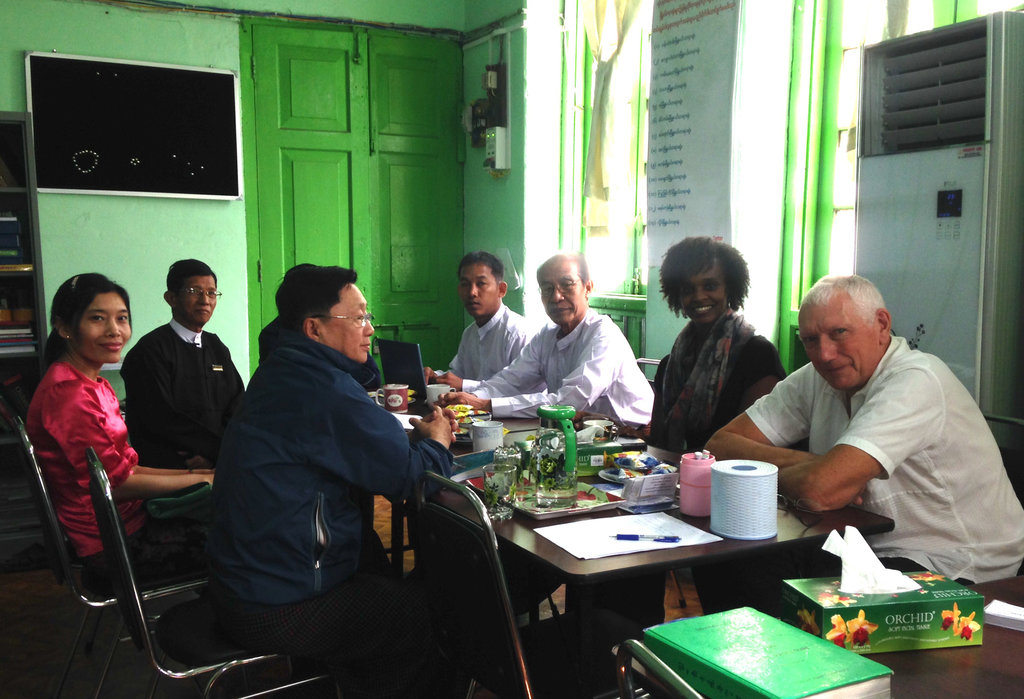 We at the International Legal Foundation thank you for your donation to our GlobalGiving campaign, Establishing Legal Aid in Post-Conflict Countries. With your support, in January 2015, we were able to fund an assessment of the ability of poor people accused of crimes in Myanmar's criminal justice system to access legal counsel.
Myanmar is slowly transitioning from military dictatorship to democracy. As part of this transition, it needs to reform its criminal justice system, which under military rule was not independent, and was plagued by corruption, torture, political bias, and inefficiency. Most critically, Myanmar needs to build a functioning legal aid system. Currently, poor people charged with crimes have no meaningful right to counsel; the government currently only provides for a right to counsel in death penalty cases.
Driven by the belief that every person accused of a crime deserves to be represented by a well-trained lawyer, no matter their ability to pay, the ILF assists countries emerging from conflict or in transition to establish criminal legal aid systems that provide early and effective, quality criminal defense services to the poor. And our methods work – in our offices in Afghanistan, Nepal, the West Bank, and most recently Tunisia, the ILF has transformed the role of lawyers from that of passive participants to proactive advocates for the rights of their clients.
From January 26 – 30, 2015, the ILF's Executive Director Jennifer Smith and Program Director Nicole Taylor visited Myanmar using funds raised through our GlobalGiving campaign. The purpose of the trip was to conduct an assessment of the ability of poor people accused of crimes to access legal counsel, and the quality of representation they receive in Myanmar's justice system. The assessment involved a review of Myanmar's laws, as well as on-the-ground discussions with lawyers and nongovernmental organizations to determine the gaps between law and practice, the challenges faced by the indigent accused, and the training needs of Myanmar's lawyers.
As part of the assessment, the ILF met with civil society organizations, legal aid providers, and lawyers; with the Attorney General's Office, which is currently responsible for providing legal aid to defendants charged with death penalty offenses; and with UN agencies and other international organizations. Among the many organizations the ILF met with were the Myanmar Legal Aid Network (MLAW), an agency whose goal is coordinate the provision of legal aid throughout the country; the Yangon Justice Center and the Mawlamyine Justice Center, two nongovernmental organizations providing legal aid in civil and criminal cases; and Justice Base, Namati, Pyoe Pin, and Justice for All, four nongovernmental organizations working to improve access to justice through research, policy advocacy, and legal aid and paralegal programs. The ILF also met with members of Myanmar's Parliament to advise them on a new draft legal aid bill that they have introduced as a means to expand the right to counsel.
Through our assessment, we have determined that there is a critical need for the ILF's services in Myanmar. There is a significant gap between the law and current practices that results in widespread violations of the accused's right to counsel, right to be free from arbitrary detention, and right to fair trial. Once arrested, accused persons are routinely charged and convicted based on unreliable or false evidence, and with no meaningful opportunity to defend themselves. The handful of nongovernmental organizations and law firms currently providing legal aid services are only sporadically representing the indigent accused, and have little training in providing effective, quality criminal defense services.
We at the ILF would like to thank you for making this assessment possible. Thanks to your support, we have been able to gather the necessary information and connections to help us establish a pilot public defender program in Myanmar. We hope to be able to launch this program later this year. We will keep you informed on our progress!
Thank you again, on behalf all of us at the International Legal Foundation. For more information about this assessment, or any of the ILF's programs, please contact us at info@theilf.org.
Links: