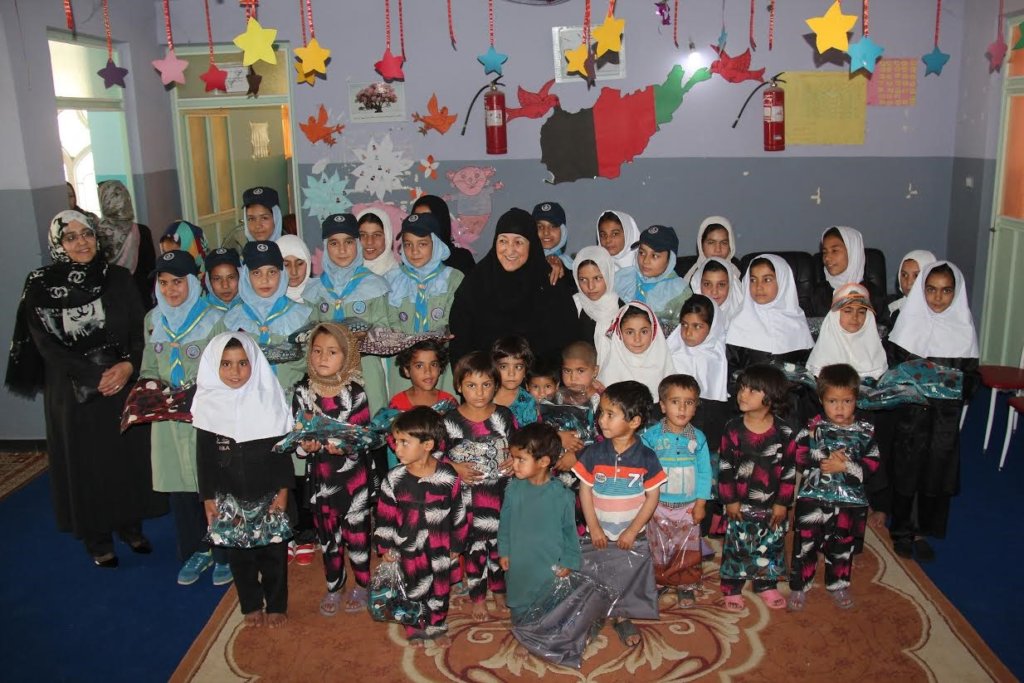 Dear Friends,
AIL's successful Learning Center program helps thousands of girls and women each year. In Herat there are 26 Learning Centers which served 12,546 people in the last six months. This number includes 7,994 women and girls. 9 of the centers are urban and 17 are rural. Most centers are co-ed but there are 3 which serve only females.
One of those female only centers is at an orphanage. There are approximately 150 girls (numbers fluctuate as girls age out and new ones arrive) being cared for in the orphanage. Each day AIL staff make sure that the 90 girls who are of age, go to school, and when they return to the orphanage they are offered tutoring. There are cooks who ensure that each girl is given healthy, nutritious food to eat. Health care is also provided by the girls and health education.
The girls have the opportunity to attend classes offered by AIL after their school day. There are 9 classes taught by 4 AIL teachers at the orphanage. The classes include Arabic, sewing, computer and English. Twice a year each girl is supplied with cloth and is taught how to make a pattern and sew the cloth into clothing, giving her a skill, which she can use to help earn an income when she leaves the orphanage and goes out into the world as a young woman. AIl wants every orphan to leave as an empowered young woman with skills that will help her look after herself.
Habiba, a young girl that has been raised by the orphanage since she was five years old. In ten years of life she has faced many challenges in her past. She was born into a poor family of 5 members. Her father was killed on a road side bombing when she was 2 years old, and her mother and three of her siblings were working to pay for their livelihood. To add to her devastation, Habiba's mother was diagnosed with cancer and passed as well. Shortly after, her older sister married and Habiba and her brother were brought to the orphanage due to the financial constraints of staying with relatives. At the orphanage she is living like other children having nutritious food, someone to look after her, friends to play with, clothing to wear and a school to learn and grow. Currently a 4th class student, Habiba's intelligence is evident in her interest in learning computer skills. When we asked her what she thinks about the computer, she answered us in this way: "Computer was a new thing for me and I didn't know it before I saw it the first time. I knew nothing about the keys, the hardware and the software and how to use it. From the day I started, it was amazing for me and I can do many things with it. I can paint, draw, write, read, count and do many things. During the sessions I learned many things and I am not that girl of years ago. I wish I can be an elite student and then an elite person in this country and change the destiny of children like myself. I am going to achieve all my goals by studying and critical thinking. Today my dreams are coming true at AIL orphanage. I am going to change my life."
Your support makes a difference in the lives of girls like Habiba. Thank you.