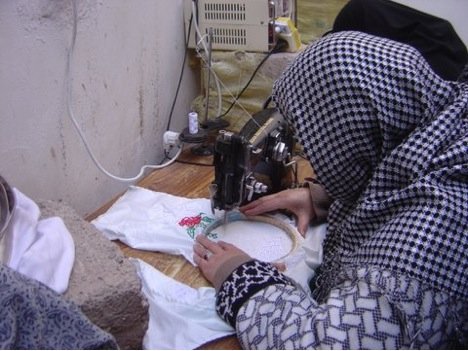 The Afghan Institute of Learning (AIL) and Creating Hope International (CHI) thank our donors for their support of our learning centers in Herat. In the last six months, our 17 learning centers brought education to almost 9,000 Afghans, 6,000 of which were women. Through our educational workshops in Herat, we trained 643 more women in topics such as reproductive health, human rights, democracy, and leadership. AIL is making large strides in the progress and education of women and your donations are making it possible.
Aside from traditional educational courses such as literacy, Arabic, English, math and science, we offer skill-based courses in computers, tailoring, and weaving for women so that they can take these acquired skills and earn a living for their families. An illustrative example of this is the woman Afsana. Housebound and not allowed to go to school by her family, members of the community talked to her family and convinced them to allow her to go to a learning center in Sufi Abad, near Herat.
"My name is Afsana. I was living in Shindand district about 200km away from heart city. My husband is addicted. My family didn't let me study. When I saw people read and write and they could use computers I thought I went back to 100 years ago so I came here to change my life."
AIL registered her for classes and after she became literate, she was soon studying English and computer technology. In one year, she went from an illiterate housewife to working as an office assistant for a large company, due to her newfound computer skills. Afsana is one of many women whose lives have been completely changed by the education AIL provides through our learning centers.
We have a big year planned ahead and we hope to open more centers in the Herat region to better serve those who have the least access to education. We are just starting up a new set of mobile literacy workshops and classes for the Herat region in particular. Soon, more women and children from Herat will learn how to read using mobile phones as a learning tool. Again, we want to thank you all for your support of our programs!