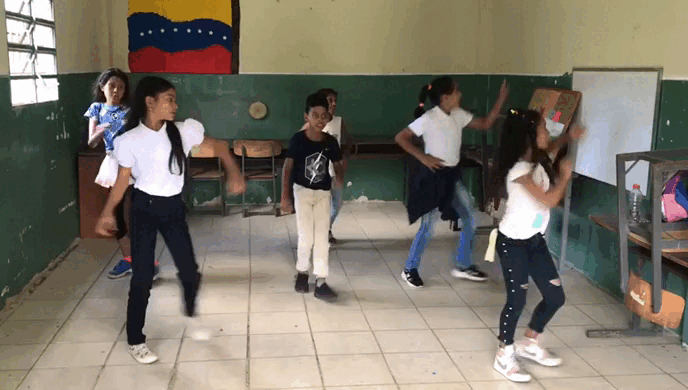 Desde el Laboratorio de Artes Integradas (LAI) esperamos que estén bien de salud.
En octubre empezamos el año escolar del LAI yendo a las comunidades, este año estamos más organizados y comprometidos, hemos logrado ir a 4 de las 5 comunidades que atendemos: Colegio Jenaro Aguirre en el sector 24 de marzo en Petare, 34 estudiantes, Colegio Corazón de María en el sector Campo Rico de Petare, 40 estudiantes, Colegio Nuestra Señora de Guadalupe en el sector Fundo Agrario Maturín en Parque Caiza, 25 estudiantes y a la comunidad de Caucagüita, 45 estudiantes.
En José Félix Ribas, ya se encontró un espacio adecuado para poder ir a darle clases a los niños, un espacio que cumple con las normas de bio seguridad. Gracias a la ayuda de los representantes de la comunidad y gracias a nuestro equipo, su constancia y perseverancia va a ser posible que los alumnos de esa zona de Petare regresen al LAI.
Regresar a clases implica un nuevo reto porque tenemos más estudiantes de lo esperado. También por el aumento de los materiales y de la merienda que se le entrega a cada uno. Y todos los gastos relacionados con el traslado de los profesores. Retos que estamos dispuestos a enfrentar con mucho trabajo y pasión por lo que hacemos.
Hemos podido adquirir dos (2) bongos manufacturados por músicos locales, que son livianos y fáciles de trasladar.
Así mismo, contamos como asistente de la profesora de Danza, con una ex alumna del LAI, lo cual nos llena de orgullo. Ver como se cierra el ciclo de estudiante a profesor asistente.
Los estudiantes están avanzando cada vez más: los de costura hacen patrones y están cosiendo sus piezas de vestir; los de percusión cada vez más en sintonía; los de danza experimentando otros géneros musicales, pasando de la danza tradicional a danza contemporánea; los de dibujo y pintura aprendiendo nuevas técnicas.
Le agradecemos su apoyo, sin ustedes esto no sería posible. GRACIAS
Ayúdanos a correr la voz.
--------------------------------------------------------------------------------------------------------------------------------------------------------
From the Laboratorio de Artes Integradas (LAI), we hope that you are in good health.
In October, we started the LAI school year by going to the communities. This year, we are more organized and compromised, thus, we have managed to go to 4 of 5 communities: Colegio Jenaro Aguirre in 24 de Marzo zone in Petare with 34 students, Colegio Corazón de María in the Campo Rico zone in Petare with 40 students, Colegio Nuestra Señora de Guadalupe in Fundo Agrario Maturin in Parque Caiza with 25 students, and the community of Caucaguita with 45 students.
In Jose Felix Ribas, we found an appropriate space where we can teach the children, an area that meets with the biosafety standards. Thanks to the help of the children's representatives and our team, their resolve and perseverance are going to make it possible for the students of this zone in Petare to return to LAI.
Coming back to class implies a new challenge due to the unexpected, massive number of students. Besides, other causes that complicate our labor are the rise of materials and snacks delivered to each child and all the expenses related to the transport of teachers. We are ready to face these challenges with a lot of effort and passion for what we do.
We had the possibility of acquiring two (2) light, easy-to-transport bongos made by local musicians.
Moreover, we have an LAI alumna as the Dance teacher's assistant, which fills us with pride as we look at how the student process concludes to become a teacher's assistant.
The students are progressing more and more: the sewers are making patterns and sewing garments, the percussionists are more and more in tune, the dancers are experimenting with other music genres as they go from the traditional dance to contemporary dance, and drawers and painters are learning new techniques.
We are grateful for your support. Without you, this could not be possible. THANK YOU
Please help us to spread the word.