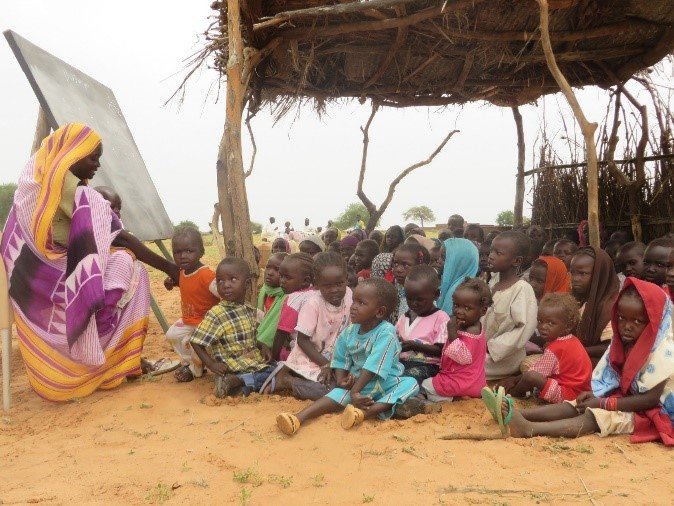 98% mothers in Darfur are illiterate, they beg us to help their children
From the start mothers have begged for help in educating their children. They know it is the way out of poverty, but they also know that if a child starts school late it is hard for them to catch up. This is why our kindergartens are so important. When the Director of Education in the State Ministry visited our first kindergarten at Abu Nahla he said it was unique in Darfur. Not only do we provide classrooms and a veranda for shade and a play area, we provide latrines - the first in the village. Children who have never seen a toy now have indoor and outdoor toys, suitable for both boys and girls. Outlying huts can be miles away. Our school bus – a donkey cart – is the first in Darfur. We are now planning school libraries. Children need books – there are none in any village.
We have been given the go ahead to adopt five new villages (children have starved to death in each of them THIS year) plus five new kindergartens. Funding a Kindergarten and giving children the chance of an education is of immense, probably primary, importance in Darfur. People know that education is their best way out of poverty. It is an enormous privilege to be able to help!
Please help us to equip villages with educational equipment and towards building a kindergarten to help educate children to break out of poverty
$35 will provide 30 bricks to help build the school
$42 will provide books, crayons, uniform and an education toy for one child
$50 will provide 20 story books
$140 will provide notebooks, pencils and coloured pencils for 50 children
$500 will train a kindergarten teacher
$1,600 will provide 2 blackboards for the classroom, educational toys and games for 50 children
$42,000 will build one whole kindergarten with latrines, veranda, two classrooms and equipment
Thank you so much for your support.