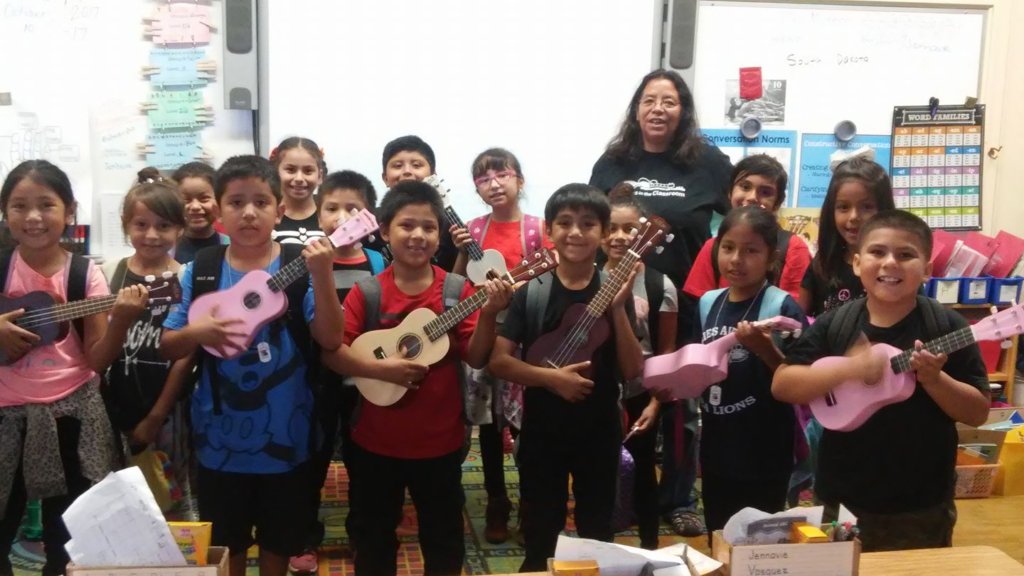 Dear Music Friends,,
This has been an incredibly busy launch to the school year with record enrollment and new programs popping up around the U.S. We here at GITC are so grateful for your support of this work. In the past week, I have been working tirelessly in our programs taking place throughout the Los Angeles Unified School District, the second largest district in the U.S. covering over 700 square miles. Thanks in part to your support and also with grants from the California Arts Council and LAUSD itself, we are serving in some of the mose economically challenged communities, making sure every young student in a GITC classroom gets to learn to play ukulele, sing and write their own songs for learning.
At the same time, your charitable gifts are helping us serve in schools all over the country, from rural North Carolina to urban Brooklyn, from island community Whidbey Island in Washington State, to Lemon Grove, CA where many refugees from African countries have found a safe, new home. Music can unite us all in the human spirit, instilling hope and cultivating tools for learning, but only when friends like you help us make this possible.
In L.A. this year, GITC teaching artists are working with classroom g teachers in 24 classrooms to support their development as songleaders for learning. This is going on downtown LA near Skid Row, and in Watts, in schools from North Hollywood to Canoga Park and parts east, and more. The student progress that is made possible when a classroom teacher receives 9 sequential coaching visits from a trained GITC music teacher is exponential. Each time our artists and teachers work together to help students have a positive, productive hands-on experience, children are learning. The kids love participating in literacy lessons set to music and fueled by the power of song! Given the chance to strum and sing, every single student participates whole-heartedly. Their understandings are growing, the grades are improving, the classrooms are singing.
Thank you for standing with GITC for our young students and for the future on making music in this country. We look forward to sharing an amazing school year with you!
With endless gratitude,
Jess
Links: