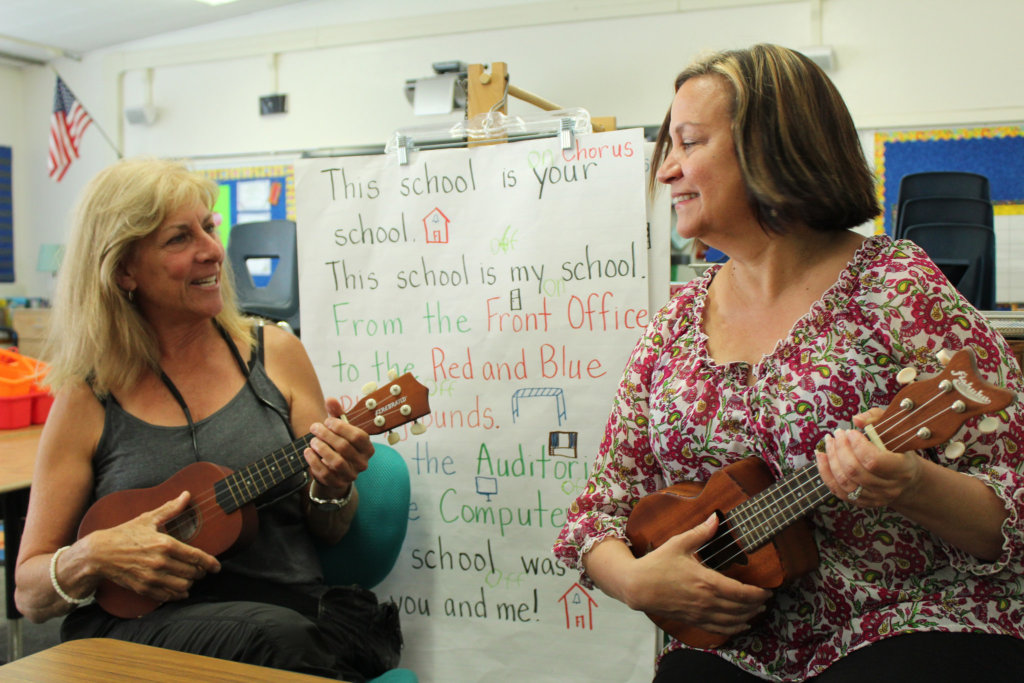 Hello Friend,
Thank you for your support of students in need by giving to our programs. Through your continued generosity, we have been able to increase our impact in classrooms in the U.S. serving children from every walk of life. To highlight some of your impact, we would like to share GITC classroom teachers Janelle Rusch and Patrice Maller story of musical partnership. Your charitable giving to our organization gets teachers like these two started making music in their classrooms and this story gives you a glimpse of how teachers can embrace the work when they have been with the program long enough to develop strong music leadership skills and confidence.
Silver Gate Elementary School teachers Janelle Rusch and Patrice Maller laugh as they strum their ukuleles in Rusch's colorfully decorated kindergarten classroom. Both Janelle and Patrice are GITC teachers who have a unique program in which their classrooms buddy up and learn and play together. They have been partnering for 2 ½ years and have learned a lot along the way.
Patrice, an experienced teacher with 28 years of experience, 21 of them at Silver Gate Elementary, was the first to hear about Guitars in the Classroom. A neighbor and fellow teacher told her about the organization and she was immediately interested. 5 years ago she connected with the organization and took a summer intensive course. She has been using music in the classroom ever since and has even raised enough money to purchase a full set of ukuleles for her classroom.
After Patrice started integrating the GITC method, Janelle overheard her talking about it and this re-awakened her own desire to get back into music so she reached out to Patrice. Janelle has a background in early childhood development and with her 7 years at Silver Gate teaching Kindergarten and 1st grade, she saw this as a great opportunity to connect with her young students in a new way.
They decided to embark on a journey together by implementing a buddy program between their K/1 and 3rd grade classes. For 30 minutes a week, Janelle's class of younger students visits Patrice's older class to strum and sing songs together on the ukulele. Each student has a buddy whom they sit with every week while the older kids teach and guide the younger children.
Patrice and Janelle designed this partnership in a way to best benefit the students. First, Janelle makes a list of her students, describing their personalities so Patrice can pair them well. Patrice shares about this technique, "The buddy program is a little bit unique, and to set it up Janelle does a great job of saying to me okay here's my list of kids … this child is very friendly and outgoing, this one is shy. I can look at her list with those descriptors and look at kids in my group and figure out who might be the best buddy for that person."
In addition to partnering them well, Patrice and Janelle both work with their individual classes outside of the scheduled 30 minute time periods. By preparing the older students to instruct, and by giving the younger students an introduction to playing, their time together goes more smoothly. During their shared time, the older buddies play different roles, calling out instructions, clapping, and singing along to the music.
Janelle and Patrice both have seen the great impact bringing music in the classroom can have on students. Patrice emphasizes that music is just another key way to reach kids. Like any other subject or learning tool, music will affect and influence students in new and unique ways. An over-emphasis on the science and math curriculum can unintentionally overshadow the great power that music and art can have to further cross-curricular learning. In addition to boosting academic success and creating a vibrant classroom learning environment, the integration of music also gives students an opportunity to discover a new hobby or passion. Many of the students in both Janelle's and Patrice's classes have gone home asking for ukuleles or guitars, hoping to continue learning the craft on their own time.
Janelle also points out the great effect music can have on the disposition or engagement of students. Calmness and focus can be brought to those who are restless or agitated, and it brings excitement to those tend to be disengaged. Janelle shares that music integration is effective, "especially with kids who might have behavioral issues or special needs. All of the sudden this calm comes over them and they get that one on one instruction that they don't always get from me on a regular day." Through their partnership, music is able to help those who might otherwise have trouble focusing and engaging.
In addition to the power of the music, the two teachers have seen the great benefits of the buddy system. The mentorship gives the older students a new found responsibility. "Anybody who shows someone else how to do something feels really good about themselves and it gives them a motivation, I think, to try a little harder. It motivates my kids to pay attention to what they're doing and really think about it because they know they're going to be going into another person's classroom and playing for them," Patrice says. This motivation creates more focus in the classroom. And their progress can clearly be seen, "I'll look out and say 'Hello out there, is anybody listening?' and I think they're not watching me. And then I watch them with her students showing them the finger position and how hard to press and how to make a chord properly and I realize how much they've learned. They're involved, so they're so much more interested because they're the ones doing something," Patrice shares.
Not only do the older buddies grow as mentors, but the younger buddies get individual attention and instruction that would be impossible for Janelle to do alone. Janelle says, "The older students have already had a little bit of an introduction as to how to hold it, what finger to put down and those kind of things that really helps my younger kids. Because for me to teach a whole class of younger kids … that's much more of a challenge just because of where they are in their development. For us to meet up and them to have that knowledge … it's wonderful and we're very grateful."
In addition to the causing an increase in understanding and attention, these partnerships create bonds that go beyond the classroom. Students say hi to one another on and off campus and are creating relationships that supersede age and class. They're developing social skills through the buddy system. In this way, their buddy program is nurturing the school community. Now in its third year, students in 5th grade were once 3rd grade coaches. The students they helped to get started two years ago are now those big kids helping a new batch of first graders learn to play! Continuity is a natural result of the stability of this creative partnership between Janelle and Patrice.
The buddy system also provides a sense of support and accountability for Patrice and Janelle. Both of them emphasized the challenge of having enough time to prepare for a lesson that involves music. Having each other creates a commitment that keeps them accountable. Planning and working together helps them ensure they actually do it, makes the process a bit easier, and gives them someone to share the fun with!
Patrice encourages teachers interested in starting with GITC or implementing a buddy program, "Start and don't worry about the details." Both Janelle and Patrice agree things don't always go smoothly in the beginning, but over time the joy and growth you see in the kids makes it all worth it.
We hope you've enjoyed reading this story of how training two willing teachers led to a transformative movement within an elementary school. Your support allows us to continue to infuse schools and classrooms with musical learning.
Thank you from the bottom of my heart for all you have allowed GITC's compassionate faculty members to accomplish. Together, we are making a remarkable difference for kids. We hope you will continue to give your support to these efforts so more children can learn, grow and thrive through creative self expression and music in 2017!
With you in service,
Jessica Baron