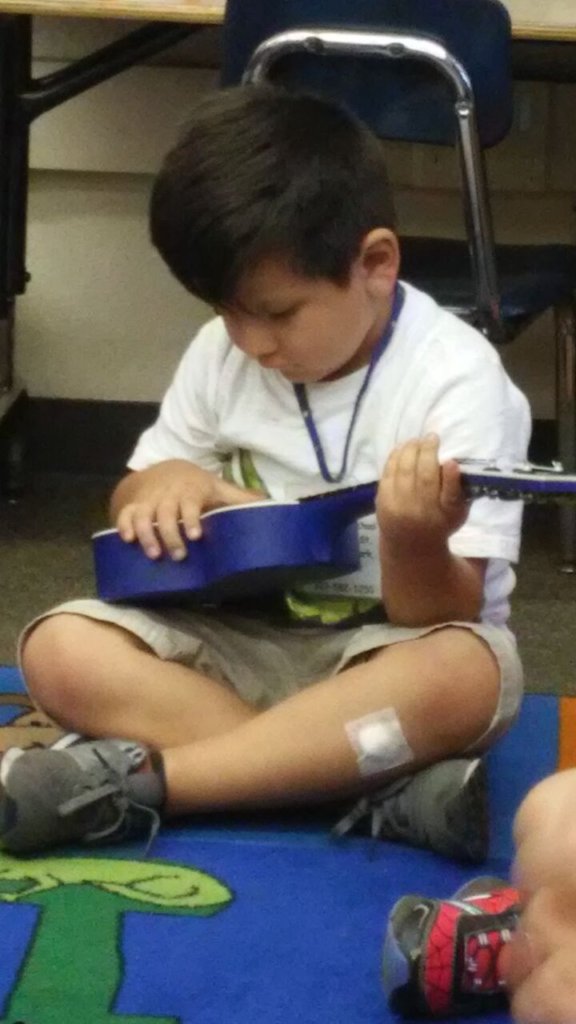 If you have ever held then let go of the hand of a child entering kindergarten for the first time, you may be familiar with the natural hopes and concerns felt by both the parent and the child on the first day.
We wonder if our child will make a friend. Will the teacher be kind? Is he or she really ready to go from a less formal life of "free play" to one with expectations for "good behavior" and learning at each turn? Will a challenge be welcome or feared- or both!?
Children who attend preschool may have an easier time adjusting to school- but so many don't have this opportunity. Even with tax credits or discounts, the cost of preschool can be out of reach. In addition, just because a child does attend preschool does not mean he or she is ready for more structure.
In those first days of school, we hope that our child will have a good experience. When being asked by a teacher to do something unfamiliar or unwelcome, we hope our child will rise to the challenge. When it's time to put toys, books or tools away, we hope our child will manage that task smoothly. When competing for a toy or for the teacher's attention or seeking friendship from an uninterested peer, we hope our child's heart will be safe and strong. We cannot be there to help.
But music can.
Singing can bring each child into the group, capture everyone's attention and hold it fast. And each song that carries a message teaches something important. A song for names, a song for learning sounds, a song for cleaning up, a song for waiting for your turn, a song for expressing feelings in words, a song for numbers, a song for ending the day...these songs can ease the stress of school, help children feel a part of the classroom community, and each song like a little package of good ideas can bring their learning back to them.
This is the work of GITC in Tk and kindergarten classrooms! Throughout the Los Angeles Unified School District this spring, we have launched our first artist residencies with your invaluable assistance! From the far Northwest Valley to Eas L.A., your love is being felt.
You are helping Tk and K teachers bring the magic and discoverey of childhood and the love of home into their classrooms through music. Even in this institutional environment, the teachers are learning ways to keep joy in the moment and creativity in the process of learning. Together with our first GITC Teaching Artists in LA, together we are helping each child find a musical pathway to success, to learning, to growth.
Meet Charlie. Last week I had the profound pleasure of observing him explore and discover his ukulele during music time. The class was learning the sounds in the word "cat." It wasn't enough for Charlie to strum and sing, although that would have been enough for him to achieve. He wanted to understand where and how the strings attached to the uke from the bottom to the top. Over and over he traced their path, touching the bridge at the bottom and the tuners at the top- an engineer in the making. When he formed an understanding, unaware he was being observed, a smile broke out across his face and he began strummming! My eyes filled with tears. This is why I have done this work for almost 30 years. Charlie then eagerly embraced the challenge of matching his teacher's steady beat, an activity that forges new neural pathways to form across the brain. Please enjoy the video we posted of him on facebook and you will see for yourself the learning you are empowering teachers to facilitate.
Charlie is a Tk student in East L.A. Four and five year olds who are not ready for the rules and rigors of kindergarten need this kind of playful discovery they may find in a grade that some districts have created, Transitional Kindergarten, known as Tk. Students between 48 and 60 months can qualify for this class instead of full-on kindergarten.
Tk seems like a sensible and wonderful idea, right? Well, it IS. But the grade is so new that many teachers- and especially principals- are only beginning to understand what should be taking place in Tk.
Tk is NOT "kindergarten but slower." It has very specific developmental markers and milestones in which students are not expected to be able to read and write yet- but they are laying the foundations through sounds, phonemes, games, and yes, thanks to you and GITC, special songs.
Tk students are ready to listen to, isolate, identify, pronounce, blend and play with sounds, forming words and phrases that they will eventually learn to read and write. But not before they learn to hear, say and understand them. In our trainings, we give the Tk and K teachers songs specially written for this purspose. They are so easy to strum and sing. Then we set them up with sets of Makala Waterman ukuleles or Diamond Head ukuleles to play!
Adding the component of strumming accomplishes a great deal within each child. They all experience tactile stimulation, develop a deep sense of rhythm and pitch, practice fine motor skills and self control, learn to listen to directions and to each other and regulate their playing to match the group. They hear, match and play a steady beat all together (quite a feat!), then they divide that beat into two and strum up and down!
This focused playing lights up the whole brain with two handed playing while the children sing songs that introduce, and impart mastery of the sounds, words and phrases while giving meaning, purpose and focus to their experiences throughout the day. After each song, the children- and their teachers- feel calmed and uplifted, ready to go on to whatever comes next. At the end of the day, that incliudes dancing to the door.
We are so grateful to you for what you are permitting us to provide to young students. Please keep that love and support coming. We have tens of thousands of classrooms to reach and need your help to get to each and every one. Please remember us as your tax refunds come in and if you'd like to adopt a special classroom, please visit our new microproject where this will possible in the days and months ahead!
With gratitude for your care,
Jess
Jessica Baron, GITC Founder and Executive Director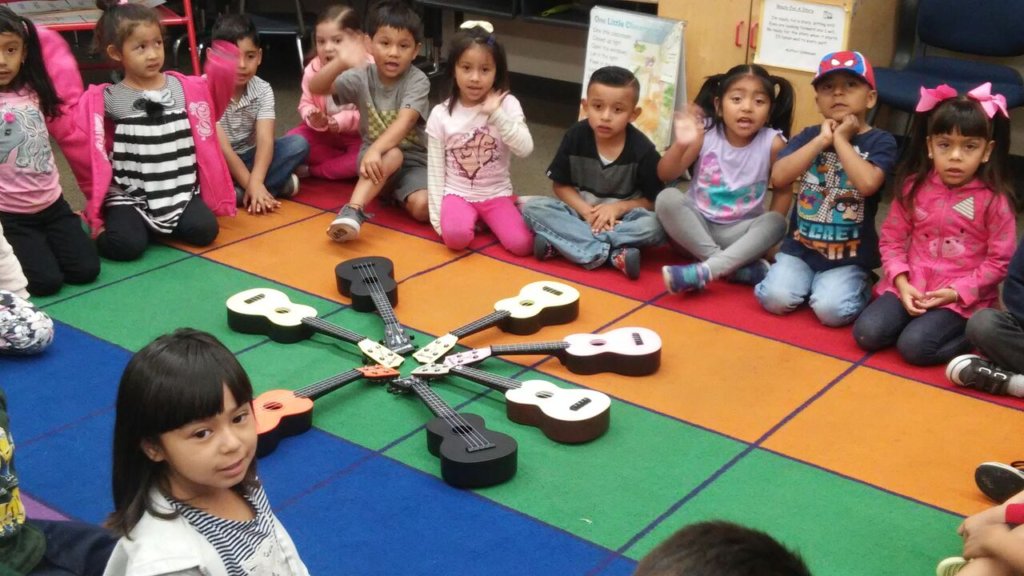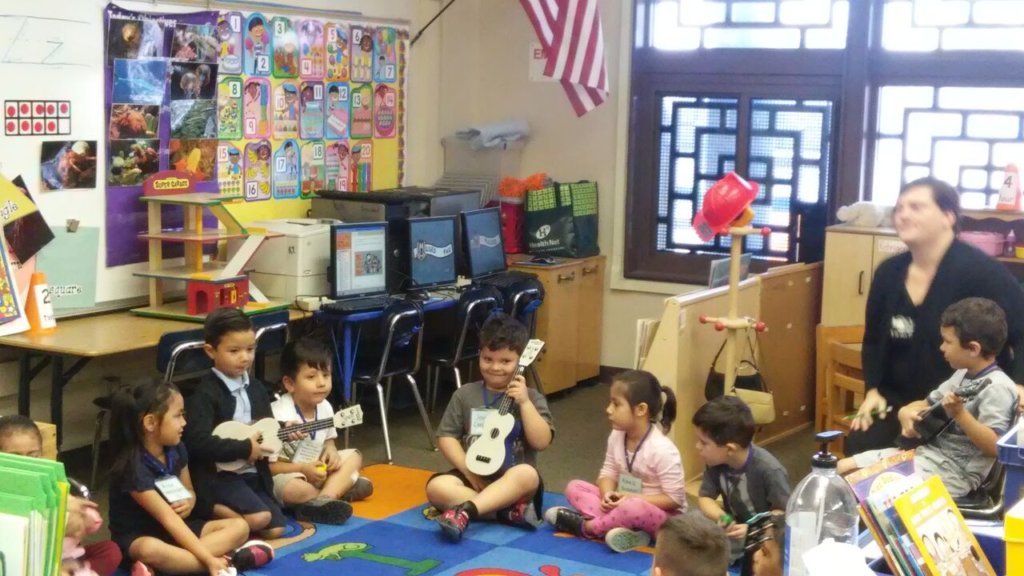 Links: