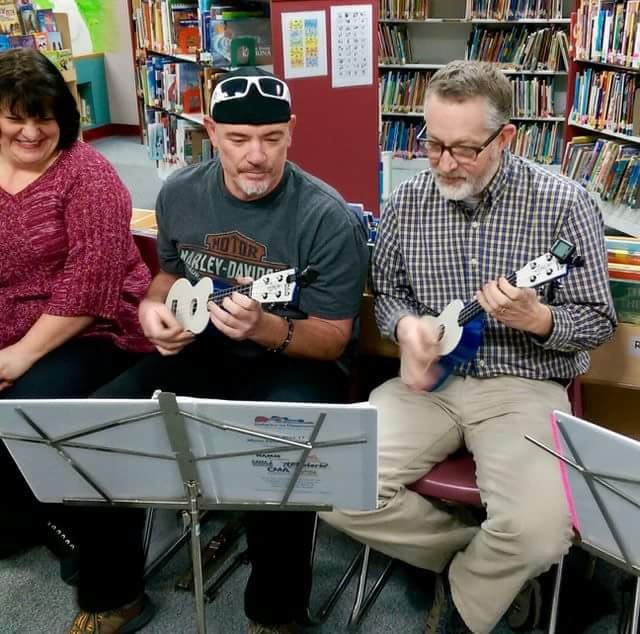 Dear Friend,
Here we are in February and it's time to catch you up on the latest developments with Guitars in the Classroom! Thank you for caring and for taking a couple minutes to read about the progress your contributions have been making possible. We have just returned from our annual pilgrimage to Anaheim California and the convention center there where makers of musical product from around the globe gather once a year to show their creations. Guitars in the classroom is blessed to receive support from the NAMM Foundation which serves as the charitable wing of the trade association that puts on the show. It is an exciting time of year where our board meets, plans for the year ahead and we have an opportunity to meet with and thank the musical instrument and accessory sponsors who helped us supply the schools. We are including a link to the NAMM foundation website for you so you can learn about all the wonderful work they are doing to support music education and musical learning around the world.
GITC is midway through the school year with new programs and classes running this month in Colorado, Mississippi and Washington State thanks to your support. We are excited to be continuing our established trainings all around California and far away in West Virginia and New York! If you are interested in finding out about a program in a particular location, please reach out to our Executive Director at Jess@guitarsintheclassroom.org.
We are excited to announce that we have been blessed by a large donation of guitars from C.F. Martin & Company and ukuleles from Kala Brand Music Company. These gifts are helping us further equip classrooms in Title 1 high poverty schools. Partnerships with such caring companies make a world of difference to how many students our free trainings can reach and we are grateful.
The big news is that after much experimentation and pilot programming, this year we are officially coming forward with a three-pronged approach to making a difference for children. In addition to giving free classes to general classroom teachers after school, we are now officially training music teachers, in fact we are teaching the music education faculties for school districts. This way, music teachers can include guitars and ukuleles in their TK-5 general music programs. Some are also choosing to learn to be music trainers for their general classroom colleagues, too. This makes wonderful new relationships between music and general educators and infuses schools with a complete musical culture, touching everyone. A rising tide raises all sails and a rising song lifts all spirits.
This winter, GITC faculty members have trained music educators in Loveland, Colorado in the Thompson School District. In addition, I have begun training music educators in San Diego Unified School District as well as the music teachers in the Oxnard, CA public schools. In March, a noted LAUSD music educator and I are looking forward to sharing our work with 70 music teachers attending the OAKE Conference in Philadelphia!
Your kind support of our work is making all of this progress possible! Thank you for keeping the faith and helping us move forward so more children can learn through the power of song.
In addition to training music teachers and general classroom educators, we have also officially added a component of teaching artist residencies to our work. This new offering gives the general classroom teacher short term support and coaching with students in their own classroom when they first learn to employ music as a teaching and learning strategy. Artist residencies are still new for us and are in full swing in our Learning through the Arts classrooms and in our Momentum Academies (Juvenile Court and Community Schools) in San Diego County. We are also beginning 12 artist residencies in March on a grant from the Los Angeles Unified School District. There, our teaching artists will be visiting high needs transitional kindergarten classrooms to coach teachers who have already taken 6 hours of training with GITC in teaching literacy through music. We are grateful to the LAUSD Arts Branch for this exciting support.
These organizational improvements are being accompanied by improvements in our teaching materials. We begin working on a series of instructional videos for our whole community this month. The videos will make it easier for everyone to learn the techniques that make our approach so accessible for all kinds and ages of students. They give us another way to keep trainings free to teachers so anyone can participate and will make GITC's work more widely available to teachers in communities far from our program locations. We are grateful to the NAMM Foundation for their significant support of this big endeavor.
While GITC makes every effort to strengthen our offerings and maintain full accessibility to teachers and students, music making continues on in GITC classrooms around the country as usual with our Strum & Sing classes for teachers. These dedicated educators are doing an amazing job of leading the way, inspiring their students, and addressing lesson content and musical learning independently!
We are including a link, below, to some tiny videos from GITC teacher training and classroom activities for you to enjoy this time. The videos come from Colorado and California. Classroom footage is in our flagship elementary school in North Hollywood, California where most of the faculty is strumming and singing with students. We are so grateful to these teachers for allowing us to share their song leadership for learning with you and to principal Christopher Clarke
https://www.youtube.com/watch?v=6ONo469yqk4
Thank you for helping GITC to infuse TK-5 learning with music! We ask that you stay with us, help us keep moving this big vision and mission forward so that children everywhere can receive musical learning opportunities on a daily basis at school. Now more than ever, our efforts to serve our most vulnerable students in our public schools will make a crucial difference for them now and into the future. Together, and only together can we accomplish these exciting goals!
In service and gratitude, wishing you peace,
Jess
Links: