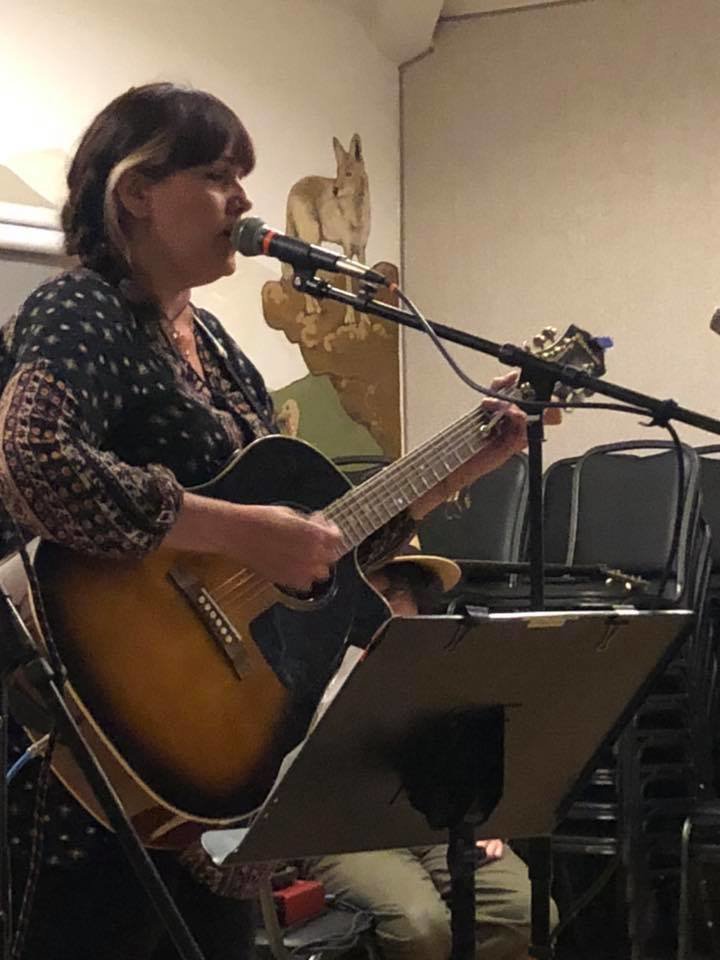 Dear Supporter,
Sometimes we send you an overall progress report, but today we want to introduce you to someone who is making a difference through GITC, Felicia Fis. Not only is Felicia supporting her students to grow and achieve personal insight and success everyday, but she is joining us to train her fellow educators. What we are learning from Felicia will be traveling through all the GITC programs this year. What is called Social Emotional Learning or SEL for short has become more and more important in all classrooms in the past year. As always, GITC is responding to the request from educators to give them training in this area so they can be as helpful and effective as possible teaching all kinds of learners.
Felicia Fis is a beacon of kindness, compassion and creativity in her work with Guitars and Ukes in the Classroom and as a school psychologist in San Diego Unified. This summer, Felicia presented a deeply moving and effective workshop to participants in our teacher retreat in Julian, called "Taking in the Good." Wherever she is- with children, colleagues or GITC community members- her knowledge, her beautiful spirit, her voice and her comfort on guitar are pure inspiration!"
Felicia is now helping other GITC teachers and specialists understand how music can become a force for teaching calm and self-regulation in all classrooms. Specific behavioral strategies were once primarily in the domain of special education, but now all classrooms are embracing students with a variety of educational and social emotional challenges as part of a more inclusive approach. That means general classroom teachers want to learn exactly what Felicia teaches.
"There are so many opportunities for students to feel overwhelmed in an inclusive classroom," remarks Jess Baron, GITC Executive Director. "Waiting, going through transitions between activities, coping with overwhelming sound and visual stimuli, mediating conflicts with peers- any of these experiences can trigger students to become overwhelmed, frustrated, or even angry. Learning to work through those feelings in a classroom setting is a big job. And making music with students provides a very positive, natural medium for developing a wide range of self-regulation self-soothing strategies."
Felicia agrees. She believes that every student has the potential to participate successfully in music. "One misconception about children with disabilities and social-emotional issues is that they don't like sensory experiences -- when the truth is, they seek them out," she explains. "If they are playing instruments and making the sounds, it is not dis-regulating. Instead, it regulates them because it's tactile, visual, and auditory all at the same time."
As a school psychologist at Valencia Park and Paradise Hills elementary schools, Felicia works with many kids with physical challenges, social-emotional issues, and behavioral issues. Her room is full of instruments, and she has seen first-hand the incredible impact that playing them has on her students.
"One student had significant behavioral challenges but he wanted to play guitar. Being able to come to my room and play guitar became a huge incentive for good behavior, and it had a ripple effect. Other kids started asking to play," explains Felicia.
In June, she attended GITC's 2-day conference in AMAISE (Adapted Music for Achievement in Inclusion and Special Education), an experience she found to be both empowering and inspiring. The conference included hands-on adapted instrument training on drums, ukulele, guitar, and Beamz interactive music system, as well as instruction on how to write lyrics for learning and social-emotional development. "The songwriting piece is amazing," Felicia explains. "Students with special needs feel SO proud when they write a song. They have utilized their strengths, their creativity and their expressive language to create something valuable. You can see immediately that their confidence has been boosted."
Felicia describes her work with GITC as "satisfying and fulfilling." She hopes that more teachers will join the movement and they are -- because she's recruiting them in droves! She is also witnessing students who didn't want to go to school now feeling excited to attend because music is a part of their day.
"Music and art are important. They open parts of people's brains that other things don't," she says. "I'm always trying to figure out new ways to bridge music and learning."
Links: