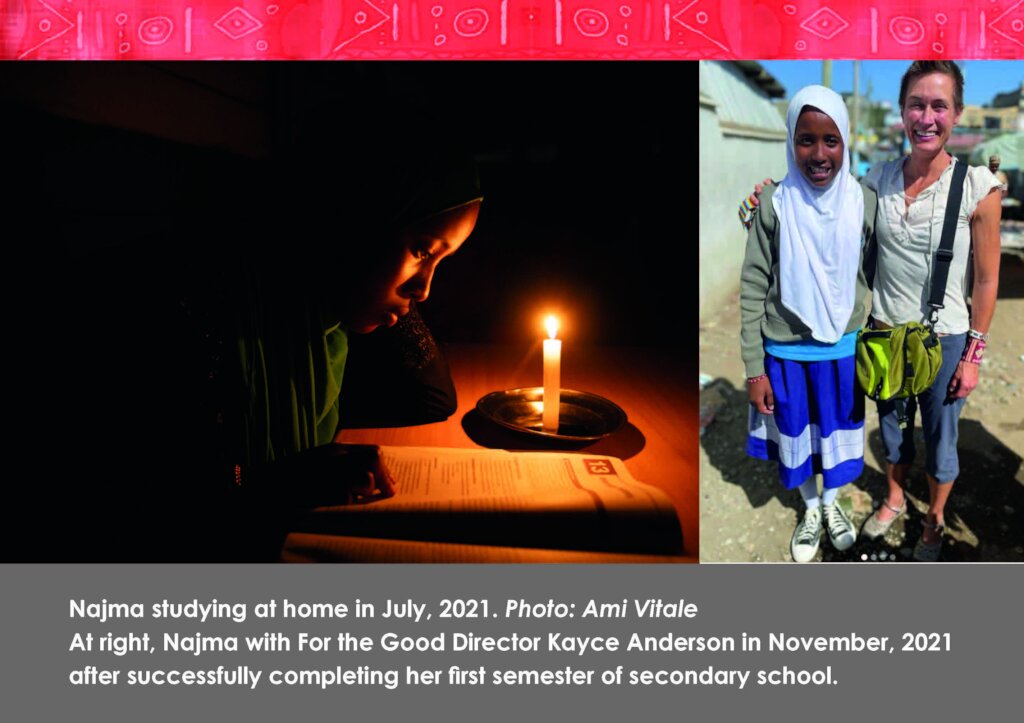 In December, 2020, you contributed to For the Good through GlobalGiving. We're incredibly grateful for your support; your donations help fund our core programs throughout the year and are essential to our mission. During the final quarter of 2021, those donations helped us:
• Expand our staff:
Late in 2021 we hired a new School Coordinator, Rebecca Kantoiye Ledidi. She is responsible for developing and maintaining strong and trusting relationships with the schools we work with. Rebecca graduated from Maasai Mara University with a degree in Education and later earned a teaching certificate in primary education from Narok Teachers Training College. She is passionate about uniting teachers, parents, and other stakeholders to work together to promote increased educational opportunity for girls. Prior to her work with For the Good, Rebecca worked in efforts to end FGM and forced early marriage in Narok County.
• Intensify data collection and program evaluation:
Also late in 2021, we launched into an intensive evaluation of our existing core programs. The goal of this evaluation was to identify gaps and challenges in the execution and impact of: 1) our first year grant program for secondary schools; 2) the follow up work done on primary school enrollments performed by our Team Angaza interns; 3) the R.A.C.H.E.L.s use in schools, in order to identify any barriers that may be interfering with teachers' use of this tool's powerful capacity to offer engaging digital content to students. This monitoring and evaluation are essential in ensuring that the work we are doing is having the impact we hope for. As a result of it, we hired a short term contractor to make the educational content within the R.A.C.H.E.L.s more user-friendly for teachers' use in classrooms.
• Watch recipients of our programs start secondary school:
As we begin 2022, we have watched with pride as the first class of high school students to begin studying at the first day secondary school we opened in the Loita Hills region have started their second year of high school. Additionally, promising individual students like Najma, pictured above, have started high school at respected boarding schools in Kenya with the help of For the Good sponsors.
• Expand Team Angaza:
Team Angaza are young volunteers that have completed secondary school and aspire to continue their educations. They help us enroll children in their communities into primary school, and in return we pay for them to get a post - secondary certificate. Our first cohort of Team Angaza –– Nelly, Brenda, Sinoi, and Stanley ––joined us in 2019 when we first began working in the Loita Hills. They have now become leaders in their communities and outspoken champions for children of Loita. As we enter 2022, they are on their ways to study early childhood education, community development, and social work. In 2022, we aim to expand our reach with 13 Team Angaza and 12 primary schools. We will begin training the first half of this new cohort this month in Kenya.
You can read more in depth about Team Angaza, our new staff and Najma in our 2021 Annual Report, now up on our website.
Thank you, as always, from the bottom of our hearts, for supporting these efforts and being such powerful advocates for girls in Kenya!
Links: