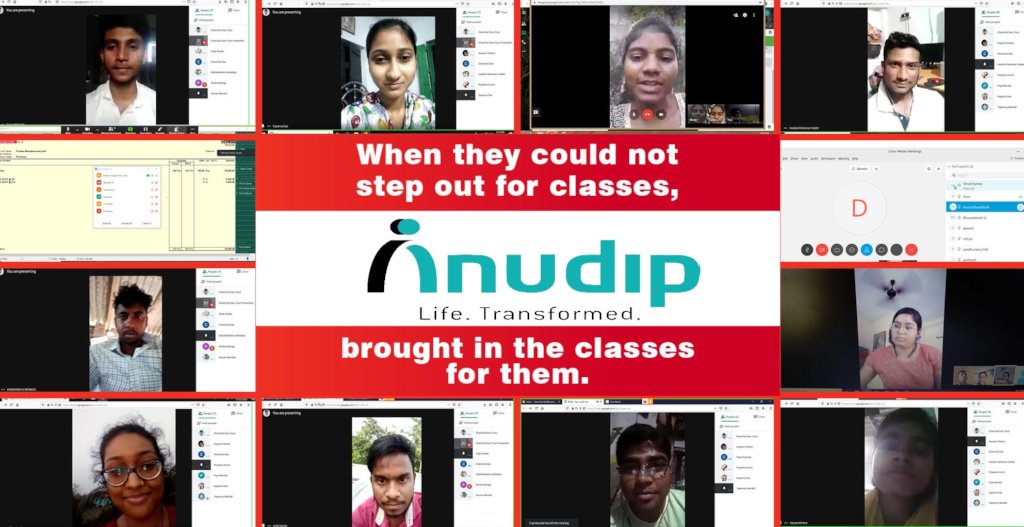 Dear Friends and Supporters of Anudip Foundation,
Since we last wrote, we've been busy responding to the overwhelming critical needs of communities for whom the threat of starvation loomed largely. As the pandemic took hold here, we started a Covid-19 Response Project to support the most vulnerable. We are grateful for the donations and in-kind support that has allowed us to reach over 55,000+ migrant workers, small hawkers, domestic help, theatre, and live-artists who have lost their livelihoods in this pandemic with dry ration and essential kits which would last for a month.
You will not be surprised to read that "Skilling and Empowering should never be discontinued" - has been our mantra since the outbreak of the COVID-19, which came with stringent restrictions. With this conviction, we evolved a paradigm shift from Physical to Digital mode of training for the marginalized youth aspirants- realizing how important it is for them to come out the other side of this pandemic with job-ready skills. This risk-control decision has led hundreds of our students, who are mostly youth from low-income impoverished backgrounds into temporary 'home-skilling'. Certainly, these changes have initiated a degree of discomfort, owing to the absence and non-affordability of own smartphones among the needy youth which has been one of the major handicaps to adapt the online mode of skill training.
However, Anudip, with its vision to create digital livelihoods, and its eagerness to build a shared world where everyone has equal access to technology has initiated its Old for you, New For Some Campaign, appealing all to donate their old workable smart-phones, laptops, and tabs—to make it possible for someone from a less privileged background to learn through the device. For students who are facing high-speed internet bandwidth, we are paying for their data and internet connectivity to enable them to attend the classes.
So far, 200+ batches are conducted across 16 Indian States and multi-sector work-from-opportunities has been generated for the needy students, since our decision to transform from physical to virtual classes. The COVID-crisis also has given us an excellent opportunity to force the entire ecosystem to work online in tandem with quality, while keeping the opportunity-limited youth alive to the vital importance to equip themselves with new-age skills and employment.
Loss of traditional livelihoods has been the most paralyzing aspect of the pandemic so an imperative need for creating an alternative livelihood for the income-less population using financial assistance, new skills training, and market linkages is our key agenda. We look forward to your continued support in enabling us to stand with the neediest sections of the society in this global crisis.
With Gratitude,
Anudip Family
Follow us on https://www.facebook.com/AnudipFoundation/