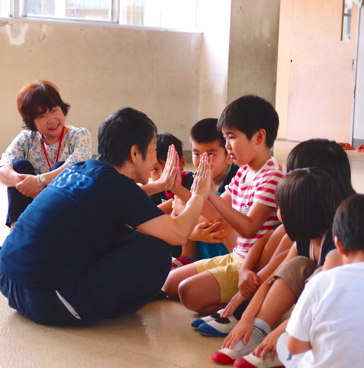 Japan IsraAID Support Program (JISP) initiated relief-activities in Kumamoto, Japan on April 15, 2016. After distributing food and water to over 2,000 people, the organization launched psycho-social relief activities targeting some of the most vulnerable groups in the Kumamoto region: children, young parents, school-teachers, and foreign residents.
In April, JISP met with teachers in the Kawashiri elementary school in Minami Ku. The team discussed with the teachers ways to alleviate the stress of kids with special needs.
JISP will implement mental-care workshops at two elementary schools in Kumamoto: Kawashiri and Higashi-Machi schools. In mid- June, JISP implemented stress-relief activities for the children and their parents and teachers in both schools.
Mikasa San, who had experienced the Great East Japan earthquake and tsunami herself, provides stress-relief activities to children affected by the Kumamoto earthquake.
One teacher commented, "today I could see a whole new side to the kids. That surprised me."
Dr. Ryoko Ohtaki provided self-care Yoga workshops to a group of lovely mothers from the home-education class. "I was able to distance myself from everyday worries", said one of the participants. "This workshop gave me chance to focus on myself", said another.
In the past three months - with your kind support - JISP was able to reach 122 children, young parents, teachers, and foreign residents in the Kumamoto area.