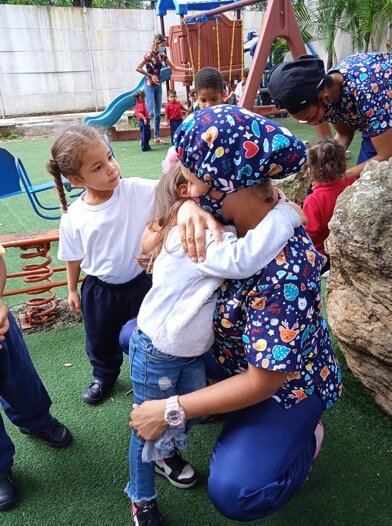 In Hogar Bambi we continue working for the overall well-being of the children and adolescents we care for, including developing an action plan that included preventative measures and health care services to avoid risks due to the COVID19 pandemic
Online and remote learning due to the COVID19 pandemic was another challenge the teachers in the company alongside the computer teacher had to take on. They made use of computer equipment and school materials (whilst following the overall framework of the project) and guided the children to learn and make the most use of these resources and technological platforms provided by various educational establishments (Google classromm, Zoom, Edudatos, Ed Modo, School Viewer, youtube, social networks, email), allowing children to be connected and fulfill their academic responsibilities in the morning hours. Sports, music and job training sessions took place, especially in the afternoon, for the adolescents. The children participated in physical education classes, swimming, music classes and choir. The adolescents participated in short courses to learn specific trades (barbershop, cell phone repair, bakery, and electrician), as well as other trainings that can be the basis of their technical and professional career path (Graphic design and preschool assistant).
We had 34 children taking occupational therapy sessions (19 from Bambi Enlace home, 7 from Bambi 3 home and 8 from Bambi 5 home). They received early stimulation and psychomotor interventions to address fine, gross, hyper and hypo motor skills, gradually developing their sensory motor skills and self-regulation ability. This translates in better adaptive responses, improved grip, gravitational security, whilst satisfying key walking phases including altering steps and having the ability to go up and down stairs with altering steps. They also developed improved anterior, lateral and posterior defense reactions and have better hand-eye coordination, including the ability perform bipodal vertical jumps, and unipedal jumps without losing balance.
All the activities carried out are executed in a cohesive way, based on each child and adolescent's individual plan developed by our team of experts, whilst balancing financial sustainability and programming objectives of the foundation.