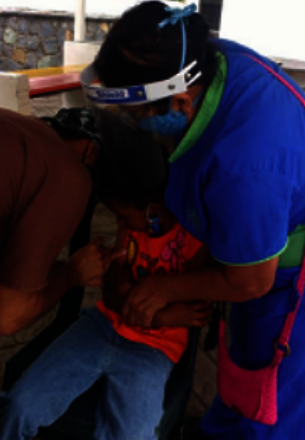 At Hogar Bambi we continue to work for the integral well-being of children and adolescents, developing prevention and health care actions, which are necessary to avoid risks due to the pandemic (COVID19). In this respect, in the last quarter of 2020, we continued monitoring and controlling healthy children, special medical exams were performed in the cases needed and we were also able to give immunizations to the children and staff.
Giving numbers to this achievements we may say:
17 initial clinical examinations and medical histories for children who recently moved to Hogar Bambi.
32 medical consultations to control healthy children.
31 lab tests to monitor and control infections or diseases.
137 external appointments (dermatology, ophthalmology, otolaryngology, among
others).
164 vaccine doses, following the vaccination schedule depending on the age of the child, specifically: pneumococcus, Hepatitis A, chickenpox, Influenza, Adacel, Menactra, Twinrix, Rotavirus).
It is important to mention that by the end of 2020 Hogar Bambi housed 101 children and teens. They have improved their health conditions, have received better nutrition and overall have favored their normal development. All of the above have been accomplished thanks to all the support received and in Venezuela where the living conditions are very precarious it is very important to keep our youth healthy and wise.