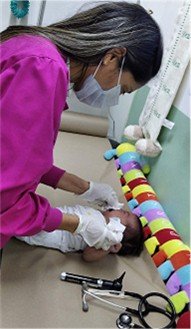 2020 has been one of the most complex and challenging years for Hogar Bambi, because to the social and economic crisis that the country is already carrying, a globally public health alarm for COVID-19 was added in March, affecting the normal living of the people, organizations, and industries.
Aware of this reality, the institution is taking all the social distancing measures, and hygienic and security precautions to protect all the 104 boys and girls that are sheltered at this time in our four houses, as well as protecting the health of our staff, who comes to the facilities to honor daily activities of child care, medical assistance, nutrition, pedagogical reinforcement, cleaning and maintenance of the houses.
Despite the circumstances main programs and projects have been executed to protect the children, especially the monitoring and attention of the health of 94 children (medical consultation, pediatric evaluations, and laboratory tests), psychotherapy sessions and crisis interventions were held, one adolescent and a boy attended psychiatric consultation to follow up and control of their mental health. Also, pedagogical accompaniment was carried out to 62 schooled children who progressed with their studies online. It is worth saying that although the order of social quarantine (in force since March) has changed the dynamics of the institution, operations in Hogar Bambi have been running on behalf of the children, whose only support comes from the institution.
We reaffirm our gratitude for your contribution that makes possible the comprehensive care for all the boys, girls and adolescents sheltered in Hogar Bambi.