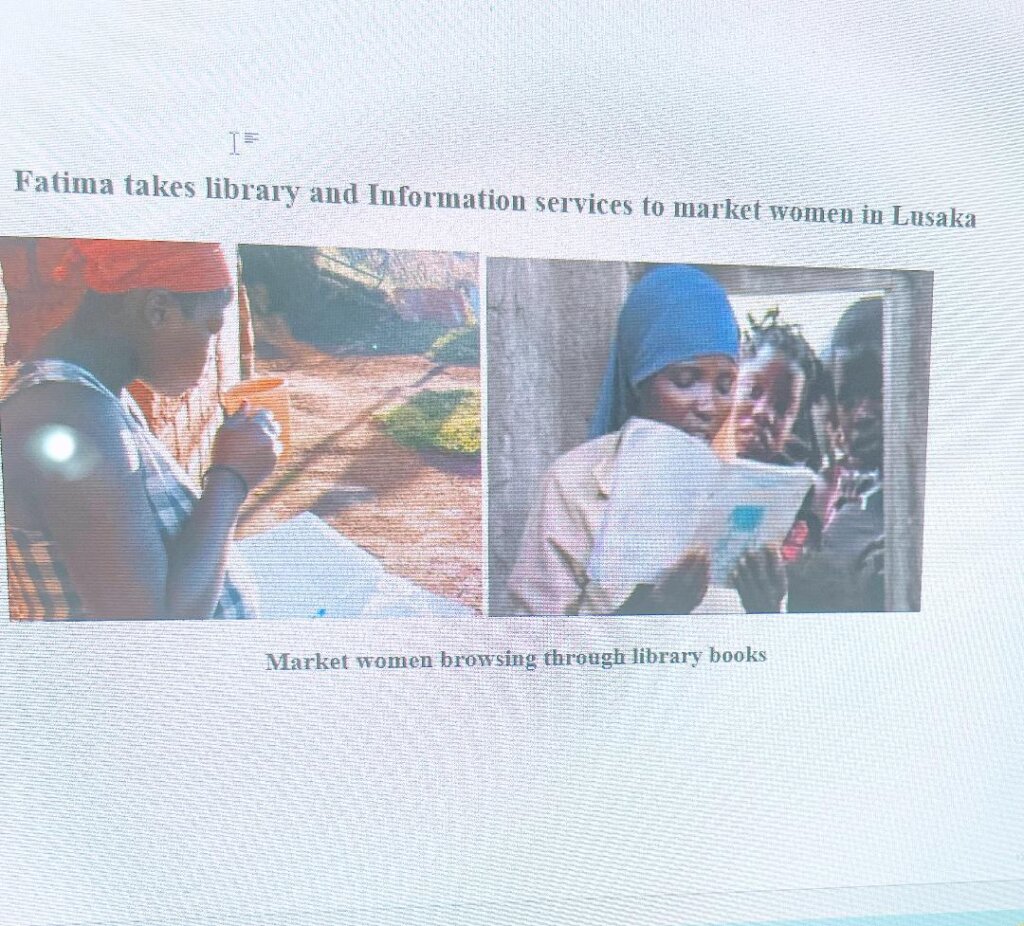 Fatima takes library and Information services to market women in Lusaka
A large number of women are found in market places in Chilenje, Soweto, Munyaula and Mtendere in Lusaka. Many of them are literate enough to count money and read what is written on packs of the products they sell. These women spend all day selling their wares in markets and have no time to visit a library to learn new things, browse through books or keep up with the knowledge in any field. Life-long learning has been recognized as a critical concept that helps to drive sustainable development in the 21st century. Also, everyone needs to keep on learning in order to understand and participate in social discourses that shape communities and learning.
Fatima has been working at the Lusaka Public Library where the library has always been open to all and she felt that anyone that needed the services of the library could go in since there are no barriers to usage of the library. However, when she enrolled on the INELI-SSAf training program and she went through the UN Sustainable Development Goals module, it dawned on her that all of the Goals cannot be achieved if any part of the community was left behind. The training also gave her the knowledge of what to do and the courage and passion to take library and information services out of the four walls of the library building. She chose the market women in Chilenje, Soweto, Munyaula and Mtendere because the markets fell within her community and Libraries are needed to enable market women to continue learning informally.
Fatima discussed this idea with her boss who got excited about it. She sought permission from her boss and the authorities of the market associations to go into the markets to promote reading. She put together a team of other Library staff and they selected easy to read, colourful information resources in health, financial management, cookery, building self-esteem and other areas and went into the markets with the resources. At each of the markets they visited, they first set up a reading corner and then invited the women to go and find out more information in the areas that interested them.
A total of four (4) library visits were made in February 2020 before COVID-19 spread to Zambia after which such meetings were no more allowed. With the four visits, a total of three hundred and twenty (320) market women were reached with information resources and talks on various health, hygiene and healthy eating tips and also on why lifelong learning is important.
The women were excited to have the information resources from the library available to them at their doorstep because the nature of their work made it difficult for them to go to the library. They also benefitted from and enjoyed the talks offered. This outreach service to the market women assisted them to improve their knowledge on health-related matters. It also boosted their self-esteem.
Fatima was really elated when she said that, "the training I received from INELI-SSAf emboldened me to promote lifelong learning and build the skills of these market women who had no idea before then, how they were going to balance their daily work with learning to improve their lives. I have inner joy for what I have been able to do for these women".