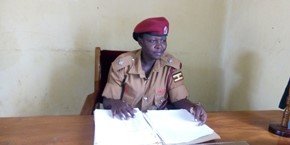 Rebecca brings ICT training to unleash women's potential in Lira, Uganda
It is no secret that women are integral actors in the development of any country, yet many lack the opportunities to learn new skills to contribute to their own personal or professional growth. Titin is the Principal Officer II of the Uganda Prisons Service in Lira, Uganda. She oversees administrative tasks that keep operations smooth within the prison, but a lack of basic computer skills has made the challenging job, even more difficult. "At my senior level, [I was ashamed that] I had to incur costs of paying someone to [do] word processing for me." On the other hand, Catherine is one of many young African women who is worried about her future. Unemployment rates are very high in Lira, and she worries that it will be difficult for her to land a job giving her limited technical skills.
Basic ICT skills can do much to help women. Yet the digital gender divide persists, as seen in developing countries where women generally have less access to the internet compared to men. Rebecca, the head librarian of the Lira Public Library understands this problem well. A very few women visit her library as most have little time away from their responsibilities of taking care of their homes and families. This motivated her to create programs that would not only encourage women in her community to visit the library more, but also help them develop their potential.
Rebecca enrolled in AfLIA's International Network of Emerging Library Innovators-Sub Saharan Africa (INELI-SSAf) program, bringing her into contact with librarians who had a similar passion to advance their communities. In 2012, through a partnership with Electronic Information for Libraries (EIFL) and The National Library of Uganda, Rebecca launched a program introducing basic ICT education to women in the Lira Public Library. Through it, young women, aged 15-30, learned basic computer application skills and developed their typing skills. These new skills enabled the women to search for information online, use websites to look for job opportunities, and create résumés. Beyond this, the program creates a ripple effect, allowing the girls to help not only themselves, but their families as well, thus changing their lives for the better.
After undergoing the course, Titin was able to accomplish tasks independently. "I know word processes and I can facilitate presentations after acquiring ICT skills at Lira Public Library". Meanwhile, Catherine was able to land a job. "I am proud", she says. "The training has helped me get knowledge and secure a job at Bamhow Computer Centre. My fellow friends also accord me respect and I have also made [new] friends in my community".
Your donations have made helped make librarians like Rebecca continue with the kind of transformative work that helps bring us closer to achieving the Africa we want. Thank you for continued support.