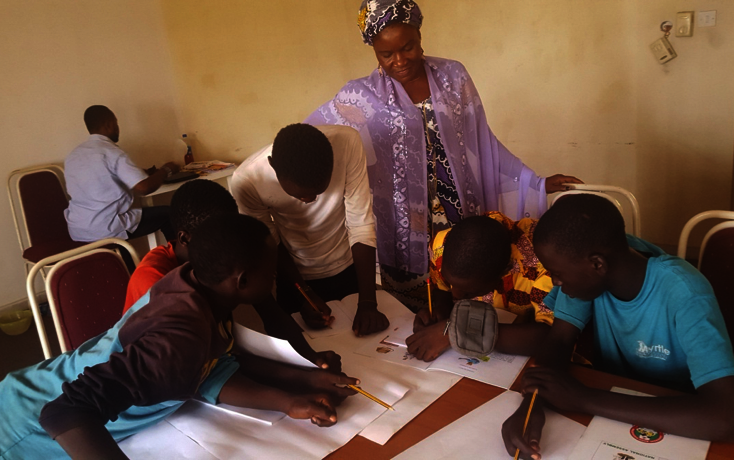 Neemat is the head librarian of the City Library in Abuja, Nigeria, where every day she would see children in the streets walking barefoot under the sun and hoping for someone to offer a Naira note. With few options open to them, many are lured into a life of petty crime. However, as a librarian and a member of her community, Neemat knew that these children and youth, known as Almajiris, had the potential to achieve much more than anyone, or even they themselves believed, if only given the chance.
Neemat recognized that her role as a librarian demanded that beyond just acknowledging the problem, she had to develop a solution. Joining AfLIA's INELI-SSAf training in 2016 taught her that libraries can become engines of development for their communities and the whole of Africa. She developed skills to assess the needs of her community and innovate solutions and new ways to serve people.
Neemat knew that Almajiris in her community needed attention, and she developed a program that provides opportunities and basic liberties that Almajiris didn't have access to while living in the streets, such as literacy training, art, and drama. The program is helping Alamajiris realize their own potential through activities that allow them to practice their talents, discover new skills, and express themselves in new and creative mediums. INELI-SSAf helped her concretize this solution and pilot the program with 20 Almajiris in Abuja in year 2017.
Through the program, the Almajiris of the first pilot are learning to dream and believe in themselves again, with some even re-enrolling in schools. Muazu is 21 years old and has dreamt of becoming the Nigerian President. He received a scholarship from a member of the community and is now enrolled in Senior Secondary School at Government Secondary School, Tundun Wada. Muazu grew up in the streets, and today, he hopes to provide the same hope and opportunities to other Almajiris like him; he says "I believe one can always achieve what you want through hard work and if given the right opportunity at the appropriate time." Neemat is committed to reaching more Almajiris in Nigeria. INELI-SSAf's training helped her develop a campaign to expand the program to other areas.
Neemat is one of INELI-SSAf's 32 librarians who will graduate this May 2018. Because of your generosity, they have enhanced their skills and gained a new mindset to reinvent their roles as innovators that solve critical issues and change the lives of hundreds and thousands. We are grateful for your support, and we hope you continue to support us as we welcome a new cohort of librarians that will help us bring innovative literacy and educational programs to more children in Africa!