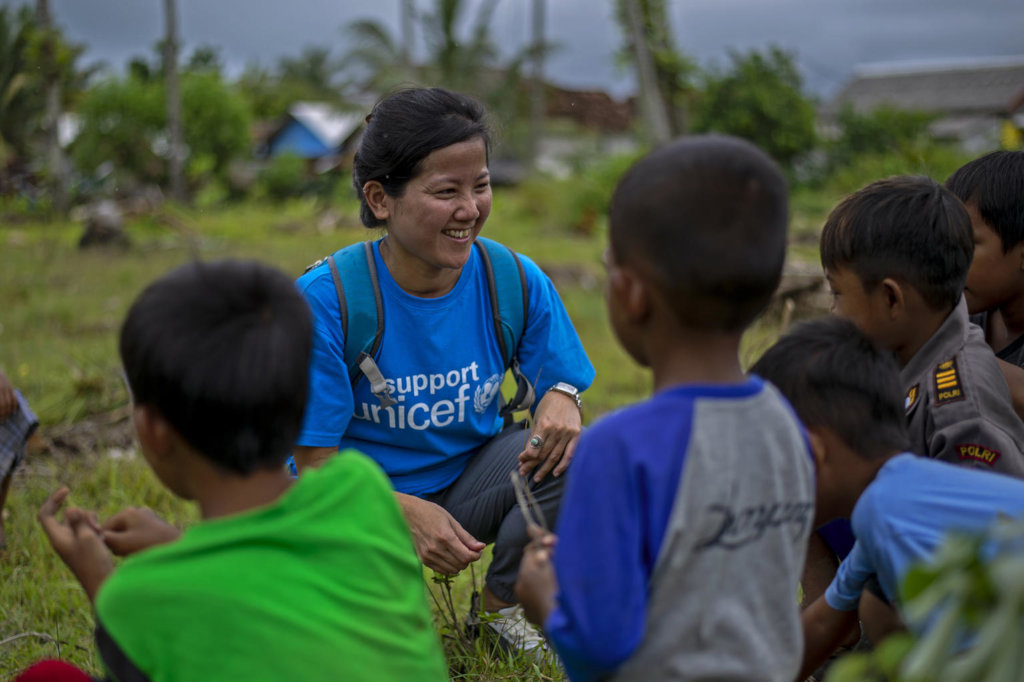 Dear Friend,
Thank you for your support of children impacted by the Indonesia Earthquake and Tsunami. As of late December 2018, at least 430 people have been reported dead, and an estimated 22,000 people have been displaced; most are staying with friends and relatives in nearby villages. UNICEF Indonesia is providing lifesaving supplies, along with technical assistance on nutrition and child protection issues.
UNICEF is on the ground to accompany the authorities as they assess the impact of the natural events on children, to ensure that children are at the center of the national response and their rights are upheld.
"Many children have lost their loved ones and all things familiar in their lives, and will need help to get back to some sense of normality as quickly as possible," UNICEF Indonesia's Amanda Bissex explains. "In the aftermath of the deadly disaster, we're working with authorities to reunite unaccompanied and separated children with their families, support infant and young child feeding, provide clean water through mobile water treatment and help children recover."
When the tsunami of 2004 struck, UNICEF responded in the eight countries hard hit. UNICEF is now drawing from that experience to respond to the immediate needs of children and families affected by this burgeoning crisis:
Last year alone, UNICEF responded to over 300 humanitarian emergencies — from conflicts to natural disasters — in 102 countries. With more than 13,000 staff worldwide and 350 warehouses globally, UNICEF is uniquely poised to step up where help is needed most and work with local partners to deliver urgently needed supplies like safe drinking water, hygiene sanitation kits, and medicines. Trained staff offer psychosocial support and educational materials to get children back to learning and playing — and just being kids again — as soon as possible.
Would you like to learn more about UNICEF's Educational Response in Indonesia? Here is an article that highlights the arrival of 30 tonnes of emergency education materials including 65 tents for temporary classrooms, from its supply base in Dubai in direct support to the Ministry of Education and Culture's response program.
Thank you for your support, and putting children first.