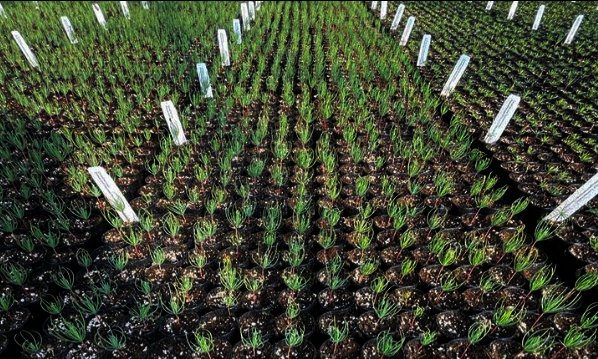 The fall season for the Pueblos of New Mexico finally allowed a time for reflection and planning on the wildfire disasters that plagued New Mexico this past year, and gave time for Trees, Water & People (TWP) and its Tribal partners to restart the "Reforestation Across the Indigenous West" project. In late summer, workshops were held for the Tri-Pueblo Coalition (TPC), in addition to fostering a change in strategy and technology for seedlings, led the way for renewing the Tribal leadership commitment to restoring forest lands and plan for more seedling planting projects for the summer 2023 season.
Starting in August 2022, TWP with its Tribal partners replanted 6,000 mixed-conifer trees on the Tribal lands of Jemez and Cochiti Pueblos. In 2023, TWP is renewing its commitment to support Tribal Department of Natural Resources staff and community members through various training sessions around analyzing seedling survival through the concept of monitoring and adaptive management.
Most importantly, these workshops will elevate Tribal staff members' knowledge and understanding of reforestation challenges and create unique ways to integrate Tribal Ecological Knowledge with Western science into the future of forest stewardship.
Additionally, winter is a time for our baby trees to grow. Tree planting is both a culmination and a beginning – it is the culmination of a nearly yearlong process of growing baby seedlings and the beginning of their adaptation into the natural environment.
Some of us may not realize that reforestation begins with a seed, and unlike the species we may grow in our home gardens, conifer seed ideally needs to be collected from the area where trees will eventually be planted out. We're thankful to work with two leading nursery partners,John. T. Harrington Forestry Research Center in Mora, New Mexico, and One Canopy Plant Nursery in Loveland, Colorado, to grow and produce seedlings from seeds that are locally sourced and genetically-adapted to the landscapes we initiate our reforestation efforts.
Post-fire restoration and seedling management can be challenging, grueling and time-consuming work for the Pueblos of New Mexico, but TWP is encouraged by your continued support to preserve the forest lands and protect the livelihoods of these Indigenous communities in the Southwest. Thank you!