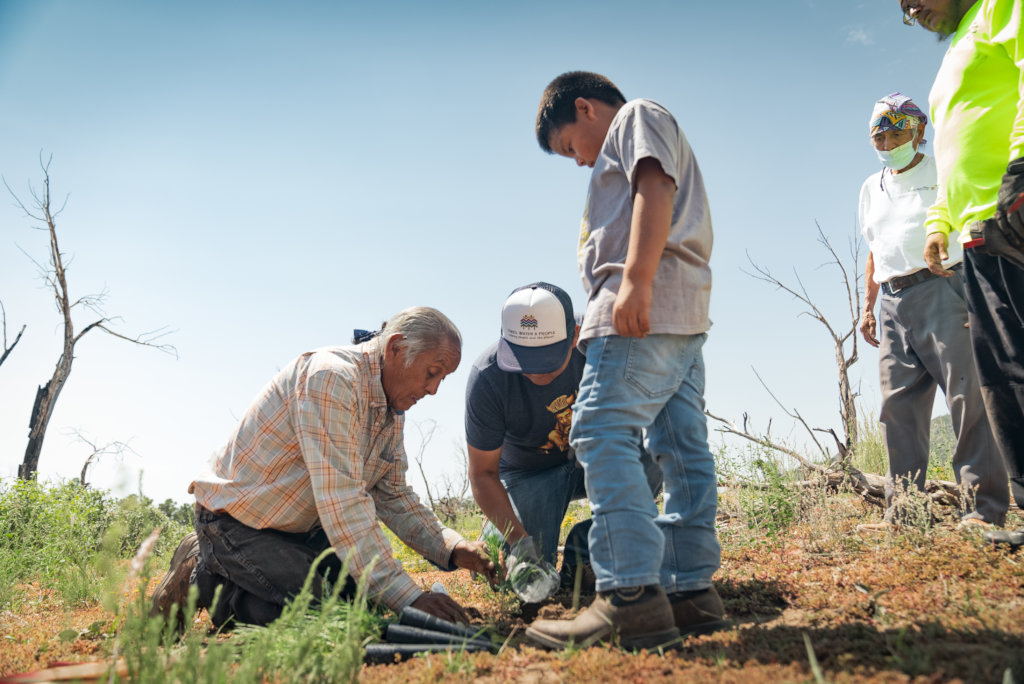 On August 30th, 2021, Trees Water & People (TWP) delivered 4,500 Douglas Fir and Ponderosa Pine seedlings to the Santo Domingo Pueblo greenhouse as part of our collective effort to restore Santo Domingo homelands disturbed by wildfires over the last two decades. The trees were planted in the Jemez Mountains in New Mexico by two Pueblos that have been stewards of those lands for millennia. Santo Domingo Pueblo kicked off the season by using tree planting as an opportunity to transfer intergenerational knowledge, language, and cultural storytelling.
Meanwhile, the Jemez Pueblo also added more opportunities to provide technical training support for their forestry staff, improve seedling monitoring strategies, and collaborate with non-Tribal NGOs focused on forest health to strengthen their community ties.
The planting is ongoing, with Santo Domingo Natural Resources (SDNR) staff and community members planting roughly ~600 seedlings each day of project activity on several burn scars around the Cerrito Yello Peak area from the 2011 Las Conchas wildfire. With the support of the Warchief and SDNR staff, the project has focused heavily on the importance of cultural-based stewardship and language. Each day of planting activities, elders join and provide traditional oral wisdom and storytelling to participating adults and youth.
TWP's National Director and Marketing Manager had the privilege to join the community on the first day of planting, providing support and listening to why Indigenous-led restoration efforts are essential to heal the land and preserve the lifeways of the Pueblo peoples.
We are also testing out new monitoring methods to boost regional survival rates, using water-retaining polymers and shelters as part of this project. Working with the SDNR team, TWP set up micro-sites to monitor seedlings 3-months and 6-months post-planting. These monitoring techniques will give TWP and SDNR data to support larger landscape restoration projects and build cultural resilience in the wake of hotter, drier conditions due to climate change.
We are thrilled to support the Pueblo's climate resilience and regeneration efforts, and we thank you for believing in the power of bringing local people together to manage their own resources.