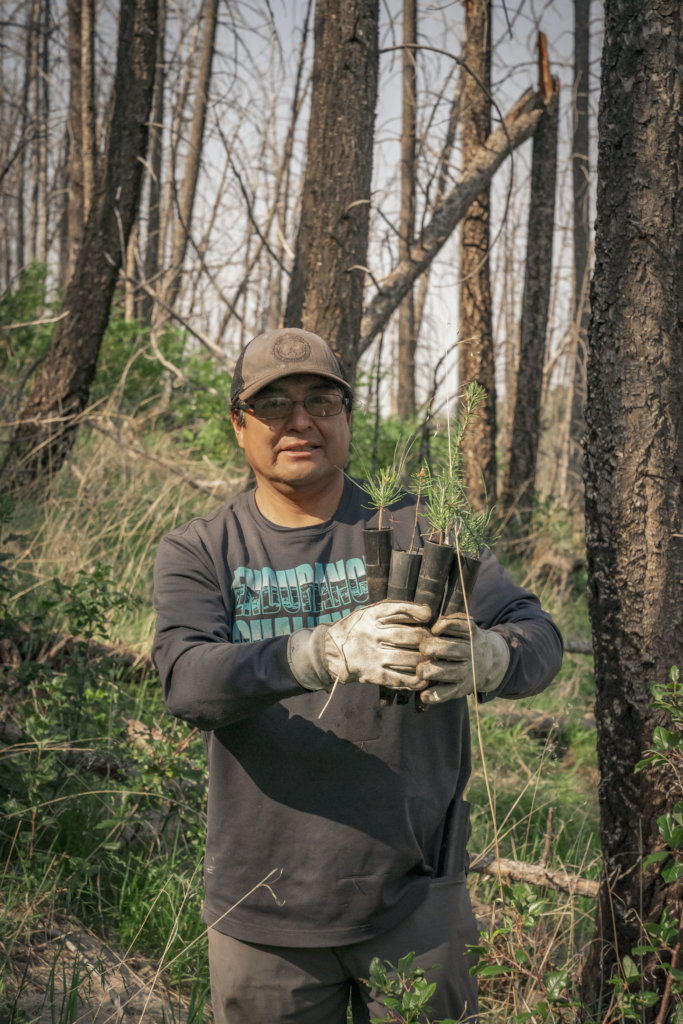 Your support has funded the planting of 24,000 mixed conifers in the centuries-old Pueblos of Kewa, Cochiti, and Jemez in New Mexico this year. We planted 13,000 trees in the area in 2019 and are expanding in 2020-21 while increasing indigenous-operated tree nurseries' capacity, providing robust in-field/remote training, and creating seasonal employment opportunities.
In early August, Kewa Pueblo assembled a strong team of planting volunteers spanning generations and finished planting their 8,000 trees in only 5 days. New Mexico saw record high temperatures and long dry spells this summer, which made soil conditions rough, and the planting sites were often difficult to access due to runoff from the times it did rain. Our National Program Coordinator, James Calabaza, spent 2 weeks in New Mexico with Kewa and Jemez planting crews to provide technical support and lay the groundwork for future mapping and monitoring of the seedlings.
A second caravan from TWP departed later that month with roughly 1,000 seedlings to deliver to the Santa Fe Indian School (SFIS). Native students from across the state engaged in remote learning through the SFIS will be planting these seedlings near their homes. Jemez Pueblo began planting their seedlings shortly after this in a burn scar on their Tribal boundaries. The climate was dry, and planting conditions were acceptable, but shortly after completing our first day of planting, the skies darkened, and a heavy rain lasted for almost an hour. The Pueblo of Jemez Forestry crew continued planting for another few days and finished their planting in late September. Due to COVID-19, Cochiti Pueblo will begin planting their seedlings in the Spring of 2021, but the seedlings are being cared for by the Colorado State Forest Nursery in the meantime.
"For indigenous people in New Mexico, planting trees is more than just planting trees. Planting Douglas Fir is about restoring natural lands burned by wildfires and regenerating important cultural traditions for future generations." - Derwin, Pueblo of Jemez Forestry

At TWP, your donations directly support tribal led forest management like Derwin is a part of because this is what it looks like to help people and the planet. We are continuing to move forward with the Tri-Pueblo through the early stages of next year's planting season and developing robust monitoring programs and protocols to assess and analyze tree survival. Please stay on the lookout for more information on this and other updates on our reforestation projects!
Thank you for supporting Tribal-led reforestation.