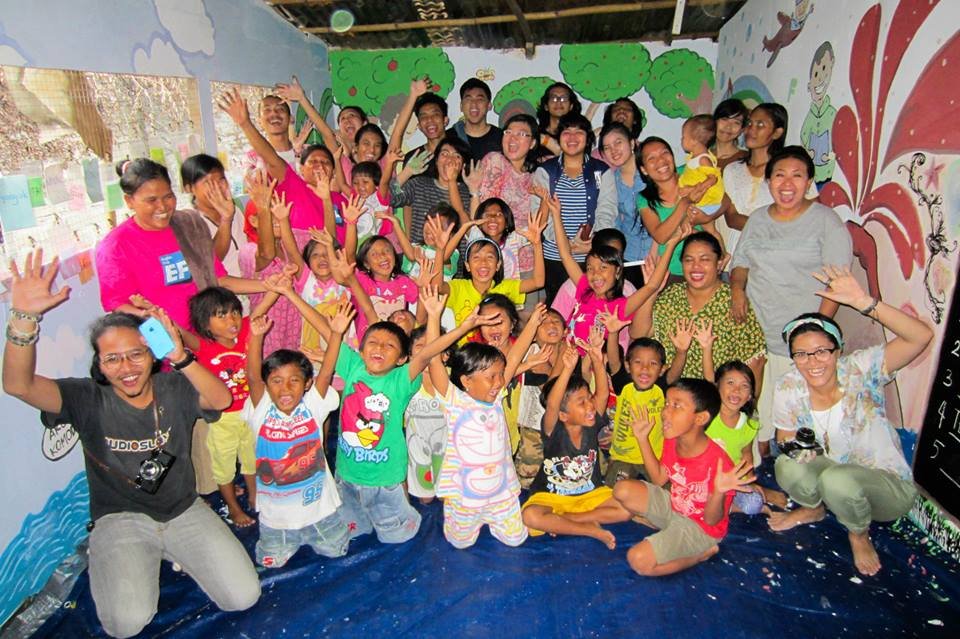 In December, XSProject's product designer, Rinda and 14 other young designers from Jakarta painted a mural on the walls of the pre-school classroom at the Cirendeu Community Garbage Dump.
Equipped with donated paint, brushes and other materials, they brought to life "The Mural of Children's Dreams". The walls and roof of this classroom are constructed from cardboard, scraps of wood and salvaged metal, but they were soon transformed into an enchanting scene of children and animals, astronauts and an octopus.
The children watched the transformation with excitement and anticipation of their turn to paint. As they worked, the designers explained to the children that to love Nature and all living things means that we must take care of our Mother Earth and do what we can to preserve her for the future.
Then it was time for the children to each fill in their "dream box". With encouragement from the designers, they wrote about their hopes and dreams for the future.
The designers left one wall for the children to paint. In a short time, bright, happy pictures of clouds, rainbows, suns, moons, stars and angels emerged.
The Mural of Children's Dreams project is just one way that XSProject works with the children of Jakarta's trash picker community to encourage creativity and to get them thinking about what is possible in their lives. It was a magical day of sharing, teaching, encouraging and dreaming. Rinda and the other designers created a safe and happy place for the children to play and learn. Along the way, they connected with little hearts to foster hope and dreams.