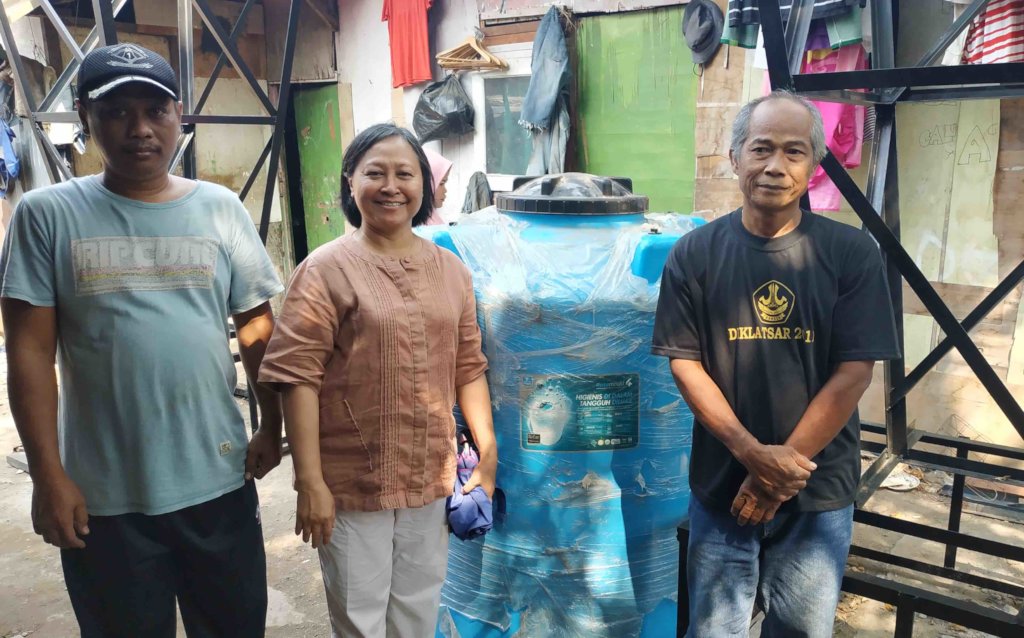 It is that time again for the community, to have new communal bathroom and water tanks.
It has been about 10 years ago since we have provided new water tanks and towers for each group within the community. Some are still in the good condition but some already badly need new tanks.
We just given 2 water tanks to 2 leaders of the groups, Mamat and Wardi.
Mamat and Wardi have both been working as the head of the group of trash pickers for most of their lives. Many trash pickers and their families life depend on both gentlemen not just for their day-to-day income, but also for their living facilities.
Mamat and Wardi are always looking after their people, including making sure the place has a decent communal bathroom and running water for families to take baths and to wash clothes.

This week they both received new water tanks. Mamat had been thinking of repairing the communal bathroom for quite sometimes, so when he was able to collect some initial funds with his people, he came to us for additional support and proposed his plan.
We are very happy to help Mamat repair the communal bathroom. He and other adults are working together to have better water facilities for bathing and so the women can wash their family's clothes.

Your donation to XSProject through GlobalGiving will have a direct impact on making this happen. XSProject can provide more families with necessary facilities to ensure beter hygiene and help avoiding on going health problem associated with poor sanitation.