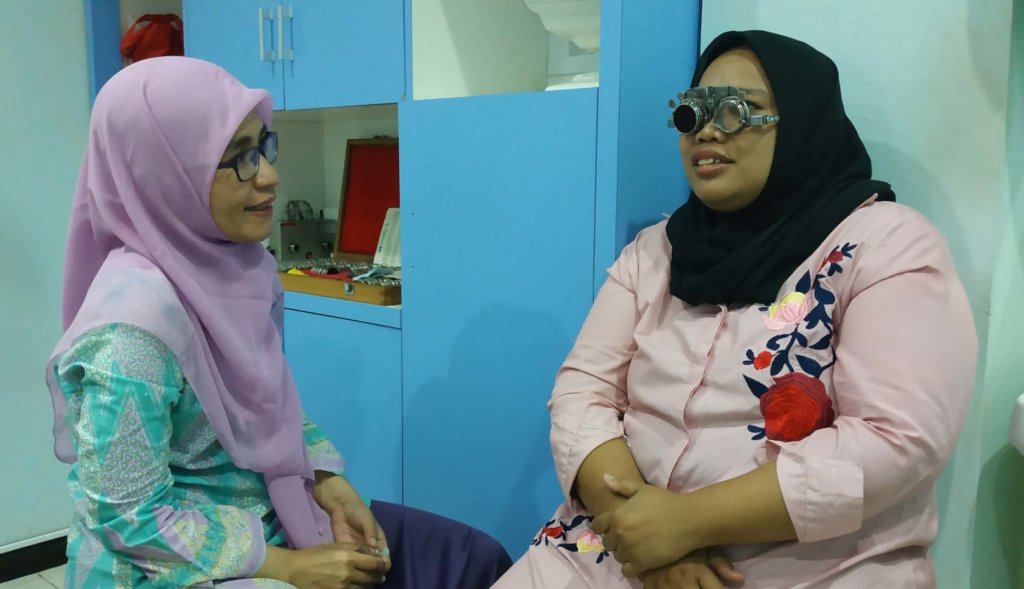 Following up on our story about Aminah learning a new skill to be more independent – 'New opportunity for Aminah in 11th Sep 2018, here is another life improvement for a better Aminah.
The biggest challenge facing Aminah in her learning a new skill is her eyesight. She said: 'It takes me a long time and I have to struggle just to thread the needle or draw the pattern on the fabric."
During her training and practicing at home, quite often she makes mistakes when sewing and has difficulties in figuring out which is the inside and the outside part of the fabric. When she makes a mistake, she has to unstich the whole process and redo it again.
In one of our projects at GlobalGiving – 'Generate Income and Hope From Non-Recyclable Garbage", we allocate funds to cover exams and eyeglasses for mothers in our vocational and business training program. So the time could not be better for Aminah to get new glasses.
Aminah has had the same glasses for the last 10 years. When she finally had the opportunity to see the eye doctor, the doctor told her that for reading/prescription glasses she has to have an eye check up at least once a year to check whether her power is up or down. As much as she wanted to have new glasses, given the cost to going to an eye doctor and purchasing presciption glasses and frame, she instead would rather use the money to make sure there is food for her famly and other 2 children's needs. No wonder she always complains of not being able to see clearly.
Thanks to the donors who gave Aminah a chance to see better, she is now happier and it is easier to learn and practice sewing.
Your donation to XSProject through GlobalGiving will have a direct impact on making this happen. XSProject can provide many more women with micro finance loans, or just to improve their skills so that they can do something for themselves. Poverty is often just a lack of opportunity. This is the way to go towards self-sufficiency and a sustainable income. We hope you will continue to support our work and you are making the difference for them.