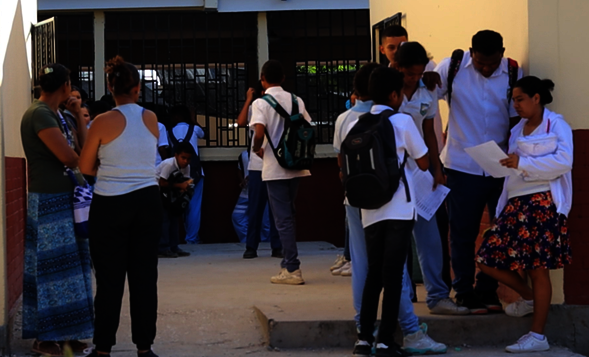 Our ESCALA program is making a difference at the rural school Carlos García Mayorca, contributing that all students stay in school.
Every morning, she looks into the mirror at the entrance of the Rural School Carlos García Mayorca in Cordobita (Ciénaga, Magdalena). She envisions her future as a mature woman capable of realizing her dreams. She sees herself studying and preparing for a promising future. Between reality and the aspirations for a better tomorrow, her school day begins.
Four years ago, she joined this school, since then, she has experienced positive changes in her attitude towards teachers, classmates, and life itself. She has successfully shared these new experiences and perspectives with her family, overcoming the challenges that education faces in her territory.
Certainly, she is not alone in this journey of growth and improvement, leaders, teachers, parents, and classmates join her, participating in the activities of the ESCALA program, building a sense of community.
Every Tuesday, during 45-minute sessions led by teachers, experiences and reflections about handling emotions are shared, challenging deep-seated beliefs.
"My experience with Fundación Barco methodology has been very positive. I have never participated in something like this in another school, it has been beneficial for both me and the school. I believe I have improved as a person, as a student, and I've seen changes in my classmates," she explains.
Over the past year, Fundación Barco, through its ESCALA program and the 'Paso a Paso' methodology, have effectively nurtured socio-emotional competencies in students, highlighting the dedication of teachers and school leaders.
According to one of the promoters of this initiative, "the idea is to involve all stakeholders, not just students but also teachers, administrators, and families, in reducing dropout rates from 8th to 11th grade."
The process begins with teachers receiving materials to plan sessions, fostering creativity and building stronger connections with students, creating a safer and more productive learning environment. "It's beautiful because it challenges them (students) in how they relate to others and how they face the challenges they want to overcome."
These tools favor the emotional growth of students who have faced challenges and adversity. Thanks to our ESCALA programme, they have transformed into courageous students with hopes of building a future and the vision of giving back to the community.
...Now, every afternoon as she leaves the institution, she stops in front of the mirror. With a smile, she looks into her eyes, surprised to see her reflection resembling more and more the image her mind creates of her future self.
Share this initiative with your friends and family. Join us in making this crucial effort for the education and progress of rural youth a reality. Your support is essential to continue driving this important work and building a better future for these communities.
___________________________________________________________________________________________________
El reflejo de una comunidad que se transforma a través de la educación
Nuestro programa ESCALA, marca la diferencia en la Institución Educativa Rural Carlos García Mayorca, contribuyendo para que todos sus estudiantes terminen su ciclo escolar.
Cada mañana, ella se mira al espejo que está a la entrada de la Institución Educativa Rural Carlos García Mayorca, de la vereda Cordobita (Ciénaga, Magdalena). Imagina cómo será cuando sea grande. Ve hacia el futuro la imagen de una mujer madura capaz de realizar sus sueños. Se ve estudiando y preparándose. Así, entre la realidad y sus deseos de un futuro prometedor, comienza su día escolar.
Hace 4 años que está en este colegio y en este tiempo ha podido notar los cambios positivos que ha experimentado en su actitud frente a los profesores, frente a sus compañeros y frente a la vida misma; además, ha logrado transmitir nuevas experiencias y perspectivas a su familia, desafiando las dificultades que enfrenta la educación en su territorio.
Por supuesto, ella no está sola en esta travesía de crecimiento y mejora de la convivencia escolar, la acompañan directivos, docentes, padres de familia y sus compañeros de colegio, quienes al igual que ella participan en las actividades que, desde nuestro programa ESCALA, trabajamos de manera conjunta con toda la comunidad educativa.
Todos los martes, en sesiones de 45 minutos dirigidas por los docentes, se comparten las experiencias y reflexiones sobre cómo enfrentar las emociones, dándole un giro a sus creencias más profundas.
«Mi experiencia con la metodología de la Fundación Barco ha sido muy buena. No había tenido la oportunidad de trabajar en otra institución. Ha sido de beneficio tanto para mí, como para la institución. Creo que he mejorado como persona, como estudiante y también he visto los cambios en mis compañeros.», nos dice una estudiante.
Durante el último año, la Fundación Barco con su programa ESCALA y la implementación de la metodología 'Paso a Paso', ha logrado avanzar en la comprensión y apropiación de las competencias socioemocionales por parte de los estudiantes, demostrando el compromiso de docentes y directivos.
Según una de nuestras gestoras para esta iniciativa: «la idea es que dentro del programa, de acuerdo con el llamado que hace la Fundación Barco para disminuir la deserción escolar de grado 8° a 11°, buscamos involucrar a todos los actores, no solo los estudiantes sino a los docentes, a los directivos y a las familias».
El proceso comienza con los docentes, quienes reciben un material que les permite planear las sesiones, ser creativos y compartir con los estudiantes, creando vínculos mucho más asertivos, lo que brinda un ambiente de aprendizaje más seguro y productivo.«Es muy bonito porque es un trabajo que los cuestiona (a los estudiantes), en cómo se relacionan con los demás y en cómo se relacionan con los desafíos que quieren alcanzar».
Estos escenarios favorecen el crecimiento emocional de los estudiantes que han recorrido un camino lleno de desafíos y adversidades, pero su determinación y la oportunidad que les ha brindado desde nuestro programa ESCALA, los han transformado en estudiantes valientes, con esperanzas de construir un futuro y con la visión de que, cuando hayan logrado sus títulos de bachilleres o de profesionales, puedan devolverle a la comunidad algo de lo que han recibido.
...Ahora, cada tarde al salir de su institución, ella vuelve a detenerse frente al espejo. Con una sonrisa, se mira a los ojos y se sorprende al ver cómo su reflejo se va pareciendo cada vez más a la imagen que su mente crea de su "YO" del futuro.
Comparte esta valiosa iniciativa con tus amigos, conocidos y familiares y únete a nosotros para seguir haciendo realidad esta labor crucial en beneficio de la educación y el progreso de la juventud rural. Tu apoyo es fundamental para continuar impulsando este importante trabajo y construir juntos un futuro mejor para estas comunidades.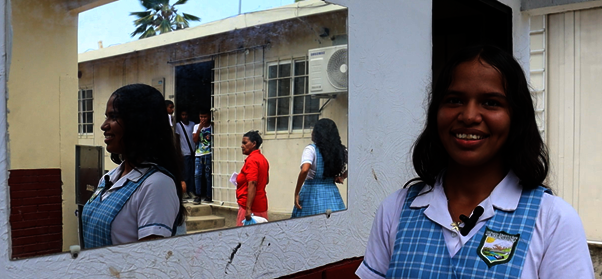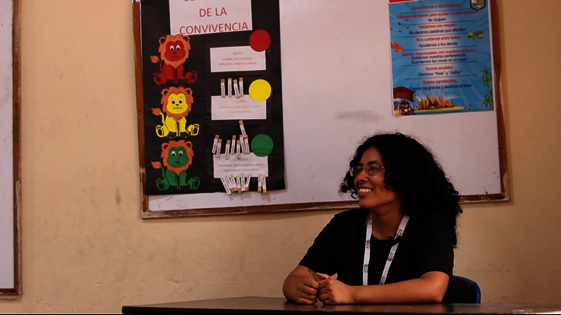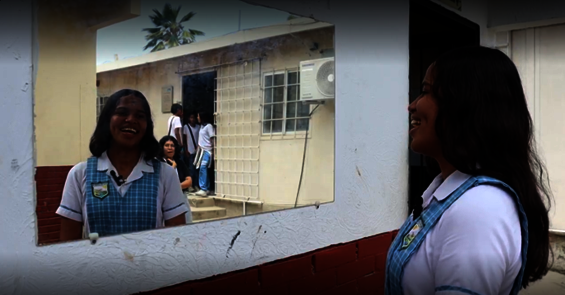 Links: