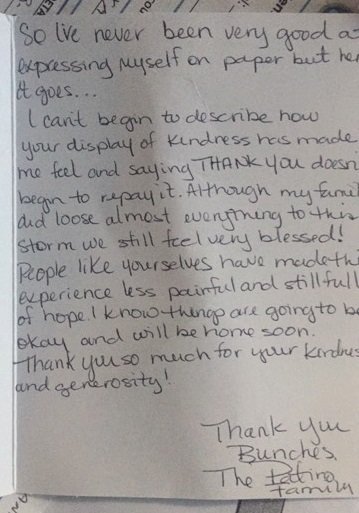 LITTLE ACTS OF KINDNESS,
LITTLE DEEDS OF LOVE,
MAKE THIS WORLD A HEAVEN,
LIKE THE ONE ABOVE.
In our Last report, we mentioned that how Hurricane Harvey has affected many lives and how many people including us came forward to help those who are in need. We mentioned about the little girl who was excited to receive her new uniform and how it made us feel so happy and blessed that we were the reason of her excitement.
We've been overwhelmed by the tears, letters and happiness felt by the recipients, victims of Hurricane Harvey, and wanted to share one more with you.
We received a thank you letter from Patsy Patino. Apparently, Patsy burst into tears when she received the grill from us as its what she uses for all her cooking.
In the letter she wrote;
"I've never been very good at expressing myself on paper but here it goes..
I can't begin to describe how your display of kindness has made me feel and saying THANK YOU doesn't begin to repay it. Although my family did loose almost everything to this storm, we still feel very blessed!
People like yourselves have made the experience less painful and still full of hope. I know things are going to be okay and will be home soon.
Thank you so much for your kindness and generosity."

Although from a normal person's point of view, its just a grill that we gave her but for patsy it was so much. It was a hope for her of a better future and that she's not alone.

There are many victims of Hurricane Harvey, who are struggling to recover and in this tough time, we were able to help them just because of our wonderful donors like you all and on behalf of patsy and all those people we want to thank you.

Together, We Are Transforming Lives!