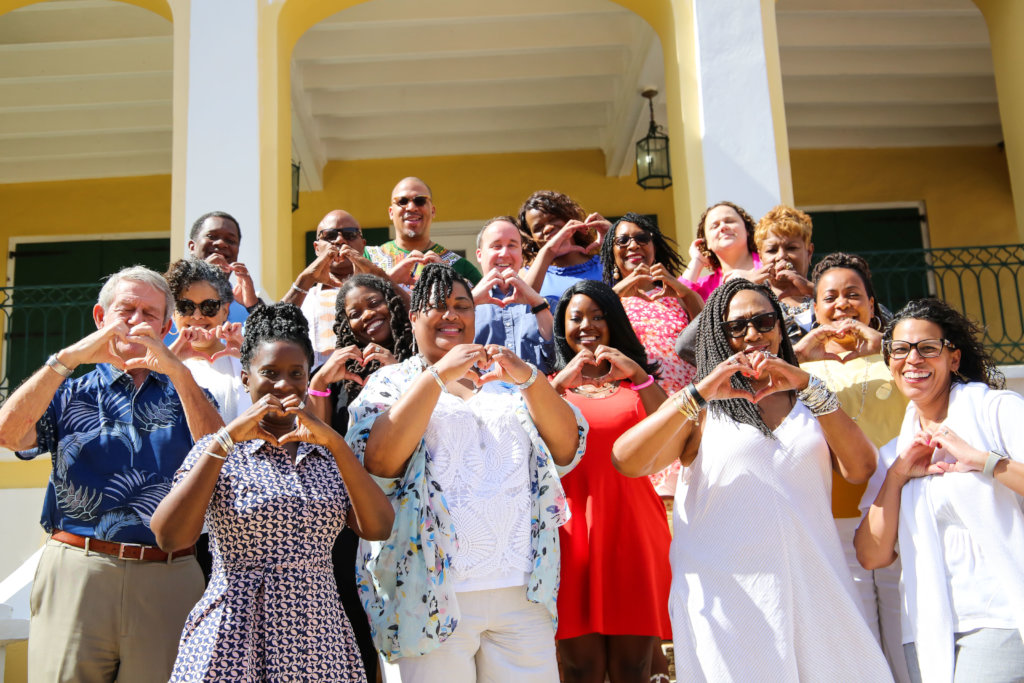 For many people, Hurricane Irma is a distant memory in a world where the coronavirus pandemic rages on, and dozens of large-scale disaster events unfold month after month. For those in the Caribbean who survived the storm and for those who lost loved ones, homes, and livelihoods, the storm is not a distant memory at all—its impacts are a constant reality that continues to shape daily life. We all must remember that Hurricane Irma and its destruction as a Category 5 storm did not happen in isolation. Hurricane Maria, another Category 5 storm, quickly followed. Tragically, that brought even more pain and loss to the Caribbean, especially Puerto Rico. These storms, like all other disasters, disproportionately affect the poorest and historically underserved members of a community, region, or country. And, of course, the pandemic has made ongoing recovery even more challenging.
Since the launch of our Hurricane Irma Relief Fund immediately following the storm, you and nearly 15,000 people and companies joined together to affirm the power of generosity and the positive impact that we can make in the world. After more than three years, we have collectively raised more than $3 million to support immediate relief and long-term recovery and resilience in the Caribbean.
At GlobalGiving, we are incredibly proud of what we have accomplished alongside and in close partnership with community leaders and local, trusted nonprofit partners in the Caribbean. That is true specifically in the United States Virgin Islands, where the damages caused by both hurricanes were particularly severe.
As we now close our Hurricane Irma Relief Fund, I'd like to highlight 10 incredible accomplishments and memorable moments that emerged from the fund because of your generosity:
Within 10 days of Hurricane Irma, we issued emergency grants to nearly a dozen partner organizations serving impacted communities in Florida, the British Virgin Islands, Antigua and Barbuda, and the U.S. Virgin Islands. The grants resulted in much-needed emergency relief, including food and water distribution, debris clean up and removal, replacement of damaged and destroyed equipment, the provision of fuel for evacuees and first responders, and emergency diaper kits for families with young children.
Supporting the power of community-led philanthropy in the U.S. Virgin Islands has been at the core of our response to Hurricane Irma. Since 2017, GlobalGiving has strengthened our partnership with three cornerstone organizations: the St. Croix Foundation for Community Development, the St. John Community Foundation, and the Community Foundation of the Virgin Islands. Each trusted partner has received substantial funding from GlobalGiving to advance a just, participatory, and equitable recovery across the U.S. Virgin Islands. For example, the St. John Community Foundation, a GlobalGiving partner for more than 10 years, has completed important food security projects on St. John, resulting in hundreds of community members receiving native fruit and vegetable seeds and fruit tree saplings.
To ensure families across all three main U.S. Virgin Islands could access caseworkers to help them navigate relief and recovery resources, we made a $250,000 grant that the three Long-Term Recovery Groups working on each island shared. The grant was announced at the Clinton Global Initiative Summit in June 2019. While a slow federal government response and the coronavirus pandemic hampered these efforts, several hundred families were able to take steps to recovery, and more than 100 returned to their homes.
We established a critical partnership with Cruzan Rum to power their Island Spirit Fund. This fund has raised an additional $3.6 million for long-term hurricane recovery in the Caribbean. Many of the GlobalGiving partners that continue to benefit from the Island Spirit Fund also received funding from the Hurricane Irma Relief Fund. The partnership is a prime example of how our corporate partners are a vital part of our disaster response work.
Deanna James, President of the St. Croix Foundation for Community Development, offered a powerful reflection on the dynamics and power of philanthropy within the context of race and equity in the U.S. Virgin Islands.
I had the privilege of spending one-on-one time with many of our nonprofit partners in the U.S. Virgin Islands. I witnessed firsthand the damage wrought by the storms and the tremendous energy for recovery from GlobalGiving's nonprofit and corporate partners and the people of the U.S. Virgin Islands. Whether lifting a paintbrush with All Hands and Hearts or collaborating with Cruzan Rum, the island spirit came through.
Hurricane Irma damaged or destroyed 95% of structures on the island of Barbuda. Through a long-term partnership with the International Community Foundation, we invested in the organization's Barbuda Resilience Fund, which focuses on supporting local leadership through 12 community-led recovery projects. As a result of this partnership, we have welcomed two local Barbudan nonprofit organizations, The Be Foundation and barbudanGO, to our global nonprofit network. We have also directly invested in the long-term sustainability and work of each local organization as they define what community-led recovery looks like on Barbuda.
The Virgin Islands VOAD (Voluntary Organizations Active in Disaster) group received critical funding from GlobalGiving to establish itself as one of the central coordinating entities in the U.S. Virgin Islands in and after times of disaster. The organization comprises community leaders from St. Croix, St. Thomas, and St. John. Through its partnership with GlobalGiving, VI VOAD helped provide 1,000 hurricane preparedness kits to elderly community members across the Virgin Islands in 2020.
As the pandemic swept across the world in early 2020, we recognized that so many of our nonprofit partners on the front lines of disaster recovery were relying on GlobalGiving to step up. We not only launched our Coronavirus Relief Fund, but we also activated rapid response donations from our other active disaster response funds to support existing partners on the front lines of pandemic response. Through the Hurricane Irma Relief Fund, we provided $115,000 to five partners on St. John, St. Thomas, and St. Croix to ensure that communities most vulnerable to the pandemic (like seniors and those with preexisting conditions) had access to food, water, hygiene kits, protective personal equipment (PPE), and other necessities. These rapid response donations did not require burdensome grant proposals or formal reporting. Instead, we trusted our partners to immediately use the funds to support community members that they serve every single day.
I have been fortunate to form what I hope will be lifelong bonds and friendships with community leaders in the Caribbean. I have learned from—and been inspired by—their amazing commitment to their communities and a just recovery. At the same time, GlobalGiving has forged deeper relationships with anchor organizations in the Caribbean. That is especially critical for the future because climate change is causing more frequent and more powerful hurricanes. When the next hurricane strikes in the Caribbean, our nonprofit partners can trust that GlobalGiving will be there to work alongside them every step of the way.
Though we are closing this fund, our nonprofit partners in the Caribbean remain hard at work. They need your support to continue the long journey to full recovery, especially in the face of the compounding effects and danger of the COVID-19 pandemic. If you can, please consider supporting a local organization in the U.S. Virgin Islands like the St. Croix Foundation for Community Development, the Community Foundation of the Virgin Islands, or the St. John Community Foundation.
From everyone at GlobalGiving, thank you for joining us in this important work. Your generosity and support have been critical to community-led disaster recovery in the Caribbean.
Be safe and well.
With immense gratitude,
Donna + the GlobalGiving Team