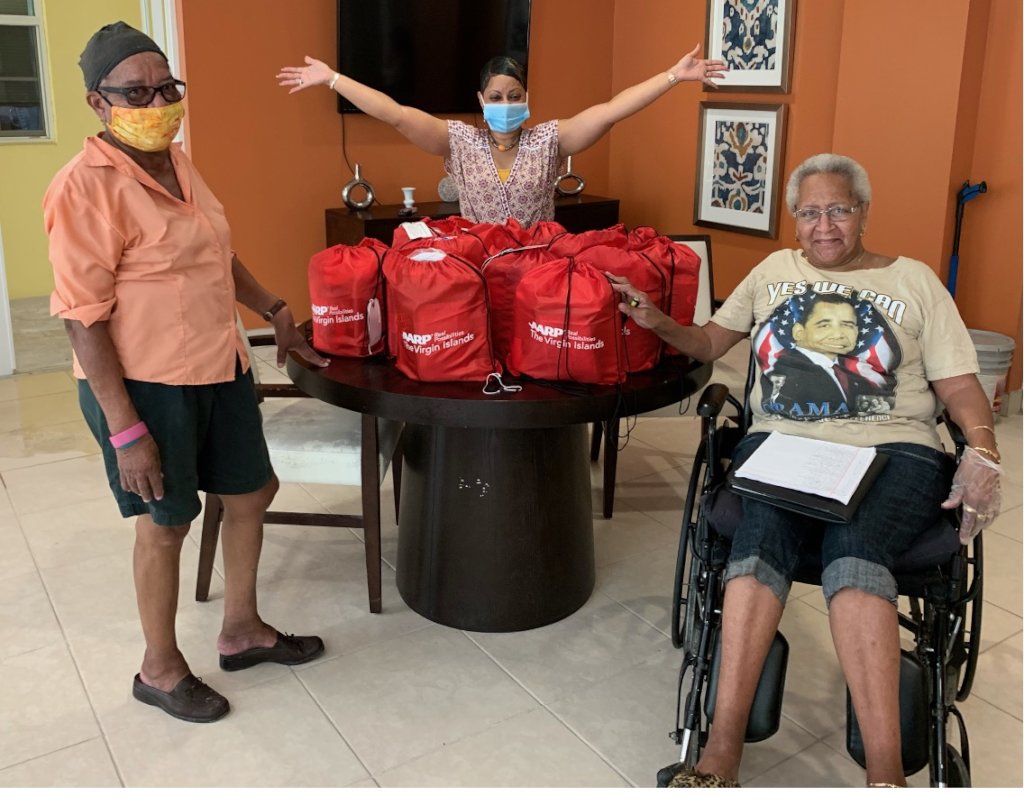 After Category 5 hurricanes Irma and Maria hit the U.S. Virgin Islands three years ago, the St. Croix Long-Term Recovery Group was formed to combine recovery resources and meet community needs. To show you the difference your donation is making to long-term recovery on the islands, I reached out to Jay Rollins, Executive Director of Regional and National Relationships of the St. Croix Long-Term Recovery Group and Interim Chair of the U.S. Virgin Islands Voluntary Organizations Active in Disaster. He shared his experience responding to Hurricane Irma, Hurricane Maria, and the COVID-19 pandemic.
Here's what he had to say about his community's tenacity, the challenges they continue to navigate, and how a new grant from GlobalGiving will help.
Q: What do you wish more people knew about how your community was impacted by Hurricane Irma and Hurricane Maria?
A: I believe it is very difficult for people to understand the significant impact that two Category 5 hurricanes in a four-island territory really has on a community. Most of us went without electricity for more than 100 days. Ports and airports had to be cleared before supplies could get here. Communication was almost non-existent. Our children went almost an entire year with no school. Our senior population died at a greater percentage, most likely from stress.

In the United States, crews and equipment can be prepositioned in nearby states to drive in and restore power quickly. Volunteer teams can load up church vans with supplies and people and mobilize to the scene. This is just not a reality for the Virgin Islands. At the end of 2020, we still have 1,600 families without access to safe, dry, sanitary homes.
Q: How have the funds you received from the GlobalGiving Hurricane Irma Relief Fund made a difference for your community?
A: The funds provided by GlobalGiving in this round of contributions are all about rebuilding and strengthening our communities. They will help us provide hurricane kits with emergency supplies to seniors, individuals with access and/or functional needs, and those with fixed low income, giving them a better chance at survival. They will also allow for much-needed support to our nonprofit networks for asset mapping and planning. They will be leveraged with other funds to be sure we are better prepared for next time—because there will be a next time.
Q: What are the greatest unmet, long-term needs in your community?
A: COVID-19 has further complicated our greatest unmet needs. Housing remains an issue. Access to health care (especially mental health care) remains an issue. A reliance on federal funding for recovery is an issue. And our children's education is an issue again with COVID-19 forcing us into remote learning and so many children not having easy access to the internet.
Q: How has your organization adapted to continue serving your community during the pandemic?
A: Ingenuity and perhaps a bit of luck! The blessing of a territory physically divided by water means we had already been implementing online business practices as part of the recovery. Our staff, supporters, and volunteers were already used to meetings by Zoom or Microsoft Teams. Our disaster case managers adapted by standing in people's yards and talking through windows if they could not reach a client by phone. I guess we are lucky in that we are small—that allows for flexibility. The bottom line is that we will continue to do this work to make sure these islands recover and double our efforts to be sure that we are ready for next time.
Thanks to the generosity of you and more than 16,000 other donors, we are able to continue supporting local organizations in their work to recover and rebuild from Hurricane Irma, despite the added challenges of the COVID-19 crisis. Thank you for supporting community-led disaster recovery. I can't wait to share more updates with you in the coming months.
With gratitude,
Mikaela + the GlobalGiving Team