Project Report

| Sep 1, 2020
Building back stronger: a conversation with Olivia Patterson-Maura
By Donna Callejon | Director of GlobalGiving Disaster Recovery Network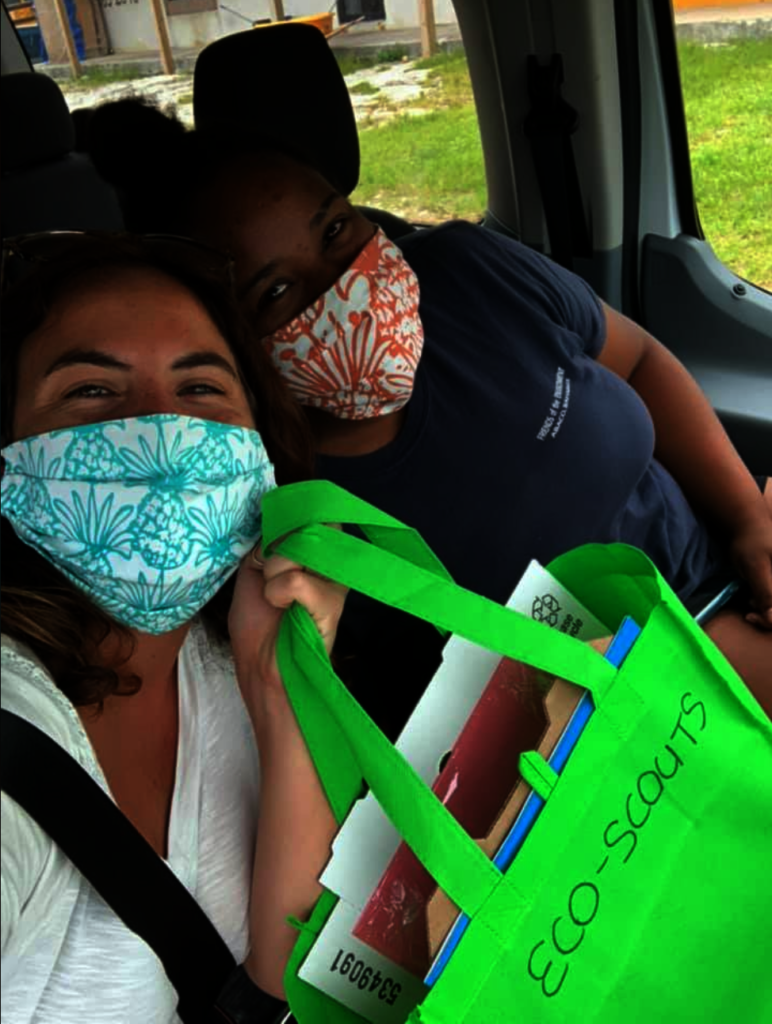 One year after Hurricane Dorian, times are still hard in the Bahamas. But our partner FRIENDS of the Environment is moving forward to ensure that residents of Abaco can continue to learn about and improve their natural surroundings, even while dealing with a global pandemic. We caught up with Olivia Patterson-Maura, Deputy Director of FRIENDS, for an inside look at the recovery and resilience-building in her community.
Q: What do you wish more people knew about how your community was impacted by the combination of Hurricane Dorian and the COVID-19 pandemic?
A: A year after Dorian devastated our island homes many people are still without shelter or living in tents or their homes without a closed-in roof. Even with the incredible help from outside organizations, many people are still struggling with basic needs such as electricity, water, and food. Outside of the construction industry, job opportunities are slim, as many businesses are closed or operating at minimum capacity. Several schools were lost to the storm, and some are still working on repairs. Residents who were displaced from Abaco are having difficulty returning home because housing is limited and education and daycare are needed. The children, though resilient, have definitely been affected. And many teachers are still giving so much to the students, even those without an income from a lost job.
Q: How have the funds you received from GlobalGiving made a difference for your organization and your community?
A: We find ourselves handling things each day that were not part of the work plan we had envisioned for 2019-2020—from working to address immediate concerns such as repairs to our existing buildings, to planning to rebuild our destroyed education center, to totally revising our summer camps so that we can provide a virtual experience that fits within safe COVID-19 restrictions.
Funding from GlobalGiving gave us the ability to be flexible and meet rising needs during the ever-changing landscape post-Dorian and throughout the COVID-19 crisis. For FRIENDS, it was very important to reach out to our student network to let them know that we are here to support and encourage them to continue their part in environmental conservation. We believe a purpose and positive focus, no matter how small, may help to encourage healing—it has certainly helped us!
Q: What about your local community's response to these challenges makes you most proud?
A: Our community members continue to be resilient, supportive of each other, work together to solve problems, and simply press on while living in a disaster landscape. Can you imagine nearly a year (September 1 is the one-year anniversary) without city power or even regular access to running water? The sun has set, and, as I write this, I can hear the sound of generators and tools as people move on from their daily occupation to the critical work of repairing their homes. Despite the challenges they face, people are hopeful and full of gratitude for the outpouring of help and generosity of others.
Q: Real disaster recovery and environmental sustainability require a long-term commitment. What inspires you to keep at it?
A: I am immensely grateful to live in such a beautiful place where I can so easily connect with the environment—an environment that is healthy and diverse and provides food and enjoyment. I am passionate about ensuring that future generations of Bahamians are able to benefit from and experience the same beautiful Bahamas that I have. There is so much that I want to share with my children and enable other children to experience.
It is your generosity that allows us to continue supporting local organizations in their work to recover and rebuild from Hurricane Dorian, even with the challenges brought by the COVID-19 crisis. Thank you for supporting community-led disaster recovery, and I can't wait to share more updates with you in the coming months.
With Gratitude,
Donna Callejon + the GlobalGiving Team
Learn more about FRIENDS' ongoing work.