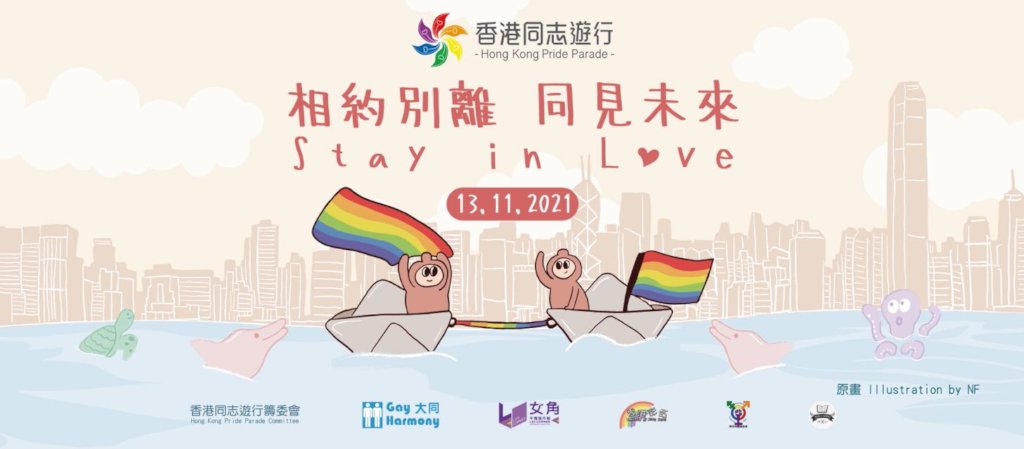 We proudly present the theme and key visual of Hong Kong Pride 2021!
The Pride Parade will appear in a brand-new mode this year. Despite changes in the format, your support remains an essential part of our event!
Theme: Stay in Love
"Stay in Love" is the essence of our promise to "not be apart".
The word "Apart" does not go alone without the emotion of pain. This pain is not uncommon to the LGBTQ+ community, as we inevitably face countless separations because of our identity. It may come as a form of parental opposition that separates us from our partners, or it could be the preservation of our true self that unfortunately led to the breakdown of our family relationships. Sometimes these separations are results of the discriminative and unjust societal system, which has put us under senseless and meaningless torment.

"Stay in Love" also carries the hope to be together. Leave or stay is perhaps an unavoidable question that we all have to go through these days. We might all be standing at the crossroads of the future, but do always remember we can choose to embrace the present, and try not to be apart. Even though some separations have unfortunately become unchangeable facts, we can still hold the hope of getting together in the future. Where there is love, there is hope for reunions. May every one of us who hold onto love, take this love as a promise to each other, and look towards a future in which we can be together.
In 2021, in the pursuit of a more diverse and LGBTQ+ friendly Hong Kong, we may still need to search for more means to get together. Even though the future is unforeseeable, let us all make this promise that we would seize every opportunity meeting with each other in the future, so that we won't be apart.
The theme for Hong Kong Pride Parade this year is "Stay in love". May we never truly be apart, let's meet in love and look towards seeing a bright future together.
Key visual Illustration by: NF, a local deaf LGBT Illustrator
Hong Kong Pride Parade 2021
Date: November 13, 2021 (Saturday)
Venue: To Be Announced
A Brand-New Mode Coming
Links: