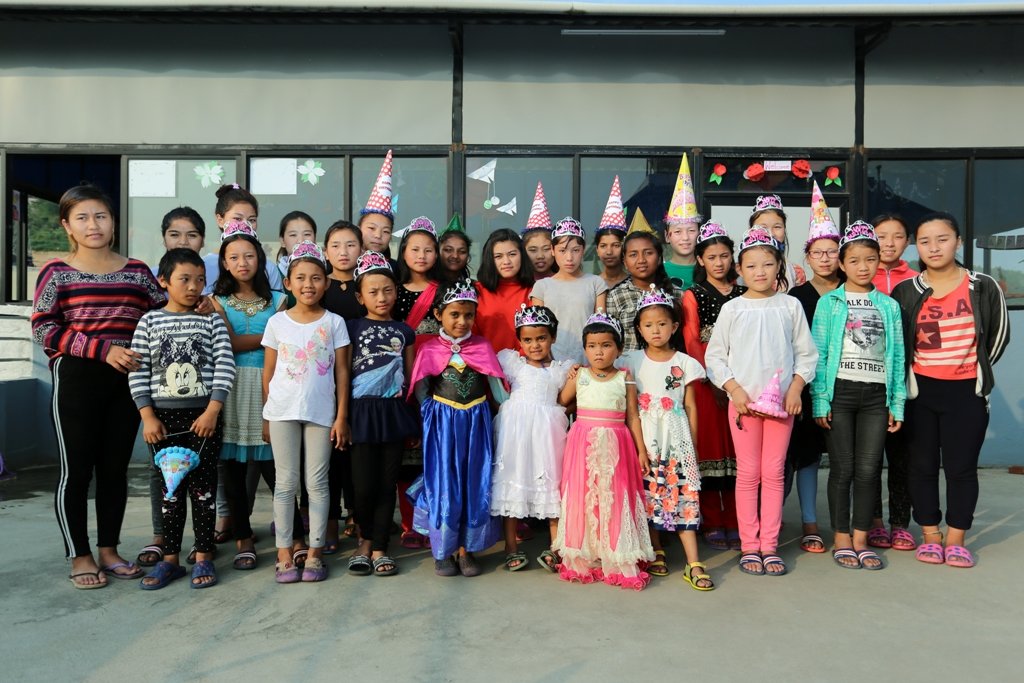 The Himalayan Hope Home
Himalayan Hope Home has become a true and heartfelt home for our girls who, having been rescued from dire circumstances, are provided a safe shelter in a family environment, complete with love, peace, security, and the gift of education to change their lives for a strong future. Today, Hope Home, as it is known, is delighted to share that it has expanded its support and family from 30 girls to 36 beautiful young girls.
We are Family . . .
Here at Hope Home, our girls have found a family again. All of our girls live, plan, and work together for their future dreams. They care for each other as sisters, study, share games, and enjoy singing and dancing together. They all actively participate in helping with household chores, cooking, and community activities.
Hope for the Future . . .
Every year during our annual anniversary, we ask our "Hope" girls to share their dreams. These 36 girls are an example of how strong and determined girls can be if we can provide them a safe place and educational opportunities. With the power of education and the self-confidence they are moving steadily toward achieving their dreams. And they have made us very proud in the goals they have chosen.
Many of our girls want to be teachers and nurses, but many of them dream of becoming actresses, photographers, journalists, pilots, or doctors, all dreams that emanate from their deepest desires that would never have been possible before the Hope Home, and it makes us more determined than ever to help more at risk girls. What is so exceptional as well is that the areas many are choosing are not common fields of study that Nepalese girls would consider or even think possible. This is because the Hope girls are determined to take the less travelled road and leave a footprint. In spite of their troublesome and difficult pasts, they are all, every one, exceptional and strong-minded, and rather than lingering in that past, choose instead to leap forward and reach for the stars and a bright future.
Ten of our girls have joined the self-defense class, and we continue to encourage all of the girls to learn these important skills to help keep them confident physically and mentally under any circumstances. Just this year, in 2018, they have won the Interschool Martial Arts Championship!
We can also count among our girls some aspiring writers, because six of them have chosen to learn professional writing under the guidance of writer and scholar, Cindy John. Writing gives them a voice into their lives and helps them create, dream, and share their stories with the world.
Krishma , age 15, says, "I have spent most of my childhood in Hope home and every experience here has made me confident and strong."
We cannot express how thankful to Arhaus & all individual girls sponsor for helping us change "Girls at Risk into Girls of Change."
Looking back . . .
Today, when we look back and remember how the girls were when they arrived at the Hope Home, we still feel that fear of what turn their life could have taken without the support of Arhaus. They could have easily fallen into the trap of human trafficking, child abuse, violence, and malnutrition, and many of them could have become child brides without voices of their own, pawns in the continuing cycle of hopeless poverty and ignorance for themselves and their families.
On behalf of all the girls at Hope Home and the Small World family, we want to express our deepest gratitude to Arhaus for their crucial contribution toward girls' education in Nepal. Their every support will reach far in the lives of many girls, but it is important to realize that yours generous support is reaching much farther than these girls. Your support, just like ripples in a lake, is also extending through these 36 girls for the future benefit of their 36 families and communities.