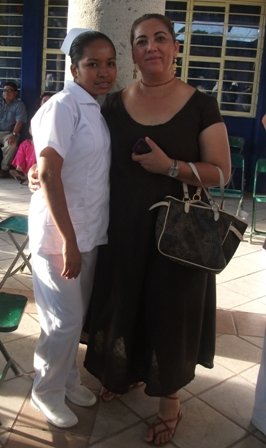 A Great Start on GlobalGiving
We have completed our first three months here on GlobalGiving and it has been a success. Thank you so much for supporting our program "Higher Education for 15 Indigenous Women" here at Centro de Compartimiento (CDC). The gifts from the Open Challenge are supporting the daily needs of the students in our residential program, and outreach to new students. There are currently nine students in the program and we have three applications for the semester beginning in January. We had so many new donors during the Open Challenge we wanted to give a brief view of the project and for our long- time supporters an update on one of our students.
Last month one of our oldest students, Natividad, left for Oaxaca City for a two month practicum at Oaxaca General Hospital. Natividad will begin her eighth semester of nursing school and will soon graduate. Natividad has come a long way since she came to CDC over seven years ago looking for a place to live so she could go to high school. There is no high school in her village in Eastern Oaxaca, Mexico and at fifteen she had to leave home if she wanted to continue. Her father was doubtful, tenth of eleven siblings, none of the older siblings had completed high school and he did not feel it was really necessary for girls to go to school. Natividad was determined, her sister accompanied her to Juchitan, Oaxaca, three hours from her village, they located CDC, she entered into the residential program for students and began high school in the Cecyte system, an education system that focuses on terminal high school degrees with a certification as a technician in a field. She chose computer science feeling that it would be good way to get a job. Natvidadi was a "A" student in high school and began to think about college, but computer science did not feel like a good fit.
During the summer before her last year of high school she had to take care of an ailing relative in her village and something in her clicked. She loved the work, and became very aware of the lack of nursing care for people in her village. When she came back to CDC in the fall she told us of her experience. Part of our program is to have the students work on a service project for the community and so we contacted the local hospital to get a volunteer position with the nursing department. The hospital had never had a volunteer before but the nursing staff worked hard to give her an experience that would show her the profession. When it came time to enroll in college Natividad took the bus to Oaxaca City to take the entrance exam to the state nursing school. She achieved the second highest score on the entrance exam and was accepted into the school. The hardest part was convincing her father to continue to support her dream to go to college, no one in their family had ever dreamed of going to college. She was able to get a Federal Scholarship and that helped stretch what little her family could provide.
Today she is near graduation. When she told her father she would need extra help during her practicum in Oaxaca City for transportation room and board, he did not say anything and she began to worry about where she would get the money. A few days before she had to leave her dad called her to say that he has sold one of his cattle for the extra costs. He had not wanted to get her hopes up but the family had decided to make the sacrifice to help her.
Without the support of CDC Natividad says that she would have left school long ago. Aside from academics, she learned how to better understand herself and her family, especially her father, work with others in a team and dare to dream bigger than ever before. Her dream is also spreading in her community as other young people including her younger brother are attending high school. Young people need to be accompanied on their journey, few of us were on our own for high school and even college. Your support helps CDC to provide not only room and board for young women, but a community which is a springboard to a new life. While you are preparing for the holidays we ask that you consider continuing to support the education of our young women here at CDC. We have $2,700 to raise to meet our project goal, will you help us meet that goal?
This is our first report through GlobalGiving and we would love to hear your comments and ideas about what information you would like to see in these reports. We look forward to hearing from you.