Project Report

| Feb 27, 2015
Assessing impacts of education on life after school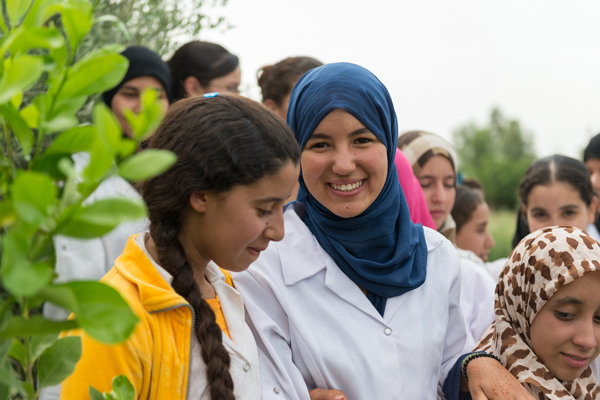 Mohamed El Haouzi, leader of the Global Diversity Foundation's school garden projects, is launching a comparative study that will provide much needed information to assess the impacts of the Dar Taliba boarding house in Ourika since it first opened in 1999. He has developed a questionnaire with Dr. Mohamed Cherkaoui, a human ecologist from University Cadi Ayyad, Marrakech's leading university. The comprehensive survey covers diverse topics ranging from the socioeconomic backgrounds of students who previously resided at Dar Taliba Ourika, the skills and knowledge they gained, and how the experience impacted their life today.
The current director of the boarding house, Jamila (an ex-student herself, who benefitted from GDF's school garden projects over the years), is confident that carrying out the survey will open up opportunities to network with former residents and encourage action to inspire environmental initiatives borne from knowledge gained during their time at Dar Taliba. She highlighted the annual Cultural Week that takes place in the middle school adjoining the boarding house, saying "Participation by our residents in environmental activities carried out during Cultural Week is a direct result of the importance placed on environmental education at Dar Taliba. Residents are taught to respect nature, manage rubbish properly and use water wisely, among many other initiatives."
Our ambition is that GDF's long-standing support for environmental education and wellbeing at the school continues to ensure a strong legacy among students for responsible and respectful engagement with the environment.
This project qualifies for the We Believe in Girls campaign!
To celebrate International Women's Day, GlobalGiving UK is launching their We Believe in Girls campaign on Monday, 2nd March. Every donation will receive a 50% top-up (until the fund of £18,000 runs out). Please do consider making a donation to support the girls of Dar Taliba.
Descriptions of photos:
Fresh faces of the Dar Taliba all-girls boarding house residents, always eager to learn new skills and knowledge.
Dar Taliba was built near a middle school to accommodate girls as they continue their studies beyond primary school.
A new ethnobotanical garden is under development at Dar Taliba to allow girls to exchange knowledge about local useful plants, including ones used for food and medicine.