Project Report

| Nov 11, 2014
Dar Taliba boarding house, 1999 - 2014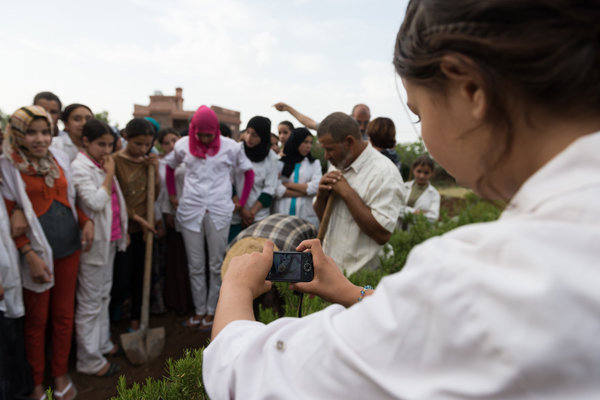 In our previous report, we described the diverse gardens we have planted at Dar Taliba, a girls' boarding house in the foothills of the High Atlas mountains. Just 45 minutes from Marrakech, we have collaborated with Dar Taliba's staff and the girls in residence to create aromatic herb, ornamental and vegetable gardens along with a fruit tree orchard. As we have noted, our latest initiative is an ethnobotanical garden created with support from the Montreal Botanical Garden.
Understanding the importance of these school gardens requires a little bit of history of Dar Taliba itself. The boarding house was founded in 1999, as Morocco was going through an important transition. King Mohamed VI had just taken the throne, and one of his first official visits was to Dar Taliba in the Ourika valley. This was a symbol of his commitment to improving the situation for girls and women in Morocco, including enhanced educational opportunities in rural areas.
When Gary Martin, Director of the Global Diversity Foundation, first visited Dar Taliba in 2002, he met several girls from the first generation of students. Among them was Jamila, a young achiever from the remote village Ait Lekak nestled high in the Atlas mountains. Originally monolingual in Amazigh (the local language), Jamila went on to learn Arabic in primary school, French in secondary school when she was resident at Dar Taliba and then English in university, where she studied communications. After a few years studying in Morocco's capital city, Rabat, and additional years working in its largest city, Casablanca, Jamila was invited to return to Dar Taliba as its new director. Martin says, "Having Jamila return to the rural boarding house where she was a resident for three years is an incredible opportunity for Dar Taliba, and you can see on the faces of the current residents that they are embracing their good fortune in continuing their studies in a nurturing environment".
Jamila is an enthusiastic collaborator in our ethnobotanical and horticultural projects. In our next report, we will describe one of our new initiatives that she is leading: recontacting and interviewing many of the 750 girls who have passed through Dar Taliba over the last 15 years about the impact that access to education has had on their lives.
Photo descriptions:
One of the residents in Dar Taliba takes of photo of other girls planting a new tree in the ethnobotanical garden (Credit: Inanc Tekguc).
Dar Taliba Director Jamila interacting with members of the Pacific Horticultural Society who came to visit the gardens (Credit: Inanc Tekguc).