Project Report

| Sep 11, 2023
From school gardens to emergency direct relief : update, Sep 10, 2023 - 8 pm Morocco time
By Simran Rawat, Tasnim Elboute, Susannah McCandless | Project team members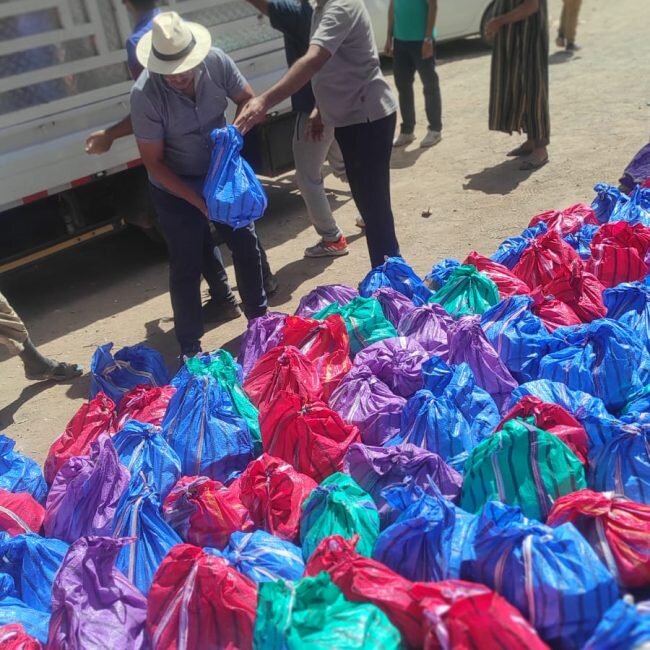 Many of you receiving this special project report have long supported our work with High Atlas girls' education and sustainable agriculture at the Dar Taliba da Ourika boarding house. Others of you have just joined us, responding generously to a new, critical emergent need.
In the immediate aftermath of a severe quake, Dar Taliba remains standing. Just before the start of the school year, though, the girls were still at home with their families, many of whom reside in remote High Atlas communities near the quake's epicentre. We have transformed this project accordingly, pivoting in this moment to honor our team's unstinting commitment to High Atlas community resilience and capacity to help. Below you will find a summary of the re-oriented project, followed by an dispatch from the field today.
Welcome--and thank you for making our work possible. We will keep you updated.
~~~
Summary
Just before midnight on 8 September 2023, a massive earthquake struck Marrakech and the High Atlas with deadly force. Global Diversity Foundation (GDF), with our primary partner, Moroccan Biodiversity and Livelihoods Association (MBLA) and additional local partners, are committed to providing immediate and long-term support to alleviate the immense suffering of rural communities where we have been working for more than a decade.
Our hearts ache as many in our team and communities have lost their families and seen their homes reduced to rubble. These villages are amongst the most marginalised and remote in Morocco, and we need your support to help us provide relief and rebuild. It pains us to share devastating news from our community researcher, Fadma, in Talat Naikoube. She's an indispensable part of our team, supporting our fieldwork in Al-Haouz. Tragically, she has lost close family members, and her village has been severely affected.
What is the problem?
The earthquake was the strongest to hit central Morocco in more than a century. Over 2,000 lives have been lost and countless homes, shops and other buildings have been destroyed. Displaced people in High Atlas communities need urgent assistance including clothing, food, shelter and water. Over the long term, these communities will need to rebuild their lives and livelihoods.
How will this project address the problem?
GDF, with MBLA, is directly assisting High Atlas communities. Given our deep ties with the region, we are working on the ground with our Moroccan partners to address the most urgent needs including emergency medical supplies, food, water, shelter and transport. We are committed to continue our support to assist communities with their long-term recovery.
Potential long-term impact
Global Diversity Foundation and MBLA have supported resilience of traditional livelihoods in the High Atlas for over a decade. Once the urgent aid work is over, we will use funds to help families rebuild their homes, incorporating earthquake-resistant construction techniques, and re-establish their traditional ways of living and working. Our approach is community-led and prioritises their pressing needs over the coming months to ensure that people's lives and livelihoods are rehabilitated as soon as possible.
Update, September 10th, 8 pm Morocco time.

Thanks to the generosity of hundreds of incredible donors, we have raised 57,000 GBP in 24 hours across our 2 crowdfunding campaigns on Paypal and GlobalGiving. Currently, these funds are being used to directly buy urgent supplies and pay for their transport.
Our GDF-MBLA team travelled this morning to Talat N Yacoub, a village located at the epicentre of the earthquake to distribute food and water. We witnessed heartbreaking devastation and spoke to locals who have been sleeping outside, as their homes have crumbled. According to villagers and local authorities, we were the first to bring non governmental aid to the area.
We worked with local authorities to distribute supplies in areas where access is limited. Here is a map we are updating to show the locations we have reached. We also collated urgent needs from the ground today and are working on procuring medicines, first aid, sanitary products, tents and blankets as a priority. In collaboration with CNN and BBC, we provided updates and assisted in live coverage of relief efforts.
We are partnering with several local organisations to amplify relief efforts and reach as many affected people as possible. We are also continuously populating lists of volunteers, needs, partner organisations and communities which need the most help. Tomorrow, 11 September 2023, we will be travelling to two sites (Angale commune and Imegdale) to distribute supplies.
At the moment, we are urgently trying to procure tents and blankets for those displaced. Having spoken directly to Decathlon and other providers in Morocco, we have established that supplies of these have run out or are limited in Morocco. As of 10 September, 2023, we are urgently trying to source these from overseas. If you or your organisation can assist in this matter, kindly reach out to simran@global-diversity.org.
List of partners of GDF and MBLA in this effort to date:
Amis du CHU
International Learning Movement
Cadi Ayyad University
CorpsAfrica
EBF
Centre d'Investissment
Imal Initiative (& CAM Climate Action Maroc)
Thank you for reading, and for accompanying us. Your support enlivens us, and keeps our team going in the face of this disaster.