Project Report

| Dec 27, 2022
New Season, New Learnings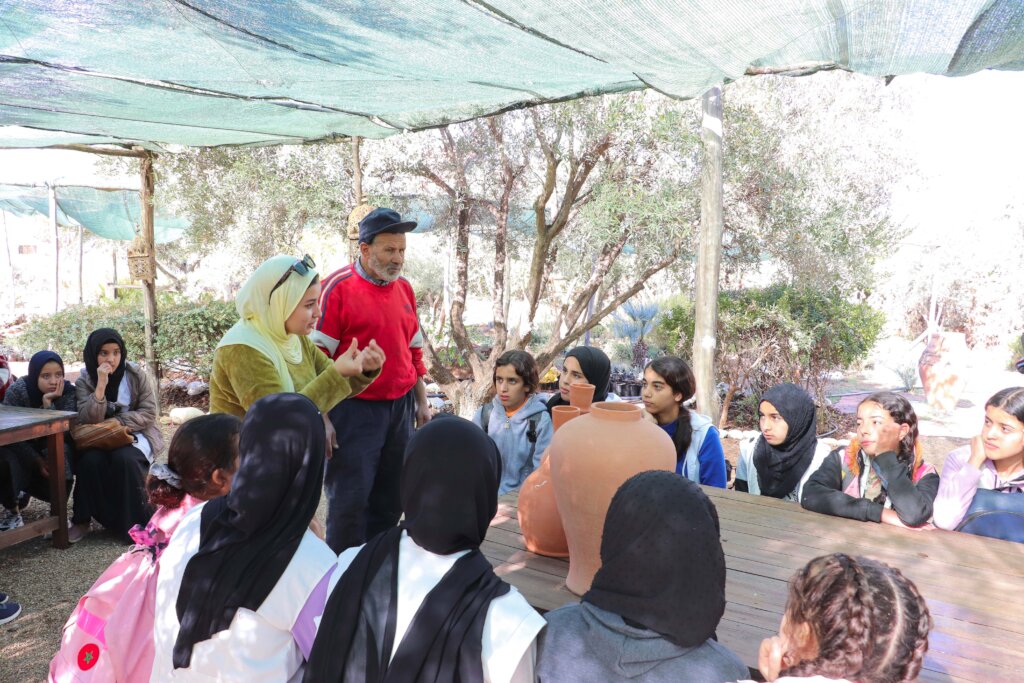 The school year has begun in Ourika Valley and over 120 new girls from neighboring villages have made Dar Taliba (the boarding school) their new home. Before we could start our activities for the new students, we had to prepare the botanical garden. We've hired local community members to help our gardener, Mr. El Hossain, with deep soil flipping and expanding cultivation zones. Given the state of the soil as a result of excessive cultivation and invasive weeds, this mission took several weeks and is still ongoing.
However, we could not wait any longer to reunite with the girls of Dar Taliba, and launch our workshops for this year. Our first workshop invited over 50 girls to watch the film documentary "Ait Atta: Nomads of the High Atlas' ', produced by Global Diversity Foundation in collaboration with The Moroccan Biodiversity and Livelihoods Association. The movie follows the Ben Youssef family's arduous transhumant journey from the desert-like landscape of Nkob to the green pastures of Agdal Igourdane, throughout uneven terrain of steep climbs and descents of the High Atlas Mountains.
The workshop aimed to introduce the girls to the Agdal ancestral practice, which is a communal land management system that has been practised for centuries in the High Atlas Mountains. The practice consists of restricting access to chosen highland pastures in spring months, allowing plants to regenerate each year, and as agreed upon by participating tribes. The movie was followed by a discussion on the importance of preserving the Agdal practice and the role nomads and regulated grazing play in conserving local biodiversity.
Our second workshop provided an opportunity for over 30 new girls to become acquainted with the botanical garden, following a brief presentation of the space and our project, welcoming them to the garden and explaining how it is available to them at all times, even when our team is not present.
We also decided to dedicate this workshop to presenting the oyas irrigation system, which is an agroecological practice that consists of burying water-filled clay pots underground. This way, water can dissipate into the soil as needed. It is an extremely water-efficient method that prevents excessive evaporation and water runoff.
The girls assisted in burying ten oyas in the garden after our presentation. We were delighted to witness the girls' sense of curiosity and answer their questions regarding this practice and the plants they observed in the garden.
We concluded our workshop by asking them to come up with ideas for what they'd like to do next, and it seems that everyone enjoys being close to nature and soil, as everyone is set on cultivating vegetables for our next workshop.
Find a short video of our workshop here.
Thanks to the support of our GlobalGiving friends, we are looking forward to another amazing year for the girls of Dar Taliba and we can't wait to tell you all about it in our upcoming reports.