Project Report

| Jul 19, 2021
HAPP: THE SUCCESSFUL APP SPREADS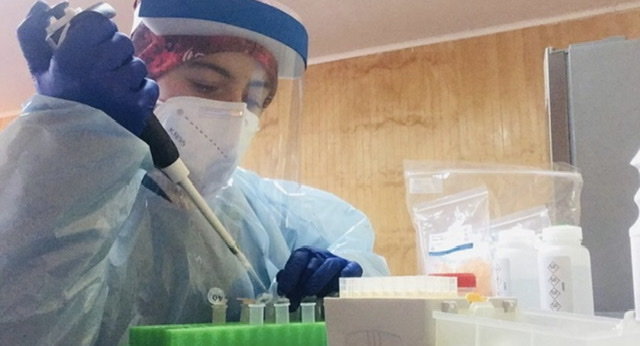 Two months after the implementation of Happ in the La Asunción de Hogar de Cristo residence for the elderly, in Villa Alemana, the mobile application to prevent COVID-19 infections has been a success and its creators and workers are very happy serving the high-risk population.
Exactly in August 2020, the pilot of a mobile application designed by Chileans to carry out traceability via Bluetooth and preventive testing for workers began to be implemented in the La Asunción residence for the elderly, in order to detect any type of COVID-19 contagion in time.
This is Happ –for its acronym in English, Health Application Protocol,–, an undertaking created by Jorge Welch and Kristopher Brigham, in the midst of the pandemic to develop a solution that will help detect possible possible contagions within a company.
"We have been here for two months and we are super happy, because we have managed to provide protection to a home for the elderly that needed it a lot because of the high-risk population it serves. We are happy because in these two months we have managed to give that protection. To date, we have processed more than 700 exams in this period and fortunately we have not had any cases, except one that was rechecked and that it was finally the flu. We were able to do the monitoring on time and not have any contagion episodes. The La Asunción residence can be calm, "says Jorge Welch, co-founder of Happ.
After having trained the 45 internal workers and 10 external workers of the residence in the use of the application, which will allow to register and know the narrow cases, in the same place the sample is taken through saliva thanks to a quick kit and within two hours the test result is obtained. All in the same long-stay facility that houses 56 seniors.
For the social worker Consuelo González, who has been working in this facility since 2016, the arrival of Happ "has been an incredible opportunity because the benefits are extensive, it first gives us the security of serving users without infecting them, because they test us in in the morning and at two hours we already have the results ", she explains.
She adds that since then they have been working with peace of mind and without the additional burden of risk, although they keep all the security safeguards and sanitary protocols to the extreme. "I don't know if there are many companies that have this testing system for their workers, which also allows us to return home confident that we are not a vector of contagion for our families either. Our transfers are also safe, because we have a minivan as the exclusive means of transportation. Thank God we have not had any contagion during the pandemic, but I believe that this test gives us peace of mind and makes our work easier, "says Consuelo.