Project Report

| Mar 13, 2017
Helping Women at the Most Stressful Period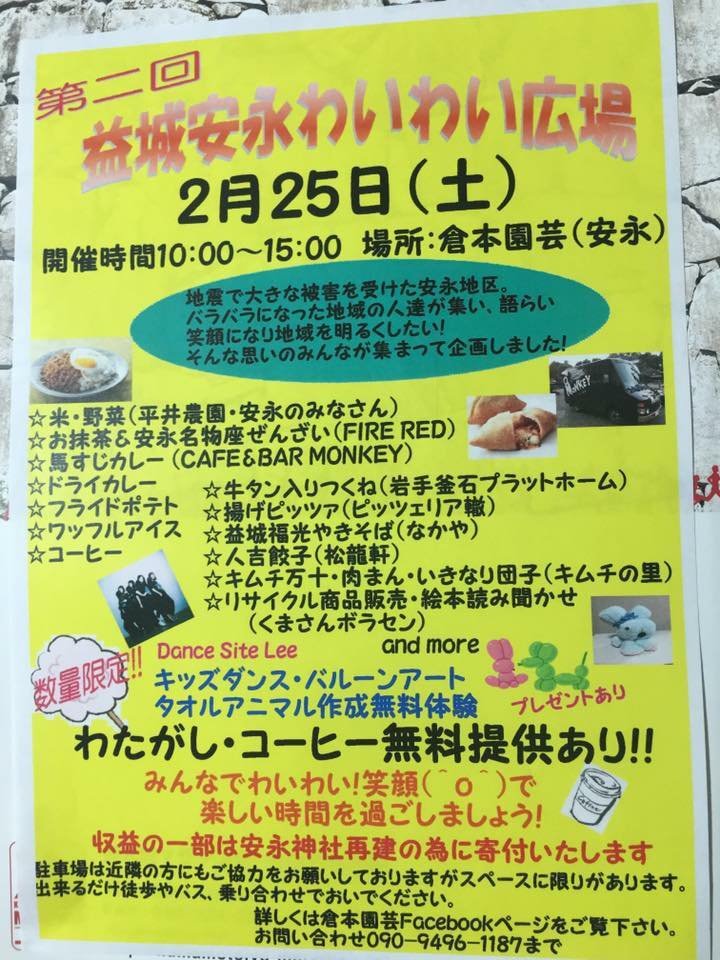 Kamaishi Kitchen Car (KKC) members knew very well that disaster-stricken Kumamoto people will feel most stressed around the end of the first year since the earthquake. This is precisely the reason why they visited the Mashikicho Techno Temporary Housing (MTTH) to discuss about future events. One coordinator of future events from the KKC team met the heads of the Techno Temporary Housing Shop Arcade, the Neighborhood Community Association, and NPO Cannus (an association for home-visiting voluntary nurses) , and also each heads of A-F Blocks of Neighborhood Communities. The coordinator feared that they were not aware of stress people were feeling, because only a few months have passed since these Neighborhood Community organizations were established. These heads did not really understood how events that the coordinator is organizing will build a system of generating interactions among people and the expansion of Shopping Arcade business activities. Thus, discussions about events with these people always resulted in different reactions and levels of expectations. Now, the KKC members started discussing about the post-one-year memorial events, since, based on their own experiences, they knew how important it is to organize an event at the most stressful period.
Contrary to their expectation, KKC members are finding it easier to work with people at the Yasunaga Waiwai (Chatting) Arcade and organize events, since several Kumamoto Kitchen Car members are operating in that arcade. On February 25, they had an event at the Yasunaga Waiwai Arcade (see pictures of a flier and a crowd at the event), where Kumamoto and Kamaishi kitchen car members came together and sold food. Unlike relations with MTTH, this event was initiated by Kumamoto Kitchen Car members, which requested the participation of KKC members. Their initiative meant that they are actively trying to recover from the disaster and aggressively working to redevelop the area. This eagerness to rebuild the Yasunage Community can also be recognized in their charging the minimum price to food and services and donating all profit to rebuild the Yasunaga Shrine. They are trying to solicit cooperation from local people for rebuilding their own community, one of whose symbols in the area is the Shrine. They even agreed on February 25 to organize a big event on April 16 in cooperation with KKC members.
Because KKC members knew that disaster-stricken people feel most stressed about one year after a disaster and also that the public offices do not pay proper attention on the difficulties that ladies and wives are facing, the KKC members made a very unusual and excellent initiative to bring a mother who helped to operate kitchen cars and opened a restaurant, working as a cook, manager, and waitress. Actually this person was invited to this event, because of requests from the wives of Kumamoto Kitchen Car operators, who could not find anybody to consult about their problems. Since serious attention to the role of women in the process of redeveloping business has never been paid before, this person attracted a fairly large number of attendants to this meeting. They expressed problems about their roles in businesses, how to maintain their lives, to balance childrearing and business, relations with customers, etc. Especially, their worry about children is serious. Since they cannot find a daycare center or post-school centers for school children, they have to keep their children at a very small space of a kitchen car or a restaurant, which is not only dangerous but also unfavorable for children to face. Needless to say, they worry a lot whether they can make the recovery of their businesses, whether they are making a good business plan, whether they should make a decision to quite the present attempt, or how and when they can estimate the probability of succeeding in the present business. Wives' worries are actually much more straight forward than husbands, who keep a lot of information confidential. The KKC members are providing really valuable supports to people who usually do not have any access to consultation and information. Many Yasunaga women were really delighted to have this type of support, and will continue to have personal communications through SNS, even though a long physical distance between Kumamoto and Kamaishi exists.
With some groups, the KKC members have been having difficulty to convince the value of community-based events due to very weak neighborhood associations, while with other groups, they have been successful in developing good relations, organizing events, and providing valuable supports. They have made especially valuable and rare supports and contributions to the wives of Kumamoto Kitchen Car operators, who suffers from serious stresses without having anybody to consult with about their problems.
Links: