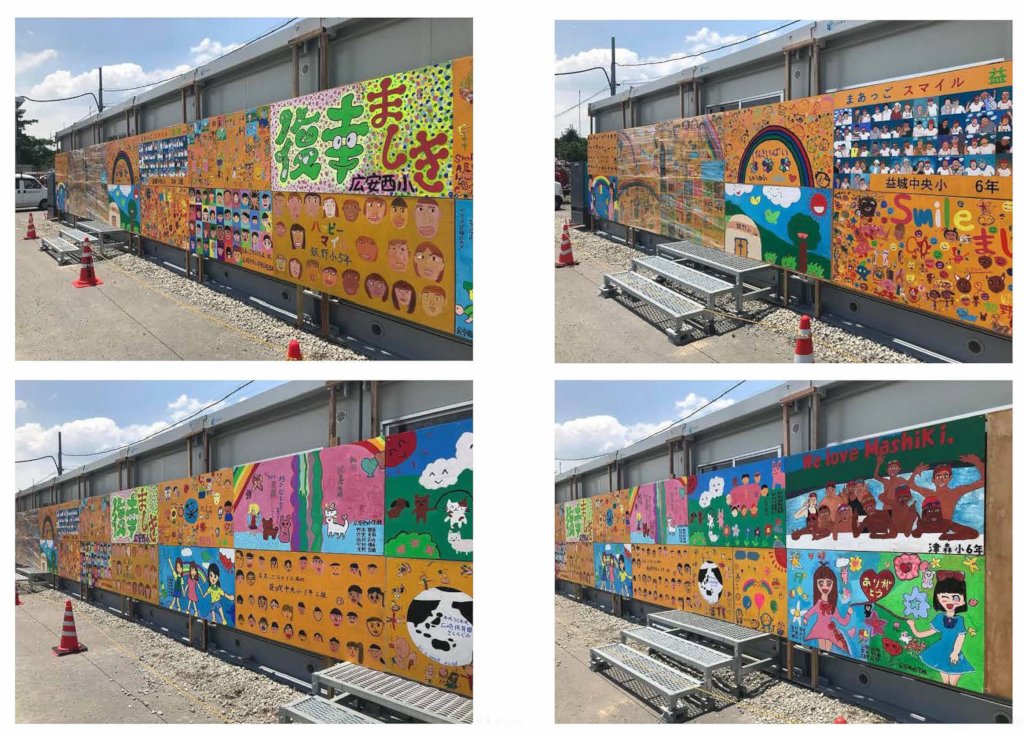 On July 28 (Sat.), a summer festival "Mahgo (Happy) Smile! Mashiki" was held in Mashiki-machi, Kumamoto Prefecture, for redeveloping the area from the earthquake disaster. It started from 3 pm and lasted as late as 10 pm. The Festival really became a big event, owing to the participation of Mashiki-machi Township Government which provided their large parking space for this event. It had the exhibits of art works (Pictures 1), a stage for music and dance performances (Picture 2), fire works by projection mapping technology (Picture 3), bon dance (Picture 4), and a food area with three kitchen cars and many food booths (Picture 5). Many shops also had their tents established for selling their goods, and large tents provided space for people to relax. Since it was an extremely hot day, the Master of Ceremony advised people to continuously drink water. Four TV and newspaper companies (KAB Kumamoto Asahi, KKT Kumamoto People TV, Kumamoto Nichi Nichi Newspaper, Yomiura Newspaper) were there reporting the event.
This Festival had three unusual characteristics, since it was (1) redevelopment efforts led by the private sector, (2) by focusing on community redevelopment, and (3) being stimulated by learning from the experiences of Kamaishi City in the East Japan Earthquake and Tsunami Disaster. Kamaishi Kitchen Car team closely cooperated with Mashiki-machi people, while Kamaishi City agreed to provide help to Kumamoto Prefectural Government. The cooperation was enriched by both private and public linkages. The Kamaishi experiences showed how important it is to revive community activities and redevelop local industries.
Revival Mashiki, the key organization working for the redevelopment of Mashiki-machi thought of reviving the Summer Festival to ignite a sense of community among Mashiki people. This organization was led by young entrepreneurs, one in the 40s who conducts a horticulture business and the other one whose newly established restaurant was destroyed completely a few days before its opening ceremony by the earthquake. With the funding of DSIA in cooperation with GlobalGiving, they started organizing events as "Wai Wai Hiroba (Chatting Square)" several times. They were also invited by Kamaishi Kitchen Car team to witness the severity of devastation in the East Japan Disaster and experience how Kitchen Car Project and Kamaishi Summer Festival contributed to nurture a sense of community. This learning encouraged the entrepreneurs to revive Mashiki Summer Festival as an attempt to rebuild the community.
This movement and also a visit to Kamaishi were all funded by DSIA and GlobalGiving. Everything started from a very small development of "Wai Wai Square" jointly with Kamaishi Kitchen Car team. A sense of trust and cooperation came to be nurtured through organizing several "Wai Wai Squares" together. Through such interaction, they learned the importance of summer festival for community development. However, when they started talking to community members and companies, requesting for support, many people were skeptical about what kind of event it was going to be and how effective it will be for community development. But amazingly, owing to organizers' efforts, the movement started rolling forward to obtain many participants and donors to make the event unbelievably big.
Several attempts were made to develop this even by the organizers.
(1) Volunteers
They tried to get as many volunteers as possible and had about 60 participants from a local high school baseball club (36), a university (11), and NGOs and other organizations (13).
(2) Children's Participation
All children from five Mashiki-machi Township grade schools participated to provide art exhibits and developed feeling that it is their own festival.
(3) Inter-generational Interaction
There are local bon dances and songs, the community inherited from their ancestors. However, the earthquake stopped the practice of enjoying the traditional performances. The local Women Association agreed to teach people on dancing, and after three years of stoppage, dance was revived. On the Festival day, ladies in Women's Association taught children of their grandchildren's age, resulting in an unusual and fascinating experiences of inter-generational interaction for both senior ladies and children.
(4) Stage Performances by Amateurs and Professionals
Junior and senior high school students danced on the stage, while professional artists performed to show their supports to Mashiki-machi. Loud welcoming voice of audience could be heard around the community.
(5) Virtual Fireworks
Originally, it was planned to soot actual fireworks. But due to fire safety regulations, it was changed to use projection mapping technique over the Mashiki-machi Township building. And names of prominent people in the town were also projected to attract audience. It was one of the most attractive Festival events.
(6) Traffic Access
The township building is located in an area with no public transportation access. Expecting that many people will come by car, parking space for 395 cars was arranged in three locations. And microbuses were also arranged to carry people from parking spaces to the event place. Some children came on bicycle, spending even half an hour to reach the even place.
(7) Encouragement to Other Disaster Victims
This year even before the Summer Festival, several natural disasters, including disastrously heavy rain in the West Japan, occurred. A corner was established to write a message and signature on a hand-held fan to share hope and will to overcome difficulties. Many town people signed, and the head of this event organizer will deliver them to Osaka.
This festival was really successful, attracting about 10,000 people. Some kitchen cars and food shops ran out of food to serve, which definitely contributed to stimulating local economy. The Festival really became a place filled with heart-warming feelings and happy (Mahgo) smiles. Community people really enjoyed this event and started cherishing hope and expectations. Supporting companies and organizations were also very happy with the outcome. Consequently, Revival Mashiki members and local organizers became confident that they can further contribute to redeveloping the community. The organizers even acknowledged GlobalGiving and DSIA publicly for the contributions they made to realize this highly valuable event for them. (Picture 6)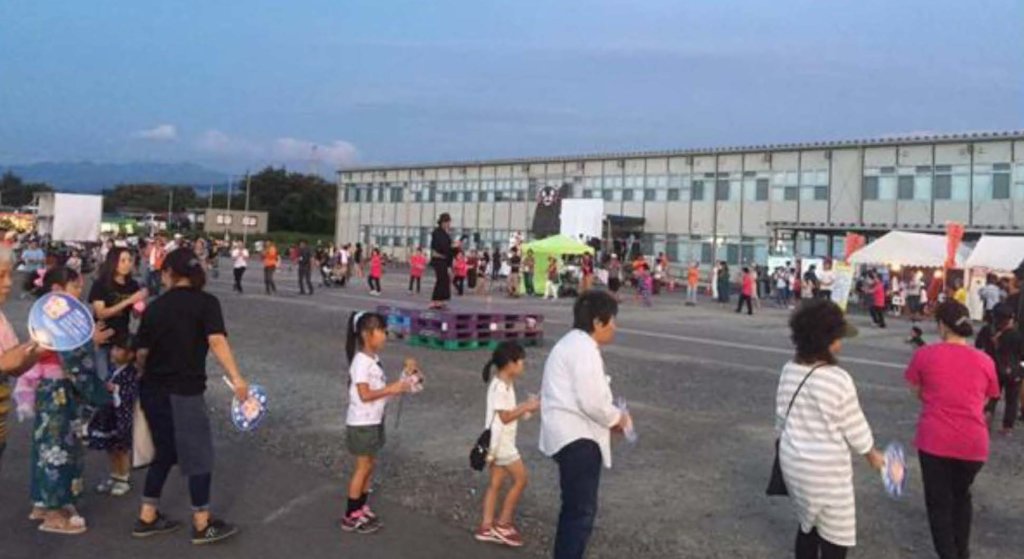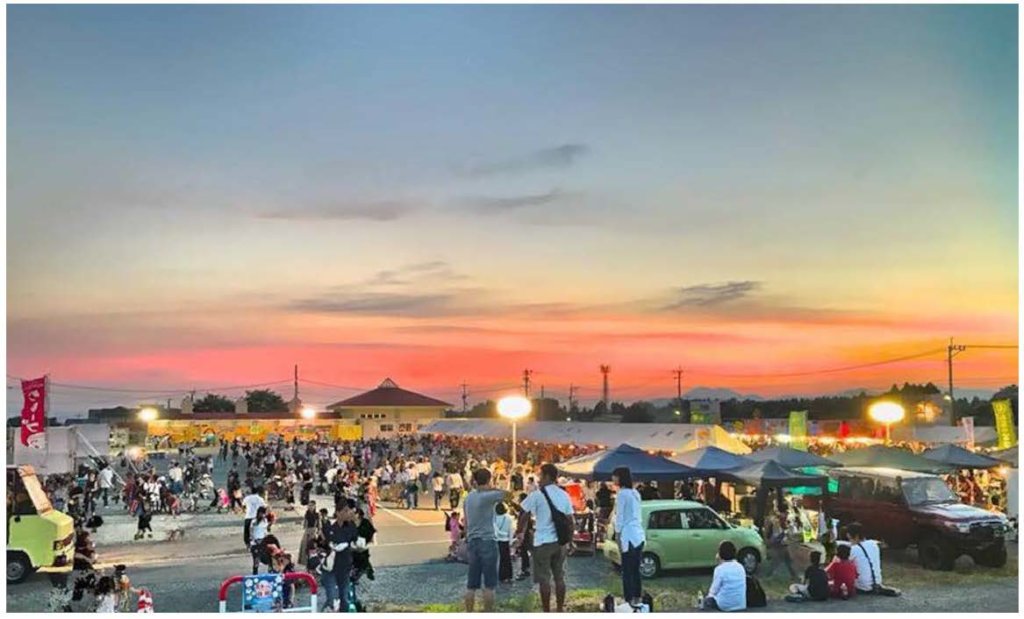 Links: