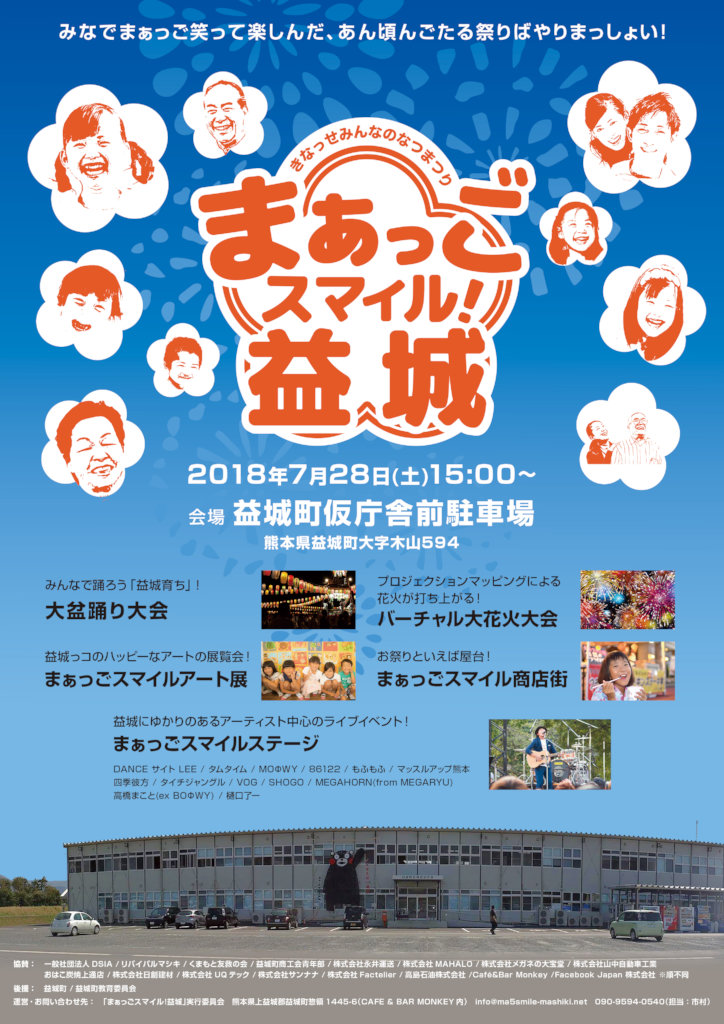 The Kumamoto Earthquake took place only one month after the Kamaishi Kitchen Car Team (KKCT) established the National Kitchen Car Disaster Network in March 2016. In cooperation with the Kumamoto Catering Car Association, KKCT rushed to disaster-stricken Mashiki Township to serve 20,000 food, especially in remote areas and Children's LEC Center where psychologically-handicapped children live for treatment. They not only served food, but also promoted the use of kitchen cars for rebuilding restaurant business there. Ten disaster-stricken restaurant owners attended KKCT's seminars, for which KKCT brought two kitchen cars from Kamaishi and donated them to entrepreneurs wishing to start new businesses. KKCT helped especially one young entrepreneurs whose newly established restaurant was destroyed completely one day before its opening ceremony. Providing valuable information and advises on kitchen car operations, several people started their kitchen-car businesses. Those who are actively involved in rebuilding their economic activities came to establish a voluntary organization, called "Revival Mashiki".
KKCT, learning in Kamaishi how important it is to rebuild a community to redevelop the disaster-stricken area, KKCT and Revival Mashiki organized "Wai Wai Festivals" under the sponsorship of DSIA and GlobalGiving. Now, Revival Mashiki became the key organizer of diverse events, and finally they decided to develop a big Summer Bon Festival on July 28 (Sat.). It established a slogan of "Real Smile! Mashiki", accompanied by the following Introductory statement:
"Two years have passed since the earthquake disaster. The situation of our town has not improved as you can see. We have some people doing better, but many still struggling to rebuild their lives. Town is the same as before. But we also have hope. People start smiling a little bit, and more people came back to join us to rebuild our community. This is not enough, though. We need more smiles and more people to join us. We would like to recover the scenes when we were filled with the smiles of many people and the times when grandpas and grandmos, fathers and mothers, and children really smiled and enjoyed. We would like to rebuild those good days. Let's have a Summer Festival as we used to do at Mashiki." April 27, 2018 by the "Real Smile Mashiki" Project Committee Members
The Project Committee consists of about ten young volunteers (age between 30 and 40). Responding to their initiatives, so far eleven companies, seven NGOs, Mashiki Chamber of Commerce, Mashiki Township Government, and Mashiki Education Committee, all agreed to provide funding and help this event. In other words, the Project Committee very much succeeded to mobilize the whole township and obtained external help to have the big Summer Festival.
A big Summer Festival will be held between 16:00 and 20:00 on July 28 (Sat.), 2018, in the parking lot of Mashiki Township Government Temporary Office (Picture 1). They are going to revive Bon Dance which has not been performed several years even before the earthquake. The Mashiki Ladies Association will provide lessens at schools and temporary housing areas to generate interactions among people. There will also be a fire work based on project mapping technology. Children from kindergartens and nursery schools and students from grade schools, junior high schools, and senior high schools will participate in drawing smiles of people on the campuses of many different-sizes (Picture 2 and 3). There will be also stage performances by fifteen groups and organizations. They are famous musicians, school children, and senior groups. Several comedians will also come to join the festival. Naturally, about 25 shops will open in a market, called "Revival Mashiki Redevelopment Market", where people can meet each other again. (Picture 4)
Amazingly a collaboration between KKCT and DSIA funded by the GlobalGiving was the very source of igniting such movements. It will be really a big boost for redeveloping Mashiki Community, without which the recovery and redevelopment out of the disaster will not take place as quickly as we all hope.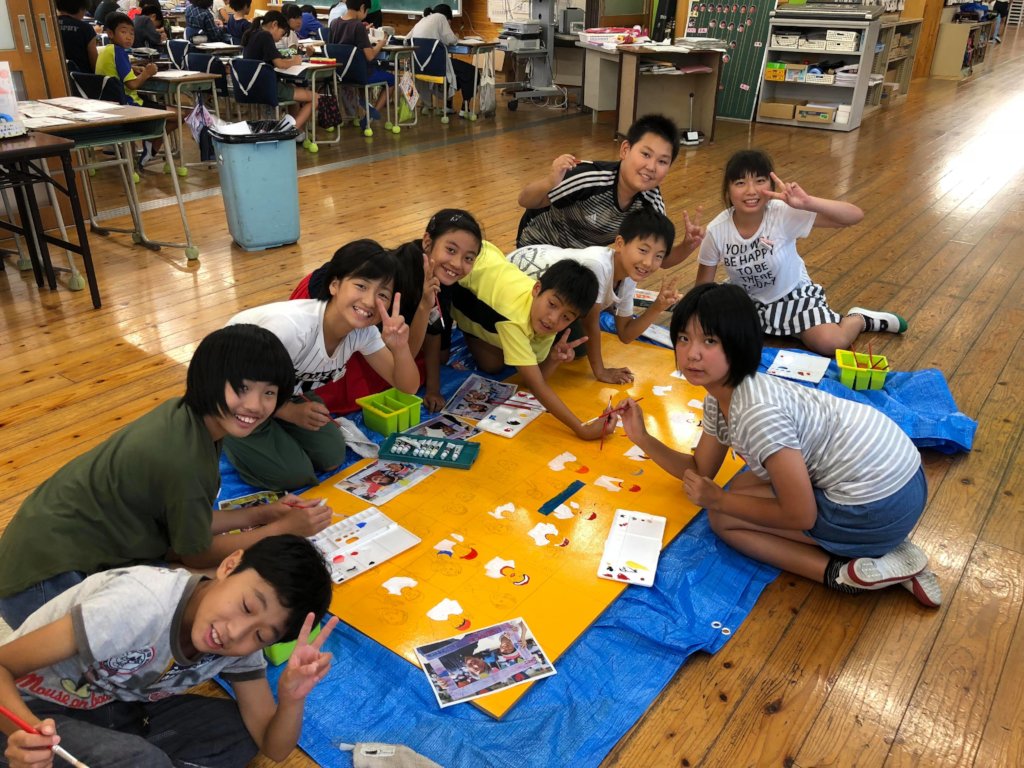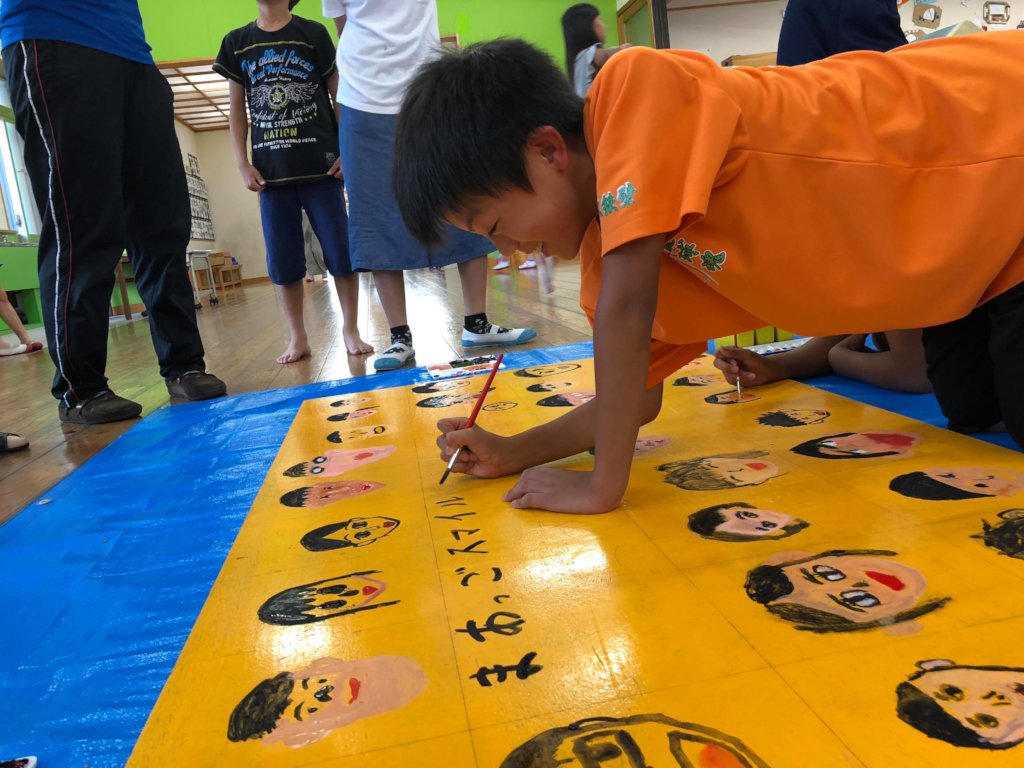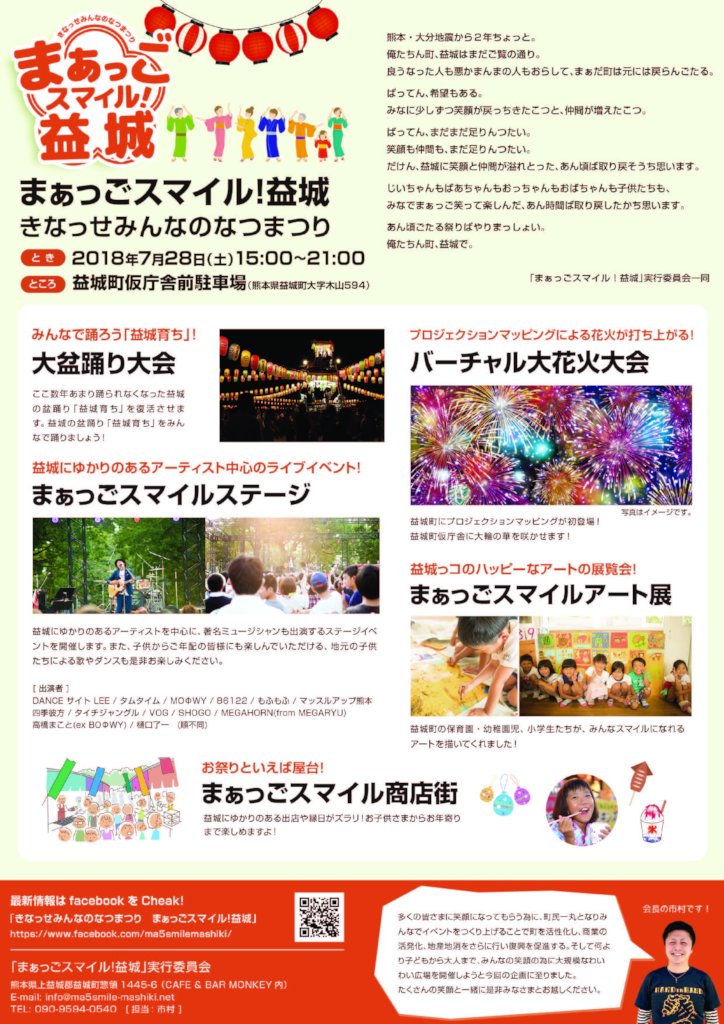 Links: